Good morning Buckeye faithful and welcome to your Tuesday Skull Session.
Hopefully all of you got that red fire truck you've been wanting all year for Christmas this weekend. For all our Jewish readers out there, hang in there we have one more day left, and a happy holidays to all.
Let's wrap up this slow, yet festive weekend and get right into the thick of things as the Big Ten basketball season draws closer and the Gator Bowl is just around the corner.
BOWLESS BUT NOT USELESS. Last week, Ohio State received its final punishment stemming from several NCAA violations. The most notable result, as everyone and their mother has heard, is a one-year postseason bowl ban effective next year.
Whether or not you think the punishment fits the crime, this is the ruling of the NCAA and OSU must abide by it for next season. Doug Lesmerises of the Cleveland Plain Dealer wrote an article about how the Buckeyes must not play uninspired because of their bowl ban.
Lesmerises says the Buckeyes should look to USC as a role model in terms of how they dealt with their two-year postseason ban. Instead of playing as if their season had no purpose, USC managed to stay competitive, defeating eventual PAC-12 champion Oregon this season and developing one of the nation's elite quarterbacks in Matt Barkley.
I am not drawing comparisons between the circumstances under which both schools were punished because they are very different. What I am saying is that, much like USC, the Buckeyes have great talent, a high-profile coach, and great recruits still coming in. There is still something worth playing hard for.
While Urban Meyer and his players certainly won't enjoy watching the postseason from Columbus next year, there is still not a reason that Ohio State can't still have a great season next year. With no expectations for a bowl game next year, Meyer and his staff can focus on developing a young, inexperienced roster loaded with upside and prepare for a national title run in 2013.
WITHERS LAST STAND. Everett Withers, Ohio State's new co-defensive coordinator under Urban Meyer, participated in his last game as the head coach of the University of North Carolina against Missouri in the Independence Bowl.
Andrew Carter of the Columbus Dispatch wrote and article describing how Withers is ready to move on from a program he cared very deeply about. Carter writes how Withers had always wanted to play football at UNC and was shocked the day he found out he would become their next head coach, amidst the firing of former Tar Heels' coach, Butch Davis.
Much like Ohio State, UNC is coming off a tough season due to NCAA infractions. Withers was in a situation much like Luke Fickell was this past year. He was forced to take over a successful program that seemed to be falling apart under NCAA violations and was expected to pick up where things left off.
Withers rallied his squad to an 7-5 regular season and to the program's third-straight year with a bowl appearance, which was ended with a loss to the Tigers. While his players spoke very highly of him, Carolina chose Larry Fedora to become UNC's next head coach.
The Tar Heels' loss will be the Buckeyes' gain. I believe Withers' experiences this past season will help move the 2012 Ohio State team forward. With Fickell and Withers both having head-coaching experience, I believe it's safe to say OSU will have one of the most experienced staffs in all of college football.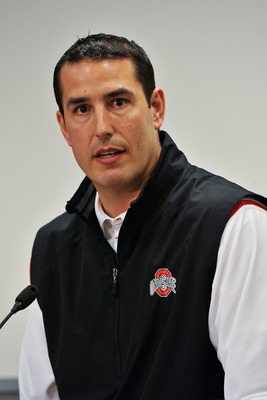 NOT SO HOPELESS. Danny Hope has signed a contract extension that will keep coaching at Purdue until 2016.
Hope guided the Boilermakers to a 6-6 regular season which earned them a trip to the Little Caesars Bowl. Purdue will face Western Michigan in their bowl game this evening.
The contract extension doesn't exactly bode well for Buckeye fans. Hope has lead his squad to victories over Ohio State in two of the past three seasons, but I do have a feeling that's about to change under Urban Frank Meyer.
MEANINGLESS PREDICTIONS. Brian Bennett and Adam Rittenberg of ESPN both predicted the Buckeyes will win the Gator Bowl in Luke Fickell's last appearance as head coach.
Bennett predicted a 24-23 victory and Rittenberg surmised OSU would win 21-17. Both cite that they believe due to extra practices under Fickell, Braxton Miller and DeVier Posey will have a spectacular showing in their matchup with Florida on Jan. 2.
It is true that Miller and Posey were just a little bit off on some big plays, including a pass at the end of the game which could have won The Game. With the extra practices, both receiver and quarterback should finally be able to get in sync and become a major threat that will aid the already impressive running game lead by Dan Herron.
However, the major difference maker will need to be Ohio State's defense, which played horribly down the stretch of the regular season. Hopefully the extra bowl practices are more beneficial to the defense.
AND SO IT BEGINS. This Wednesday, the #2 ranked basketball Buckeyes will begin the Big Ten regular season playing their first game against Northwestern. Their next game will put them up against a currently undefeated Indiana team that defeated #1 Kentucky earlier this year.
Both teams are off to hot starts with Northwestern at 10-2 and Indiana at 12-0. Hopefully the team has had time to get Jared Sullinger comfortable playing big minutes again because Thad Matta will need him to be healthy for the offense to get out of its recent funk.
LOS LINKS. Game notes for the Gator Bowl... Thank you for not smoking... David Stern getting the Roger Goodell treatment... Fedora for the win...