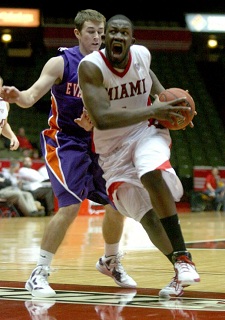 Tonight Ohio State hosts the Redhawks of Miami in their final tune-up before Big Ten play begins next Wednesday against Northwestern. Miami is having a miserable season and they're coming off a heart-breaking 77-75 come-from-ahead loss to Evansville on Tuesday. OSU will be attempting to shake off the sleeping pills that seemingly slowed them down on Tuesday against Lamar.
The game will be played downtown at Nationwide Arena in order to fulfill an NCAA requirement. The feds require that whenever a venue will be used in the NCAA tournament, the "host school" must play at least one game there. I'm not sure what benefit Ohio State gets from being the host school, since that does not guarantee they will be placed in the region that plays at Nationwide and of course there is no guarantee that they will even make the tournament (although that seems like a foregone conclusion considering the quality of the team). 
OSU has played twice before at the home of the Columbus Blue Jackets, defeating Virginia Tech 62-57 in 2003 and destroying Youngstown State 91-57 in 2006. They are 4-2 overall against Miami, having dismantled the Redhawks last season at the Schott by a score of 66-45. The Buckeyes are 50-13 all-time against the teams currently composing the Mid-American Conference and have not lost to a MAC squad since a humbling 56-53 setback against Miami in 1993's National Invitational Tournament. 
| # | Name | YR | HT/WT | PTS | REB | ASST | P | # | Name | YR | HT/WT | PTS | REB | ASST |
| --- | --- | --- | --- | --- | --- | --- | --- | --- | --- | --- | --- | --- | --- | --- |
| 4 | A. Craft | SO | 6-2/190 | 8.6 | 3.0 | 5.3 | G | 2 | Q. Rollins | SO | 6-0/176 | 5.0 | 2.5 | 2.9 |
| 32 | L. Smith Jr. | SO | 6-4/205 | 5.0 | 5.1 | 2.2 | G | 1 | J. Sewell | SO | 6-5/207 | 8.4 | 3.6 | 0.9 |
| 44 | W. Buford | SR | 6-6/220 | 15.6 | 4.0 | 3.5 | F | 25 | J. Harris | SO | 6-8/186 | 8.5 | 4.1 | 1.5 |
| 1 | D. Thomas | SO | 6-7/225 | 15.9 | 4.2 | 1.1 | F | 4 | J. Mavunga | SR | 6-8/232 | 20.3 | 10.8 | 2.3 |
| 0 | J. Sullinger | SO | 6-9/280 | 16.7 | 9.5 | 1.4 | C | 50 | D. McGhee | SO | 6-11/241 | 3.8 | 1.6 | 0.1 |
Opponent
What can you say to describe how the Redhawks have played thus far this season? They don't score much, they don't rebound much, they don't pass much, and they turn it over a lot. The only positive thing you can say is that their defense has been fairly solid. As a result, their losses to nearby rivals Cincinnati and Xavier have been by single-digit margins, and as a bonus they managed to avoid armed conflict with both of those teams.
Senior forward Julian Mavunga had only 2 points at halftime on Tuesday, but he still managed to lead his team in points, rebounds, and assists with 18, 12, and 5 respectively. He is the unquestioned leader of the young Redhawks, and his performances have been the only bright spot for the team thus far. Mavunga is far and away the team leader in points and rebounds on the season, and he's second in assists to sophomore point guard Quinten Rollins. 
The Redhawks start a fairly tall line-up, with two 6-8 forwards, a 6-5 shooting guard, and a 6-11 center. But they won't stay with it for long, since center Drew McGhee averages only 12.4 minutes a game. He is normally spelled by 6-3 guard Will Sullivan, who plays almost 20 minutes a game off the bench. Also expect to see a lot of reserve PG Brian Sullivan from nearby Upper Arlington in relief of Rollins. When Will Sullivan spells McGhee, Josh Sewell slides down to forward and Mavunga plays center.
Miami has cleaned up their turnovers a bit of late, having no more than 13 in their last 4 games after having no less than 15 in each of their first 5. But expect that number to increase tonight as they pit their oversized line-up against the quick hands of Aaron Craft and Lenzelle Smith Jr. For the season, the Redhawks have turned it over 144 times against only 104 assists. 
Buckeye Breakdown:
Ohio State will be looking to improve in several areas tonight before they move into the meat of their schedule. First of all, outside shooting has been a struggle, with the team shooting 33% overall from distance this season. Deshaun Thomas has improved a bit in this area, but Will Buford seems to have regressed lately and Aaron Craft has yet to find his stroke. The one bright spot is Lenzelle Smith Jr., who is shooting over 40% from beyond the arc. I look for him to put it up more as his confidence increases.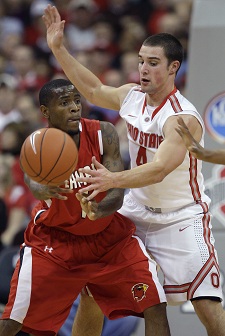 Another area where the team has struggled is free throw shooting, where they are collectively at 68% for the season. Sullinger, Thomas, and Buford have been very consistant from the line, but the guards have struggled mightily. This is a bad sign, since Craft and Smith will undoubtedly be called upon to handle the ball a lot in crunch time. 
Finally, it would be nice to see the Buckeyes get some more production from their bench. Evan Ravenel has been a pleasant surprise here, averaging 5.9 points and 2.6 rebounds and shooting over 57% from the field. Much of this has been due to Sullinger's injuries, and I do not expect to see Ravenel average over 13 minutes in Big Ten play as he has thus far. 
Jordan Sibert is averaging 15 minutes of PT per game, and I expect we will continue to see him spell Smith/Buford for the rest of the season. For this reason, his 32% shooting and 3.5 points per game is a big disappointment. Sibert is also bricking it from the line, hitting only 4 of his 8 attempts. Because he is brought in the game to provide some scoring off the bench, Sibert cannot afford to continue his struggles or he will find his time taken by Sam Thompson or Shannon Scott.
Etc
Ohio State has the 3rd longest home winning streak in the country at 32. Duke and Kentucky are tied at 40.  
Jared Sullinger has earned a double-double in 5 of his last 6 games, with the only exception being the game against South Carolina where he played only 6 minutes.
Ohio State has won 104 of its last 105 games against unranked opponents in Columbus.