Not long after Urban Meyer was announced as Ohio State's 24th football coach, observers of the program began to wonder whether he'd bring his highly successful summer camp, Friday Night Lights, with him to Columbus. Appearing on WKNR in Cleveland last night, Meyer fulfilled the dreams of Buckeye recruitniks everywhere by saying, "A bunch of recruits are asking about it and Friday Night Lights will make its way to Columbus, Ohio."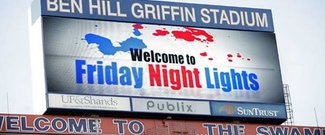 The brainchild of Meyer and his inaugural staff at Florida in 2005, Friday Night Lights, or FNL as it's known, is a one-night summer camp showcasing high school players from around the country.
Typically occurring on the third or fourth Friday in July, it's positioned as one of the last camps on recruits' summer schedules, maximizing the number of prospects that are able to attend the event.
And attend, they do.
Though the first edition of FNL was an unqualified success (future Gator legend Tim Tebow would bond with Jarred Fayson at FNL '05), the event would go on to grow to the point where hundreds of recruits, many of them elite, would pay their own way to Gainesville to show off their skills under the lights, with hip-hop rocking the stadium and team highlights rolling on the scoreboard video screen (with the occasional troll technique, like flashing the Florida-Florida State score from the previous season, which would not work so well lately).
In 2007, Friday Night Lights saw 42 rivals.com four-star or better players attend and two years later, an astounding six of Rivals' 17 five-star recruits -- and 20 of the services top 100 players -- would make the trip to Gainesville to compete.
The electric atmosphere often leads to recruits deciding to stick around an extra day or two to get to know the staff and school a little better. And as we're quickly finding out, if you give Urban Meyer some quality one-on-one time with a recruit, good things tend to happen.
What's really important about this crucial face time with Meyer and his staff is that late July is a quiet period in recruiting and coaching staffs cannot contact recruits during this time. Unless they're on a school's campus, that is. We see you working, Urban.
As you can imagine, Meyer used FNL to great success through the years, often landing commitments from one, two or three elite prospects at a single event (Jeff Demps being one recent example). Some recruits, overwhelmed by excitement in the days leading up to the event, will commit early in the week, unable to delay that sweet, sweet gratification of making things officially (in a verbal sense, at least) on Friday night.
Often, as in the case of current Gator defensive tackle Dominique Easley, commits to other schools would attend FNL giving Meyer the chance to slow cook them. Easley was a Penn State commit when he attended FNL in July of 2009, but spoke lovingly of the Gators, even indulging in a few Gator Chomps to delight the crowd. Five months later, he decommitted from Penn State and committed to Florida at the Under Armour All-American Game.
While the event features some of the best prep talent in America, it also provides a chance for Meyer and his staff to find diamonds in the rough. Between 2006 and 2010, 60 of Urban Meyer's 120 recruits at Florida committed between November and National Signing Day in February. Many of these were guys that may have arrived at FNL a bit under the radar, but did well enough against elite competition to impress the staff enough to earn a scholarship.
And it's not just seniors making the trip. Each year, dozens of the nation's best junior prospects get their first real taste of big time college football at Friday Night Lights, setting the foundation for a relationship between Meyer, his staff and the player.
The showcase also serves as a player's first introduction to Meyer's legendary intensity and discipline. Recruits are warned not to loaf on the football field or do anything to embarrass the host school. In 2009, Miami recruit Tavadis Glenn threw up the "U" to fans and the Gator staff after a drill and was promptly booted from the event.
Helping to ensure things run smoothly at FNL Columbus will be Mark Pantoni, recently plucked from the Gators to serve as Urban's Director of Player Personnel. Pantoni once described his brain as a database and it shows. After joining Meyer's Florida staff as an intern in 2006, he quickly worked his way up to the position of Program Coordinator for Recruiting Operations and his day-to-day job saw him setting up visits with recruits, working closely with compliance and most importantly, serving as the man behind the curtain for Friday Night Lights. It's really difficult to overstate how integral he is to the event and having him in Columbus will help ensure it doesn't miss a beat.
Something never before seen in Columbus is coming and it's an exciting bump in what used to be known as a dead period of sorts between the spring game and the start of fall camp. While our enemies to the north will be welcoming players to the Big House for a BBQ (so many jokes), Meyer and his staff will be electrifying Buckeye fans with the premiere recruiting showcase in the country.
Best of all, it's free and open to the public. See you at the Shoe in late July.