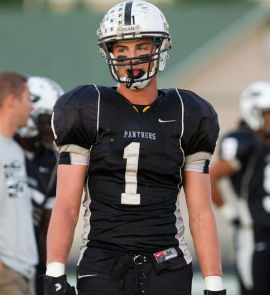 As previously mentioned, the suburb of Pickerington has been good to Ohio State. Both Pickerington North and Central put out Division I prospects on a yearly basis, and in the last five years that number continues to grow. 
The Buckeyes already have one North player coming to campus next year in current verbal Patrick Elflein. Elflein will likely play offensive guard for Ohio State, but is also a member of what was an excellent defensive line for the Panther this past year.
Another member of that line who is getting a look from the OSU coaching staff and many coaches around the country is 2013 DE/TE prospect, Jake Butt.
Standing at 6-6/220, Butt not only has Division I size, but has the talent as well. Already claiming 18 offers before his junior year has ended, this young star is a hot commodity and can play tight end on offense in addition to holding things down at end on the defensive side of the ball.
We got the chance to catch up with Butt to discuss how his season went, what is the latest with his recruitment, his thoughts on Urban Meyer taking the job at Ohio State, and more. Join us after the jump to learn more about Jake Butt.
How did your junior season go? How did your team do and how did you perform individually?
The season went great. It was the best record ever in school history at 8-2. I lead the team in sacks, tackles for loss, receptions, receiving touchdowns, and receiving yards.
I know you are a very versatile player, lining up at tight end and defensive end. What position are you looking to play in college?
It really doesn't matter to me which side of the ball I play on in college. I just love football.
How is your recruiting going? What schools have offered? 
It's going excellent. I have 18 offers so far. Some schools that have offered are Buffalo, Bowling Green, Toledo, Kent State, UCLA, Northwestern, Syracuse, Duke, Maryland, Purdue, Indiana, Tennessee, Michigan, Boston College, and Minnesota.
Do you have a list of schools you are favoring right now? 
I don't have any favorites right now and I don't think I'll have a short list any time soon.
What visits have you taken this year and what visits are you planning on taking?
I have taken visits to Ohio State, Michigan, Northwestern, and Tennessee. I'm planning to take visits to some junior days this winter, but I'm not sure which ones yet.
What is your opinion of Ohio State hiring Urban Meyer as it's new head coach?
It's a great opportunity for the program. He is a coach that has always won and will do great for the Buckeyes.
Has Coach Meyer or anyone on the staff reached out to you yet?
I have spoke to Coach Gillum, Coach Fickell, and Coach Vrabel. They all said they like me on film and to not worry about not having an offer yet because Coach Meyer is handling his 2012 offers before 2013 comes into play. 
What is your timeline on making a college decision? 
My timeline is to have a top list by this coming summer, or if I find the right school, to commit sometime in the summer.
What do you want to work on this off-season to help you improve for your senior season?
I want to work on everything. There's always room for improvement in all areas, so I'm going to work on it all. Strength, speed, and technique are just some of those things.
HIGHLIGHTS: