Good morning Buckeye faithful and welcome to your Tuesday Skull Session.
Well, it's official. Ohio State laid out the red carpet Monday night and welcomed Urban Meyer as its 24th head football coach.
When Urban Meyer was the head coach of the Florida Gators, I couldn't stand him. Maybe it was the fact he derailed OSU's title hopes in 2007, or maybe it was because his quarterback made the promise, or maybe it was the fact that Florida had eclipsed Ohio State in his years there.
Whatever the reason, I just hated Urban Meyer and everything the Florida Gators stood for. But things are different now that he's a Buckeye. All is forgiven in my eyes.
Meyer is certainly a figure who can be despised, unless he's on your sideline. It's obvious that he'll attract big-name recruits and bring in a more experienced coaching staff, but what I'm excited about is finally feeling like Ohio State has a unified leader again. Buckeye fans truly owe Luke Fickell greatly for the job he did during uncertain times, but he was never a person people could rally behind (and that's more circumstantial than anything on Fickell).
Urban Meyer is that person, and everyday he is here means a brighter future for Ohio State football.
WILL THE REAL URBAN MEYER PLEASE STAND UP? While most OSU fans are drooling over the fact that Urban Meyer is their next football coach, some still remain skeptical about Meyer.
Matt Hayes of Sporting News wrote an article questioning whether the Urban Meyer OSU is hiring is the same coach he has been at his previous destinations. Hayes cites Meyer's health and stress problems as reasons Meyer may not be the same coach he once was.
Hayes continues by saying that Meyer basically couldn't handle all the success that he had built up at Florida because of the pressure that came with it. The article states that Meyer also would've preferred to coach at Penn State before the sexual-abuse allegations surfaced and that OSU basically became his backup plan.
I will have to disagree with Hayes on some points he made in his article. If Meyer is worried about his health and stress, a team coming off a 6-6 regular season is not the place to escape those issues. If Meyer didn't think he could handle the stress, I don't think he would've come here.
Additionally, Ohio State is Meyer's dream job and there's really no debating that. He was also born in Ashtabula, Ohio and his wife was born in Cincinnati. Both still have most of their family here. He took this job to live out his dream of coaching at Ohio State, still be a part of the game he loves, and be close to his family. I think it's safe to say that OSU will be getting the real deal with Meyer.
On the other end of the spectrum is CBS' Gregg Doyel, who pegs Meyer as the perfect hire for the Buckeyes:
The marriage of Urban Meyer to Ohio State is a game-changer for college football, a move that will propel Ohio State back to the top of the national heap with such velocity that it will pull along the rest of the Big Ten in its jet stream.
Doyel can be hit or miss, but in this column at least, he strokes a home run.
OUT WITH THE OLD, IN WITH THE NEW. Luke Fickell is now officially a former head coach of The Ohio State University. The Ohio sports blog Starting Blocks had an article featured in the Plain Dealer asking what grade you would give Luke Fickell for his only season as OSU's head coach.
The article touches on how Fickell took over the job amid scandal and the loss of several key players who were suspended or left for the NFL.
While Fickell didn't always make the right coaching decisions, it is true that he kept this team together, as the article references. While many will critique some coaching decisions he made on game day, I can't bring myself to put all the blame on a guy who clearly wasn't ready for this role. We probably should've came a way with one or two more victories this year, but I am grateful for how Fickell kept this team together.
This team was always focused and committed to playing the next game. While Meyer will certainly teach a lot to this young team, it is hard to argue that they haven't already learned a lot from Fickell. I'll give Fickell a B for the season because of the adversities he dealt with. I'm glad to see he'll be back next season on Meyer's coaching staff.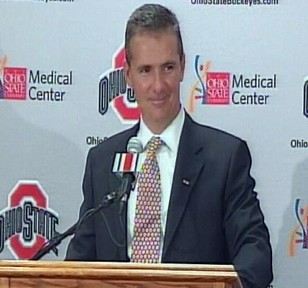 THE GAME. Adam Rittenberg of ESPN wrote that the hiring of Urban Meyer should bring more intrigue to OSU's annual matchup against the Michigan Wolverines.
Rittenberg writes that if there's anyone who knows Michigan defensive coordinator Greg Mattison's system, it's Meyer. The two worked along side one another when Meyer was the head coach of Florida.
If Mattison stays at Michigan, perhaps Meyer could give the Buckeyes the advantage come next season, as OSU tries to avenge their first loss to UM in eight years.
HARDWARE TIME. The Big Ten held its annual awards show on the BTN last night and John Simon earned first team honors from the coaches. Joining him on the coaches second team are center Mike Brewster, tackle Mike Adams, linebacker Andrew Sweat and safety C.J. Barnett. Honorable mentions went to tackle Johnathan Hankins, Boom Herron (in just half a season, mind you), Jack Mewhort and Jake Stoneburner (thrown to just a dozen times, mind you).
The media did not see fit to include any Buckeyes on their first team, but Adams and Simon did earn 2nd team honors with Barnett, Brewster, Hankins, Mewhort, Tyler Moeller, Andrew Norwell, Stoneburner and Sweat named as honorable mention.
The Badgers were the big winners on the night, earning a record nine first team selections and capturing the Griese-Brees Quarterback of the Year (Russell Wilson) as well as the Ameche-Dayne Running Back of the Year (Montee Ball). GREAT DAY TO BE A BADGER FAN, SAYS BRET BIELEMA.
WE'RE PLAYING BAS-KET-BALL. With OSU's football-regular season coming to an end, it's time to get into full gear to watch the #2 Buckeyes tear it up this season on the hardwood. And there's no better way to get it started than against the most despised/envied team in basketball, the Duke Blue Devils.
After winning the Maui Invitational in impressive fashion, Andy Katz awarded the Duke Blue Devils the team of the week for the tournament. Duke junior Ryan Kelly came away with MVP honors after racking up three-consecutive games in which he scored 17 points. Duke has come out much stronger than analysts anticipated with the welcomed surprise of Kelly who was expected to be more of a role player this season.
Despite Duke's strong play, OSU will still have a major advantage in the front court. However, Duke's back court is playing at an extremely high level this season with junior Seth Curry averaging 15.1 points, and freshman phenom Austin Rivers averaging 14.4 points. I still expect Aaron Craft and Lenzelle Smith to get the better of these two guards because of their stellar defense, but this matchup should certainly be entertaining until the end of regulation.
Lest we not forget, the game is part of the Big Ten/ACC Challenge and the incredible accurate Ken Pomeroy likes the Big Ten to repeat.
LOS LINKS. Ohio State could find out about possible NCAA sanctions in the next two weeks... Penn State begins to move on... Much like Penn State, the Second Mile must face life after the scandal... Billy Donovan's 400 wins do not include a vicotry against OSU this year... Saban asks for a candid thought process from voters.