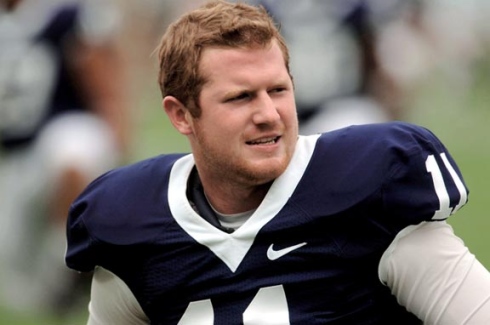 | | | | | | |
| --- | --- | --- | --- | --- | --- |
| | 0 | 14 | 0 | 0 | 14 |
| | 10 | 10 | 0 | 0 | 20 |
Moments. Right now that's what this team has. Not a full game's worth of effort, but a collection of moments rendered invalid by an even larger collection of mistakes and mental errors that probably should've been eliminated through coaching at this point in the season. Poor snaps by Mike Brewster, a critical false start on the part of JB Shugarts, dropped 1st down passes, and a litany of missed defensive assignments ultimately outweigh whatever temporary enjoyment you might've gotten from Braxton Miller being his usual quicksilver self, a heroic goal line stand, and Posey showing flashes of what could've been had he not decided that the NCAA's rules didn't apply to him not once, but twice.
I will say this; whatever coach comes to Ohio State next year, be it Urban Meyer, Tony Dungy, Urban Meyer, Tim Beckman, Urban Meyer, or Urban Meyer, has got to know what kind of a weapon that he has in Braxton Miller. No, he's not a great passer. And he may never be. But he is as dynamic as any player to suit up for Ohio State in the past ten years or more, and he, along with the play of a few select young defensive players, give me a lot of hope for this team going forward.
That said, the coaching on this team is predictably a mess. We give a lot of flack here to Jim Bollman, and rightfully so, but today was a true team effort. The receivers seem to be playing on pure dumb luck, and honestly I feel pretty stupid ever getting excited about the Mike Vrabel hire every time I see Sabino take the complete wrong angle to attack a play. Even Heacock, who has generally been regarded as one of the best coordinators in the business, seemed befuddled at how to handle Penn State running the wildcat, despite seeing it from his own team on a semi-regular basis.
The game started in pretty much as bad as it possibly could've; the Lions took it right at the Ohio State defense with two quick passes to Derek Moye and then a slashing run by Stephfon Green put PSU up 7-0. This was going to a recurring theme for the first half: Ohio State struggling to contain the Penn State rushing game and then getting burned after selling out to stop said run.
The ensuing OSU drive featured an great 39 yard grab by DeVier, and also a ridiculous mental error on the part of Mike Brewster acting as the bread to a Boom Herron sandwich. I feel like a score here could've changed the entire complexion of the game, but the end result was instead a punt and a collective sigh of exasperation from every OSU fan in the country.
Passing
|   | Cmp/Att | Pct | Yds | TD | Int | Rat |
| --- | --- | --- | --- | --- | --- | --- |
| Braxton Miller | 7/17 | 41.2 | 88 | 1 | 0 | 101.6 |
Rushing
|   | Att | Yds | Avg | Lng | TD | Fum |
| --- | --- | --- | --- | --- | --- | --- |
| Braxton Miller | 18 | 105 | 5.8 | 24 | 1 | 0 |
| Dan Herron | 18 | 76 | 4.2 | 15 | 0 | 0 |
| Carlos Hyde | 4 | 24 | 6.0 | 11 | 0 | 1 |
| Jordan Hall | 2 | 8 | 4.0 | 6 | 0 | 1 |
Receiving
|   | Rec | Yds | Avg | Lng | TD | Fum |
| --- | --- | --- | --- | --- | --- | --- |
| DeVier Posey | 4 | 66 | 16.5 | 39 | 0 | 0 |
| Corey Brown | 1 | 10 | 10.0 | 10 | 0 | 0 |
| Jake StoneBurner | 1 | 7 | 7.0 | 7 | 1 | 0 |
| Dan Herron | 1 | 0 | 0.0 | 0 | 0 | 0 |
The second Penn State drive resulted in 3 more points, and it highlighted what has become a persistent problem for the Ohio State defense; stopping teams on third and long. Matt freaking McGloin connected on 3rd and 9 and on 3rd and 10 during this drive, and all of a sudden PSU was on top 10-0 with five and a half minutes left in the first quarter. In the last four games, Ohio State has been outscored 37-7 in the first quarter, and considering this team is barely built to play from ahead, falling behind that early is an absolute killer.
It was in this game, too. The Buckeyes responded with a 77 yard touchdown drive where Braxton Miller bullied his way 24 yards for a touchdown, but this was immediately followed by an 81 yard touchdown from Penn State that lasted all of 5 plays and two minutes and twenty seven seconds to make it 17-7. Silas Redd generally deferred to Stephfon Green in this game, but he still managed to account for 63 yards on only 8 carries. Kind of scary that this guy is only a sophomore and already better than Evan Royster ever was.
At this point the game was more or less over. Ohio State did pick up a nice interception courtesy of Orhian Johnson and converted into points by means of a rare Jake Stoneburner sighting in the wild (who, by the way, somehow has 7 touchdown catches this year despite only 13 total grabs).
After this, Penn State went right back to punishing the Buckeyes with the wildcat. Curtis Drake had a nifty 38 yard scramble to set up a 46 yard field goal by Anthony Fera, which made the score 20-10 and ended the scoring for the day, as the second half was pure hilarity for pretty much any non-OSU Big Ten fan plying his trade in schadenfreude.
One of the coolest moments this season, a fist pump inducing four down goal line stand, was rendered completely useless by a Carlos Hyde fumble that ended what seemed to be a promising drive. This would be a theme. On OSU's last real chance to take the lead, Boom Herron was running like a man possessed, Braxton Miller was showing off the moves that made Blackledge and Nessler pause for about ten seconds and just appreciate what happened to their eyeballs and then... JB Shugarts did what he does best, was called for the false start that was inevitable as it was infuriating, and not even a heroic effort by Braxton (who finished with 7/17 passing for 83 yards and 105 yards rushing on 18 carries) could pick up the critical first down to keep hope alive.
And that's it! This is the 2011 Ohio State Buckeyes. Some amazing individual achievements, including one hell of a game by Ryan Shazier as Andrew Sweat's replacement, get completely trumped by a seemingly unending series of poor decisions and dumb mistakes. It's been hard to watch this team this season. Not just because of the poor play, but because in some respects the team seems to be getting worse, and no one is above scrutiny. Not after a game when even the defensive line, considered to be the strength of the team, gives up 239 yards on the ground.
So, next week the team ventures into Ann Arbor; angry, wounded, and confused. Let's hope Fickell, the cranky professor, and a walrus can wring out some kind of magic from this team in what is almost assuredly their last rodeo.