Exactly 2,920 days ago today, the greatest rivalry in American sports celebrated its 100th edition in Michigan Stadium.
The Wolverines beat #4 Ohio State that afternoon 35-21, winning the full year of halcyon serenity that annually goes to the victorious side. The fifth-ranked Wolverines also walked off the field with the Big Ten title that afternoon, which historically has also frequently been awarded to the winner of this game.
Then 365 days later with the 2004 Big Ten title already sewn up, the one-loss Wolverines went into Columbus and were trounced by the four-loss Buckeyes 37-21.
And so it went, year after year for most of the first decade of the century, in increments of about 365 days. First it was two in a row in favor of Ohio State, which still counts as a streak in this rivalry.
Then came a third straight win, which was utterly surreal. After the fourth, fifth, sixth and seventh* in a row that initial shock had morphed into a comforting sense of entitlement. This is supposed to happen every year.
Seven years without a Michigan victory means that a fourth consecutive senior class is currently at risk of leaving Ann Arbor without taking The Game even one time. They're 9-2 this year, which is easily the turnaround of the year in the conference, if not the country. A loss this Saturday might as well count as five.
This fulcrum of pleasure and pain where months of work can either pay off in amaranthine splendor or squandered into imperishable regret is where the Ohio State-Michigan rivalry resides. It is both the wrecking ball of great seasons and a fancy diadem for the otherwise gross, rubbishy ones.
Moral victories are rare for Ohio State and absolutely mythical when the opponent is Michigan.
That inaugural speech Jim Tressel gave in 2001 with his back-handed guarantee that he ultimately delivered in Ann Arbor? Those Buckeyes finished 7-5, yet that we still romanticize that feculent 2001 season on account of one game: The only game.
Whether it's 1987 or 1994, 2001 or 2004 there isn't anything that salvages an underwhelming year like beating Michigan.
Nothing reupholsters a painful offseason like fondly remembering what transpired in that final game, and there isn't anything that compares to the sight of Buckeye players beatifically jumping the bricks at the Big House in their road whites to celebrate a win with their fans.
The only alternative to that sight this Saturday is seeing 110,000 people cheering wildly and spilling onto the field in celebration while Ohio State players and coaches dodge fans while trudging into the tunnel at midfield behind their bench.
That's the cruel reality of how this fulcrum works. Moral victories are rare for Ohio State football in general and absolutely mythical when the opponent is Michigan.
The 2011 Buckeyes are 6-5, with the six teams they defeated combining for just 20 FBS victories. Beating Michigan would increase that total by almost 50 percent. Remove Wisconsin and those five teams Ohio State beat to get bowl-eligible have 12 total wins. This is a lousy football team.
It has been an utterly forgettable season, let alone a catastrophic calendar year for Ohio State football, but improbably beating Michigan on Saturday would change the entire complexion of 2011 dramatically.
High stakes and bowl implications mean nothing. Ohio State-Michigan means everything.
---
death of a salesman
Tressel arrived almost 11 years ago with a plan to re-engineer Ohio State into a program with purpose. Under John Cooper the Buckeyes were often a roster of talented but disconnected vagabonds.
Brady Hoke came to Michigan's rescue with virtually identical designs on his own program, right down to the part about filling up on talented players from Ohio.
Hoke's success is no surprise to anyone willing to look beyond his overall record, as losses tend to pile up when you're constantly extinguishing the previous guy's football arson.
He didn't write this rejuvenation recipe; he merely borrowed it from Bo Schembechler: Style of play, commitment to the program and the importance of beating Ohio State. Those who stay will be champions. To do that, more often than not you have to beat the Buckeyes.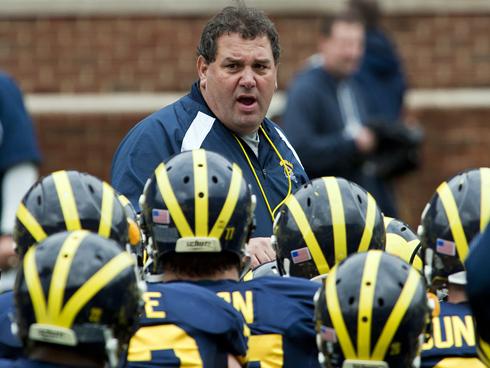 As luck would have it, this isn't one of those years, but that doesn't make beating Ohio State any less important for Hoke. He has already equipped his tenure with a fast start, a strong recruiting class and an efficient return to fielding an FBS-caliber defense which had been absent for the entirety of Rich Rodriguez's tenancy.
Hoke very smartly positioned Michigan as Ohio State's challenger. For the better part of the last decade, the Big Ten was Ohio State. That dynasty came to an abrupt halt on Memorial Day, before he even had the chance to face the Buckeyes. Tressel's removal only helped accelerate Hoke's success in constructing the kind of program that can too become the conference flagship.
His predecessor, afraid of alienating the Purdues of the world, dismissed the idea of a conference duopoly. In doing so, Rodriguez dismissed too much important history and freed himself of significant allies that might have made his stay lengthier, if not a little more comfortable. Hoke is not making that same mistake.
The reality is that like Notre Dame, Michigan has long been everyone's rival, and that's fine for everyone. But Michigan - not the recent odorous, incompetent Michigan, but the traditional pain-in-the-ass Michigan - cannot reciprocate. It can have big national games, it can even have a state championship, but it can only have one arch-rival.
Michigan can have A state championship, but it can only have one arch-rival.
Hoke understood that, and he's given each opponent the appropriate focus and esteem. This isn't great news for Ohio State, who had made this rivalry one-sided in part because Tressel also understood the philosophy that Hoke has clearly embraced.
He is now at the brink of a ten-win season in what had been scheduled to be a year of cleaning up the wreckage of the last three years. Neutralize Ohio State to end his first run and the tone for the Hoke era is established. It would be the ultimate validation of his stewardship and confirmation of his methods.
Should Michigan lose - as an 8.5-point favorite at home to an Ohio State team that is as listless as it is lacking any cohesion - then not only is Hoke's eventual legend weakened, but the success of the 2011 season will be questioned.
This game is ripe for Michigan to take, and convincingly. Failing to do so would lacerate healing wounds. Schembechler won his first Ohio State game. So did Gary Moeller and Lloyd Carr. Rodriguez did not, annually losing in a disastrous manner so abysmal it practically had style points.
It has been almost 3,000 days since the Wolverines closed a season in an acceptable fashion. Hoke has to beat Ohio State; he reconfirmed the importance of doing so and made it a job requirement. Michigan hasn't had a finisher for too long. He finds himself selling the same bill of goods that Tressel presented in 2001.
If Hoke fails to close as Tressel did, it impacts everything he is trying to do both in Ann Arbor and Ohio. If somehow you don't believe this Saturday is that important, then there's a 74-year old former coach still living in Columbus who can elaborate on just how wrong you are.
---
waiting to exhale
Ohio State's permanent head coach-placeholder now has on-the-job experience that nobody wants. Luke Fickell has effectively become the palate cleanser between his legendary predecessor and his own replacement.
Not only was Fickell thrust into this position abruptly, he was burdened with Tressel's cronies whose existence at Ohio State went from making little sense to none in their hiring manager's absence. Unfortunately The Game cares not for details or complexity, just wins, which is why Fickell's legacy as Ohio State's head coach will be defined in its entirety on Saturday.
Unfortunately all his single season atop the organizational chart did was validate Tressel's coaching brilliance. Without a program steward - and most conspicuously, a teacher of quarterbacks - we saw what happens when the master is removed from a formula that requires his presence: The formula collapses. Tresselball without Tressel does not work.
What Fickell inherited was a quarterback coach in title only, and an offensive coordinator who kept the Buckeye offense ranked in the 100s out of 120 FBS teams for an entire season.
Despite what was said publicly the players never recovered from the trauma of the offseason, and when it was time for leaders to emerge, no one came to the rescue. The carousel of temporary captains extended the charade to the coin toss each Saturday.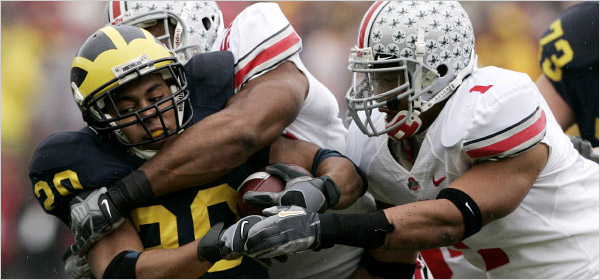 And temporary captains were, as it turns out, fitting for Ohio State football this year. The climate around the program is temporary. The idling of its pipeline is temporary. Its head coach is temporary and, God willing, most of his assistants are temporary. Fickell knew exactly what he was accepting to take on, but that doesn't mean he was equipped or prepared for it.
With every passing Saturday - the narrow escape against Toledo, the ghastly performance at Miami or the lack of self-awareness with Michigan State, it was evident that Ohio State football was off the rails. Without any checks and balances on Tressel's crony hires, the team had no shot at the acceptable level of success.
The historic collapse at Nebraska, the loss at Purdue despite monumental talent advantages everywhere and the failure on Senior Day against an absolutely reeling Penn State program all served as strong evidence the Fickell experiment had shifted from tryout to timeout.
This is how a lost year feels. This 2011 season quickly became a waiting game for 2012. Regardless of the outcome on Saturday, there will be some degree of relief: It's finally over.
Fickell could still beat Michigan on Saturday and positively change the complexion of his tryout. He just won't change the outcome.
---
absence of malice
On Saturday it will have been 2,925 days since Michigan last won The Game. If the Buckeyes fall in Ann Arbor, that ticker will suddenly - technically - be 736 days in the wrong direction, since last year's game was scrubbed from history.
It will have only taken a year to shift the momentum in this rivalry north: The Buckeyes destroyed the Wolverines in last year's vacated game and were expected to contend for the BCS title before Tatgate demolished Tressel's machine. Ohio State was the Big Ten for a decade, yet suddenly finds itself completely irrelevant in 2011 nationally.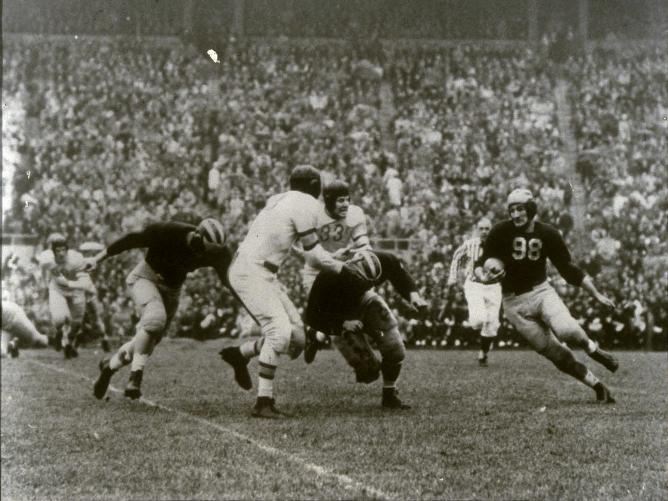 Scandal trauma aside, this plummeting decline is not mysterious: The Buckeyes' total offense has slipped from 20th nationally in 2010 to 108th in 2011, though statistics aren't necessary to understand how bad this unit is.
Those miserable teams ranked among and beneath the Buckeyes do not field players that would have merited recruitment by Ohio State. It is a sweeping failure of the coaches whose incompetence was shielded by their boss for too many years.
Conversely, Michigan is well over 100 yards better than Ohio State per game while running an offense that probably isn't the optimal scheme for the players Hoke inherited.
The defenses are statistically equal, both ranked among the top 20 nationally for most of the season. The leap that Michigan has taken defensively in one year matches the collapse of Ohio State's offense in the same timeframe.
On paper this game is a mismatch, featuring similar defenses but only one competent offense. Against non-Akron opponents the Buckeyes have had roughly six total quarters of offensive production that wouldn't be considered abysmal. That's six out of 60.
Ohio State cannot win this game with offense. It will alternate between telegraphing its intentions right into the Michigan defense and running classic Bollman "sundial" plays that take so long to develop that they're predictably ambushed. The only true variables are the sandlot element of Braxton Miller's improvisation and the phenomenal individual athleticism of Boom Herron and DeVier Posey.
If the Buckeyes are to have any chance of winning this game it is going to have to come either via special teams play or by way Michigan's charity. The Wolverines do like to turn the ball over, so the Buckeyes will have to keep them from breaking character.
If they're successful Ohio State will be installing platinum rims on its clunker of a season, and the first thing - the only thing - you would notice, recall and remember about this clunker would be those rims. Michigan would face the grim reality of having been bested by the worst Ohio State team since the last one, which it also fell to two coaches ago.
The Wolverines would have to wait another 364 days to try and make amends for the ninth year in a row, while these 7-5 Buckeyes and this feculent 2011 season will be romanticized on account of one game: The only game.