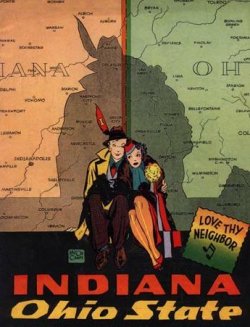 Riding a modest two game winning streak, both the Buckeyes and the fanbase are entertaining visions of grandeur. The rest of the B1G slate all of a sudden appears winnable, Penn State is likely getting ready for their reality check, Boom is on fire, Braxton is coming along and Posey will return just in time for the final two games of the regular season against Penn State and Michigan. 
It's truly amazing what a few wins can do. This week, there's little doubt the Buckeyes will make it three in a row as they welcome the eternally awful Indiana Loosiers to the 'Shoe. 
With IU's program failing to provide worthy chatter, we'll discuss Braxton's progress, the dramatic W against W and the effect of the upset win on the potential coaching search, among other topics, so pop a squat and get your read on. 
Braxton seemed to kinda "put it all together" in the triumph over Wisky. Do you think this game (and the preceding bye week) truly marks a legit step in his on field performance or could we still be in for some up/down performances? Why or why not?
Luke: If the silver screen's taught me anything, it's that sometimes the protagonist must complete multiple stages of personal growth before they can turn into the devil may care, vigilante justice dispensing paragon who saves his/her hometown and gets the girl/guy. Miller is still in the rather earlier portions of his personal arc. I don't think it's out of the realm of possibilities to think there will be step back moments, though probably we're mostly (emphasis on margin for error) going to be on the upward slope going forward.
Corey: Even though he doesn't get a chance to throw that often each game, you can still see the development he has made as the season has progressed. I think it's a legit step in his performance, but we should also expect those "freshman moments" in the next 4 games, which hopefully won't cost OSU a win. He just seems more comfortable under center and winning will do wonders for his confidence. Plus Boom is back and they should be able to get by IU and Purwho before Posey returns.
Johnny: Braxton is a true freshman, and it's probably more likely that his progression will more or less resemble a space program. He's going to crash and burn at some point, but the main goal is for him to keep getting those dogs up into space and eventually we'll get to the moon. Or something.
I wrote in Five Things about OSU's deadly 11/20 on 3rd downs thanks largely to Braxton and compared it to how lethal Pryor was on 3rd down. Both running and throwing, how do you compare Braxton's development to what we saw from Pryor in his freshman campaign?
Sarah: Braxton possesses a higher football IQ, but Pryor was the better playmaker as a freshman and more of a high risk/high reward situation, which probably was a result of Pryor being Pryor. According to a source of mine, "dude's arrogant". I also worried less about him getting injured because he was such a load. I liken Braxton more to late-2004 Troy Smith, though hopefully without a Purdue loss (or any loss) and with the domination over Michigan. The light has come on, and while the road ahead won't always be smooth, he's at least on the right path and any other cliché you want to add.
Joe: He seems further along in almost every way, but it's still early in his career. Pryor I think regressed at times, and it took time for the coaches to correctly tailor the game-plan for his skills. It hasn't taken as long with Miller, and I think that's due to him grasping the passing game sooner.
Danny: Personally, I think they are developing so similarly. It's almost scary seeing just how similar their numbers are and how comparable the game plans they played under are. The difference is that Braxton looks more comfortable as a passer than Pryor did. While Miller's numbers aren't necessarily better than Pryor, the zip on the ball once it leaves Miller's arm is better than Pryor's was. I expect to see Miller develop into a quarterback who will be a pass-first guy somewhere down the road of his career, something Pryor never truly accomplished.
I nearly forgot Devin Smith was on the team after a three game stretch of one catch for four yards as he (erroneously) moved down the depth chart. Working on the assumption that Miller will actually attempt double digit passes per game from here on out, who are your top two receivers against IU and PU before Posey returns and why? When Posey does return, who should start with him?
Corey: Philly Brown looks to be 100% and is developing that chemistry with Miller, which lead to a couple of nice timing routes between the 2 last week. It's still hard for me to believe Stoneburner's number hasn't been called more this year, but the catch last week has to give Devin Smith a leg up opposite of Philly. Smith is averaging 22.7 YPC and has 4 TD's on 10 catches, so we can only hope Bollman realizes the talent in Smith. When Posey gets back, Philly will be opposite of him.
Luke: Given the ability to have any meaningful input, my preference would be to go with Smith and Philly Bro(wn). As mentioned previously, I was somewhat of a Philly cynic coming into this season, particularly after he was banged up, but since coming back he's shown me flashes of what drew everyone else towards him in the first place. That sort of athleticism is an absolutely boon to moving the ball down the field. I think particularly with Posey back, whoever gets the bump down to the #3 just makes this offense that much more potent.
Johnny: Corey "Don't Call Me Philly" "Philly" Brown seems to be the guy that Braxton has the most rapport with on the field right now, and number two will probably be whoever can get open. Since Brown seems to be only guy who is able to do that on a consistent basis, I'd give him the nod.
Sarah: I'm gonna keep on banging the Smith and Philly drum. (I will never stop referring to him as Philly, either.) Of Miller's 6 TD passes this season, Smith has 4 of them and also leads the team in receiving yards. Although Philly hasn't seen the end zone yet, he does have more experience and though he does not enjoy the same psychic 6-point connection with Braxton as Smith does, they do sit next to each other in first period chemistry.
I had time to bite my nails then run the sweeper in the amount of time it took Braxton's cross-body heave to land in the cradled arms of Devin Smith. What was going through your mind as the ball was in the air?
Johnny: "Bwwwaaaaaaahhh!" TM Hank Hill
Joe: I was thinking "he must have a receiver wide open or else he never would have thrown the ball like that when he had lots of green in front of him", so I was just waiting to see who the wide-open receiver was. And I was also thinking about how much it reminded me of Troy against Penn State in '06.  
Luke: Something along the lines of "Pleasegodnonotannterception."-> The birth of the universe scene from "Tree of Life". ->Sheer panic.
Sarah: That catch actually happened right in front of me, so I had an excellent view of how long the ball hung in the air. At first, everyone yelled, "oh my god, oh my god, oh my god", then I watched all 20 seasons of Gunsmoke, voted in the next presidential election, got pregnant, gave birth, sent the kid off to college, then there was an omelet bar, and finally, the ball completed its trajectory and landed into the waiting arms of, by that point, a 75-year-old Devin Smith. 
Corey: Damn, that City BBQ was good at Eat Too, Brutus.
Obviously, the D Line did a great job stopping the Badger running game last week with an assist from Sweat and Barnett. Bryant also had six tackles but whiffed on at least three others and gambled and lost in coverage leading to Montee Ball's TD catch and run. What do you make of Bryant's overall skill set? Do you still like him ahead of Johnson? Should we just expect that he's going to try so hard to make the big play that there will be duds along the way? 
Danny: Bryant is still young and I expect him to struggle at times. I still like him ahead of Orhian Johnson who has been much more effective in a backup role anyway. Bryant was going up against a pretty impressive Badger offense, so you can't blame him for learning some lessons the hard way. He'll grow from this game, as should the rest of this team.
Joe: It's tough to say. On the one hand, he's made some great plays. But on the other hand, he still makes freshman mistakes. I guess if push comes to shove I'd still prefer to let the youngster play and take his lumps knowing that he has better ball skills than Johnson. At some point, the light will go on for Bryant and he will stop making those mistakes. At that point, he will seize the job for good. But that's more gut instinct than real insight. The bottom line is I trust the coaches because they see these guys every day.
Luke: Bryant's always been a guy that works really hard and seems to 'get it' from an effort and going all in perspective, but the results haven't always translated the way we'd like. I hate fixating on measurables (sup Peter Brand?), but his size kind of worries me at times. Risk/reward is a hell of a way to live, but if he's doing everything 'the right way', it may have to be something we learn to live with until consistency becomes a cornerstone of what he does.
There's been plenty of talk about Luke's future following his first 'signature' win. No doubt it helps the cause, as would four more victories to cap the regular season. Should that happen, how does that impact your thoughts on the OSU coaching search? Would he be your top candidate at that point? Why or why not? Who remains at the top of your personal wish list?
Sarah: Are you suggesting that Urban Meyer will not be announced as the next coach at halftime of the Duke game? Blasphemy! Anyway, it's not that I don't care who the next coach will be, but I don't particularly care right now. Of course I have my own opinions. I'm not feeling a Bo Pelini and I've never bought into the idea that Meyer will bless us with his tutelage. Especially if the team wins out, I'm not opposed to Fickell because like Braxton or the team itself, it seems like he's starting to figure it out, and while there might be some bumps along the way, bro's got potential. I don't really have a top candidate. I just want a thorough, well-executed search. When it comes down to it, I have exactly -32% say in the matter, and let's face it, I'll still support the team whoever's wearing the headset. Unless that happens to be Tony LaRussa. 
Corey: Honestly, I'm still in the middle of the 2 camps that are forming. One has Fickell staying and firing his offensive staff. The other, has Columbus rolling out the red carpet, shutting down 270 and give Urban Meyer a ticker tape parade as he rides in on White Stallions to save us from a dreadful 9-4 or 8-5 season. I've rooted for Fickell since day 1(we went to different schools, but graduated the same year in Cbus), but he has shown some flaws this year, which you know he'll learn from. Are we willing to be patient with that? Also, while people cry out for Meyer, Gruden, Leach, Madden, Lombardi or Ditka, there's something to be said for someone who is familiar with the town, university, facilities, high school coaches and traditions of Ohio State. Overall, things have been very good for us Buckeye fans over the last 10 years and Fickell has been here the whole time, if the first 6 games of the season can be just a bump in the road, I'm all for Fickell staying and getting some new offensive coaches.
Johnny: If you can get Urban Meyer, you go get Urban Meyer. Same deal with guys like Patterson or Petersen. But failing that, if Fickell is somehow able to coax this team into winning all of its' remaining games, he absolutely deserves a legit interview (provided he fires Jim Bollman). Personally I think OSU needs to clean house, for a number of reasons, but you want to bring in a guy who isn't walking into this blind. So Stevie Wonder is out.
Danny: I'm personally not ready to give up on Luke Fickell. I just think he's a great football mind who was unexpectedly thrown into the fire that is this season. Each week he's continued to get better and grow as a coach. If he wins the Leader's division this year, you bet he'll be back. If he doesn't, things become a little less clear, but in the end I believe he'll be here for the long haul. You can just see it in the way that this team has played and stuck together that he's going to be a great coach. All he needs is OSU to give him that opportunity to gain experience.
Indiana blows. That's no secret as the Bucks are favored by 27 points. That said, what's one particular thing you hope to see (besides a letdown effort) from either the team, a player or the staff?
Joe: I want to see a solid win with no suspenseful moments. I would also like to see more of the passing game with Miller spreading the ball around to various receivers. This game is a great opportunity to practice some more complicated schemes before they have to play PSU and Michigan. Since the passing game is the weakness of the offense, I'd like to see a bit more practice there. 
Johnny: After the 20th inside handoff on first down, I want to see Mike Vrabel storm up into the coordinators booth, hit Jim Bollman over the head with a chair, and then call nothing but five wide sets for the rest of the game.
Corey: I want to see Carlos Hyde get 100 yards, regain his mojo and put any potential thoughts about transferring to rest.
Sarah: I'm in charge of the game recap this week. Last time, I was saddled with the Michigan State game, so I would prefer the exact opposite of that. Indiana has a defense statistically worse than Ohio State's offense, meaning it's the perfect time to test out a more balanced offensive attack. I want to see the 116th passing offense do some damage against the 118th pass efficiency defense. The Buckeyes are on a bit of a roll right now, and the improvements need to continue leading up to increasingly tougher games this month. Basically, I'm requesting a typical Ohio State-Indiana game.