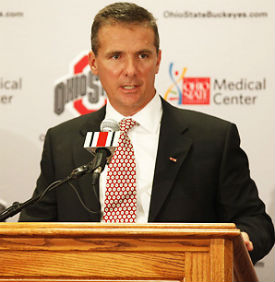 Well this week sure has been exciting when it comes to Ohio State football. Not only do the Buckeyes land a great coach in Urban Meyer who will immediately provide stability to the on field product, but they also get a superstar personality who is going to have the largest impact on the recruiting trail that OSU fans have ever seen.
As written last week, Meyer will help the rich get richer in Columbus. He will not only close the fences around the state of Ohio, but will use the ties he has made at Utah and Florida to bring in some top notch talent from around the country as well.
While people want to see what results that yields this year, they may have to wait until 2013, as there is only two months remaining until signing day and with scholarship reductions on the way, there isn't much room in a Buckeye recruiting class that numbers 16 for 2012 already.
That being said, there is likely room for about six more players in this class and it's time to look at who's available. There are some players still up for grabs that remain in the picture, as well as some players who are currently committed elsewhere that all of a sudden want to take a closer look at the Buckeyes.
In this edition of the 11W Recruiting Notebook, we look at what targets are still in the market, what their situation is, and the likelihood of them landing at Ohio State. Join us after the jump to hear the latest on the 2012 prospects that may be jumping aboard the Meyer Express in the near future.
Despite already getting a call from Urban Meyer, I would put the chances of Kyle Kalis remaining with Michigan at 99%. Brady Hoke and the staff did a great job of pouncing on a fragile mindset at the time of Jim Tressel's resignation and sold Kalis all the way on the Maize and Blue. With a thin offensive line and only two commits in that position group, you can bet Meyer will look to add another two, maybe three more bodies to the group. Enter Jordan Diamond, Nick Davidson, Alex Kozan, and Kyle Dodson.
Jordan Diamond has always had the Buckeyes high on his list, but things had toned down a bit when turmoil hit Columbus. It looked like Michigan, Iowa, and Wisconsin were the teams to beat, but Diamond said he is very excited about Meyer taking the job at OSU. Look for an official visit from the Chicago native and once that happens, the Buckeyes may be the team to beat.
Davidson is a third generation Buckeye legacy and many have thought he would always pick OSU, but a decision has not been made to this point. Stanford and Clemson seem to be the two teams standing in Ohio State's way, but with stability finally in place, look for more information start to come out of this one. Davidson made no secret on his feelings about Meyer, all positives if you are a Buckeye fan hoping for this athletic tackle.
Kozan is another player who has not hid his desire to be a Buckeye. Originally from Cincinnati, Kozan moved to Colorado when he was younger with him family, but still roots for Ohio State. At 6'4", Kozan's size to play tackle has been questioned by many, but offers from Auburn, Iowa, LSU, and Wisconsin speak for themselves. I think if his scholarship is honored by Meyer and the new staff, Kozan will be a Buckeye in the not so distant future.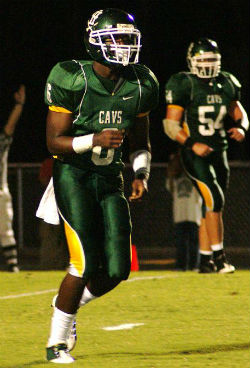 The final offensive lineman is Kyle Dodson. Dodson committed to Wisconsin earlier this year, just a day after receiving a "coveted" Ohio State offer, but I have always thought this one was open for the taking. Dodson recently mentioned possibly taking a visit to Auburn, and while he has not said anything about OSU, sources close to him have told me he really likes the Meyer hire and if Urban reaches out, would definitely listen to what he has to say.
The last player on offense to mention is Joel Caleb, a future Army All-American out of Clover Hill High School in Midlothian, Virginia. Caleb is a tremendous athlete who recently decided to drop a visit to Penn State due to the recent transgressions there, in favor of a trip to Columbus this coming weekend to check out the Buckeyes. The fact that Stan Drayton and Luke Fickell have built a great relationship with Caleb will only be helped by the presence of Meyer now running the program. I think Caleb will get the talk of being "the next Percy Harvin" during his visit this weekend and that could help the Buckeyes when it's all said and done.
On defense, the Buckeyes are looking at a few outstanding defensive linemen to pair with Adolphus Washington. One of those players is Se'Von Pittman who is currently committed to Michigan State. Pittman was another casualty of the Tressel situation, but it is well known that he has always been a Buckeye fan, despite his indecision about taking an official visit to Columbus. His longtime girlfriend is committed to play hoops for the Lady Buckeyes next year and may be the best recruiting tool Urban Meyer has. Stay tuned on this one as I think Pittman flips to the good guys.
Another defensive lineman that is committed but may still be in play is Greg McMullen. The Nebraska commit, like Pittman, was once a heavy Buckeye lean, but fell in love with Lincoln and the program Bo Pelini has put together. Unlike Pittman, I think the ship has sailed on McMullen, and this Akron native will end up playing against the Buckeyes for the Cornhuskers.
An out of state defensive end to keep an eye on is Dante Fowler of Lakewood High School in Florida. Fowler is currently committed to Florida State, but had a lot of interest in Florida when Meyer was there and was very excited to hear from the Buckeye head coach last night. Fowler has now said he will likely take a trip to visit Columbus officially and could fit nicely as either a lineman or a linebacker next year.
The last defensive end to touch on is Noah Spence of Bishop McDevitt High School in Harrisburg, Pennsylvania. The nation's top defensive end once seemed destined to Penn State, but has eliminated the Nittany Lions upon the Sandusky situation. While he was never high on the Buckeyes, Spencer was highly interested in Florida because of Urban Meyer, and now has the chance to play for him in Columbus. Spence spoke to Meyer last night and this thing is VERY alive, as he tweeted the Bucks are on top of his list after his discussion with Urban.
A Penn State commitment, DT Tommy Schutt is sticking with his verbal to the Nittany Lions....for now. Word is Schutt is waiting to see what will happen in Happy Valley before making a final decision on re-opening his recruitment, but what we do know is that he is very fond of Meyer and if the feeling is mutual, the Buckeyes will have a shot. I am not sure if there will be room for Schutt if some of the aforementioned players are landed, but it is definitely not out of the realm of a possibility.
One of the nation's top linebackers is Ifeadi Odenigbo out of Buckeye factory, Centerville High School. Odenigbo seems to have things down to Stanford, Cal, Notre Dame, and Ohio State (with Northwestern and MSU in the mix), but unlike most prospects, the Meyer hiring isn't exactly the best thing with this super pass rusher. Odenigbo has been outspoken about not being pleased with having to meet three head coaches in such a short time span, something that may ultimately tilt the scales to the west coast or South Bend. The good thing here is that Fickell is still on staff and Odenigbo likes him, but in the end I don't think it will be enough to keep this Centerville star in the state.
Another linebacker to look at is Keith Brown out of Miami (FL) Norland. Brown originally committed to Miami and is now committed to Illinois, but with Ron Zook out in Champaign and Urban Meyer arriving in Columbus, the door could now be open for the Buckeyes to sneak in on the 6-2/230 four-star linebacker. This is a position of need for OSU, so Buckeye fans should be hoping Meyer is on this one.
At defensive back, a name recruitniks are familiar with is Demetrious Cox, a safety out of Jeannette High School. Cox has liked the Buckeyes for a while and is good friends with Jordan Hall who was his teammate at Jeannette, but has not narrowed things down from his list of about 10 schools just yet. Cox has said he really likes the Urban Meyer hire by the Buckeyes and said there's a pretty good chance that one of his five official visits will be to Columbus, where he has already visited unofficially a few times during the last year.
Finally, a prospect many felt was long out of the picture was CB AJ Leggett from South Miami Senior High School in Florida. Leggett is currently committed to the Hurricanes, but had a scholarship from Florida when Meyer was there and thinks very highly of the new Buckeye boss. The Buckeyes have had great success in south Florida in the past, but things may get even better if Meyer can pry players like Leggett out of the state to come play for OSU. The Leggett story is just getting underway so it will be exciting to see how things play out.
This is just a short list of the players that could join the fold before National Signing Day this February, as right now, anything seems to be possible with Urban Meyer captaining the Buckeye ship. An already exciting recruiting season just got more exciting with the official word that Urban Meyer will be the next head coach at Ohio State and it should be a fun ride to watch going forward.