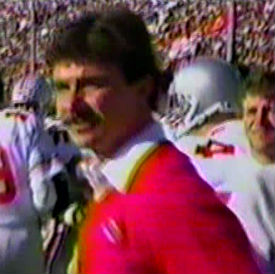 Welcome back to another edition of the 11W Recruiting Notebook.
In this week's segment, we break out our first B1G Recruiting Rankings, and while you'll be happy with where the Buckeyes sit, you won't be happy with who's at the top. Of course, that can all change, if a certain someone is announced as the new Buckeyes head coach within the next month and makes his magic happen.
We'll also discuss the latest on the elite Cincinnati Taft duo, Adolphus Washington and Dwayne Stanford, and which players the Buckeyes expect in town for their match-up against the Nittany Lions of Penn State. Join us after the jump so we can fill you in on the latest going on in the Ohio State recruiting world. 
Big Ten Recruiting Rankings
Something we've done in the past, but not yet for the class of 2012 is a set of Big Ten Recruiting Rankings. The list makes it's debut in the 11W Recruiting Notebook this week and goes something like this:
| Team | Rank (change) | Commits | 5* | 4* | 3* | 2* or Less | Top Commit(s) | Top Target(s) Remaining |
| --- | --- | --- | --- | --- | --- | --- | --- | --- |
| Michigan | 1 (---) | 24 | 1 | 12 | 10 | 1 | OT Kyle Kalis | DE Noah Spence, OT Jordan Diamond, RB Bri'onte Dunn |
| Ohio State | 2 (---) | 14 | 1 | 4 | 9 | 0 | RB Bri'onte Dunn | DE Adolphus Washington, WR Dwayne Stanford, OL Alex Kozan, OT Jordan Diamond, LB/DE Ifeadi Odenigbo, DE Se'Von Pittman, OT Nick Davidson, DB Demetrious Cox |
| Penn State | 3 (---) | 15 | 1 | 4 | 10 | 0 | DT Tommy Schutt | DE Noah Spence, DB Demetrious Cox, QB Devin Fuller, WR Cyrus Jones, WR Joel Caleb |
| Wisconsin | 4 (---) | 12 | 0 | 7 | 2 | 3 | QB Bart Houston | OT Jordan Diamond, OG Danny Isidora, S Demetrious Cox |
| Michigan State | 5 (---) | 15 | 0 | 2 | 13 | 0 | DE Se'Von Pittman | DE Adolphus Washington, S Demetrious Cox, S Jordan Diggs, WR Monty Madaris, DT Trae Clark, S Bam Bradley |
| Nebraska | 6 (---) | 8 | 0 | 4 | 2 | 2 | QB Tommy Armstrong | S Jordan Diggs, QB Devin Fuller, DE Taiwan Johnson |
| Iowa | 7 (---) | 10 | 0 | 1 | 8 | 1 | DT Jaleel Johnson | RB Greg Garmon, OT Jordan Diamond, OL Alex Kozan, TE Will Johnson, DT Aaron Curry, S Demetrious Cox, RB Tevin Coleman |
| Minnesota | 8 (---) | 22 | 0 | 1 | 9 | 12 | OT Jonah Pirsig | DE Barrington Morris, TE Will Johnson, DE Jean-Marc Charles |
| Indiana | 9 (---) | 16 | 0 | 0 | 13 | 3 | OLB Jaccari Alexander (JuCo) | QB Gunner Kiel, RB Tevin Coleman |
| Northwestern | 10 (---) | 17 | 0 | 1 | 8 | 8 | OG Adam DiPietro | LB/DE Ifeadi Odenigbo, OLB Abner Logan |
| Purdue | 11 (---) | 20 | 0 | 0 | 11 | 9 | TE Ryan Morris | RB Anthony Wales, WR Kenny Orjioke |
| Illinois | 12 (---) | 10 | 0 | 0 | 7 | 3 | DT Vontrell Williams | RB Anthony Wales, RB Tevin Coleman, CB Jalen Boyd, LB Mason Monheim |
Obviously there is a ton of time to go to catch the Wolverines and Buckeye fans should look forward to seeing how things play out as we approach Signing Day in February.
Adolphus and Dwayne Have a Day (Again)
It seems like Adolphus Washington and Dwayne Stanford have been set to make their college announcements 100 times so far this season. Finally, next Tuesday, November 22, the dynamic duo from Cincinnati Taft will let the world know where they will be attending college next year.
As for Stanford, many felt the 6-4/200 wide receiver would follow his buddy Washington to Ohio State for a while, but now some are trending away from that thought. Stanford is set to make his final visit to Oregon this weekend, and word is the Ducks definitely have a fighting chance, but from everything I have been told both from Stanford and sources close to him, I expect him to choose Ohio State as well and continue his football career with his current gridiron and hardwood teammate in Washington.Washington is the #1 player in the state of Ohio and, at 6-6/240, is being recruited primarily at defensive end, with some schools lieaving the possibility of linebacker on the table (think LEO at OSU). He is down to Ohio State, Alabama, Cincinnati, Michigan State, Michigan, Kentucky, and Miami (FL), but it has long been known that he favors Ohio State. I expect Washington to pick the Buckeyes next Tuesday, which would be a huge pick up for whoever is the head coach next season.
Getting these two Taft stand outs would be a huge win for the Buckeyes and would help vault the class, currently ranked second in the conference, up closer to that number one spot.
Weekend Visitors
With Penn State losing to Nebraska last week, all the Buckeyes had to do was to beat Purdue on the road to control their own destiny and set up another epic recruiting weekend in a battle for the Leaders Division lead this week in the Horseshoe. Of course that didn't happen the way we all hoped, but this weekend is still looking to be a strong chance for Ohio State to show some top notch recruits that they should be calling Columbus home in the near future.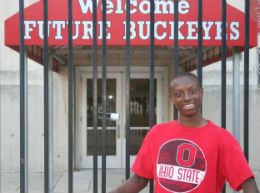 We have worked on gathering a list of visitors for the game this weekend and for 2012 you can expect to see some familiar names in Jeannette (PA) S Demetrious Cox and Centerville LB/DE Ifeadi Odenigbo in Ohio Stadium for unofficial visits. Some unfamiliar names you will see are wide receivers Herb Waters and Ricquan Southward, two Floridians who are currently committed to the University of Miami.
For Water and Southward, their official visits this weekend are a product of the Stan Drayton Recruiting Experience. Drayton, who Buckeye fans have been waiting to see reel in top talent from the Sunshine State, has worked hard in keeping in touch with the Hurricane commits and his work has paid off in the form of getting them to come for official visits this weekend. It's definitely not a done deal that either or one of these players would flip their verbal pledges, but it's very promising that they're making the long trip from Florida to check out the Bucks.
As for 2013, two big prospects are making their presence in the Horseshoe on Saturday. First is Billy Price, the Austintown Fitch two-way lineman, who many compare to current Buckeye John Simon. Price is projected to player either defensive tackle or offensive line at the next level, but I personally think the comparisons to Simon are dead on and would like to see him on defense. Either way, OSU would love to land Price and getting him on campus as much as possible definitely helps out.
Finally, the last visitor is one you are all familiar with in Eli Woodard of Voorhees, New Jersey. Woodard is one of the best corner backs in the class of 2013 and will be making his third unofficial visit to Columbus this football season. Woodard also came out for the Akron and Colorado games and is thought to be a heavy Buckeye lean. I don't expect him to make a verbal commitment until there is a new coach in place, but he has said he wants to make a decision early, so nothing is out of the realm of possibility.