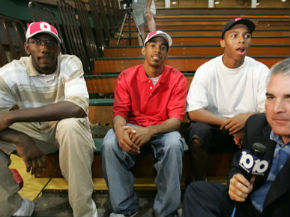 The notebook is back this week and we're excited to bring you the latest happenings in the Ohio State recruiting world.
With the NCAA sanctions expected to come out within the next 3 weeks or so and the likely naming of a new head coach shortly thereafter, things are starting to heat up when it comes to prospects on the gridiron. It should definitely be an interesting finish to this recruiting season, as the decisions by both the NCAA (on penalties) and Ohio State (on the next coach) will surely have a large effect come National Signing Day in February.
On the hardwood, the season is about to get under way and that is sure to bring some excitement for recruits looking at Thad Matta's program. Even better, today is the first day of the early signing period for basketball prospects, and we have some news regarding the Buckeyes' top targets.
Join us after the jump for the latest edition of the 11W Recruiting Notebook to hear what's going on with Buckeye commits in the high school playoffs, the latest on two players Thad Matta has his eye on, initial 2013 rankings and more.
Friday Night Lights: Playoff Edition
The Ohio High School playoffs got underway last week and there were a bunch of Buckeye-bound players in action.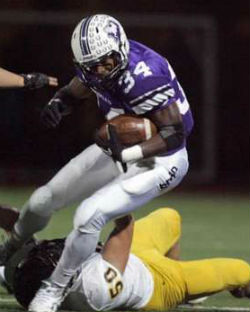 Warren Ball continued what has been a very nice season, rushing for 163 yards and 3 TDs in a 35-0 win over Caledonia River Valley in Division III-Region 10 play. The performance put Ball over 1,000 yards on the season.
The other future Buckeye running back didn't have as much luck as Ball. Bri'onte Dunn, whose Glen Oak team seemed to be the real deal this year, had his high school career end in a 35-28 loss to Wadsworth. Continuing to play through injury, Dunn rushed for 170 yards on 29 carries with 3 touchdowns, but it wasn't enough. Now that his season is over, Dunn plans to take all five official visits and the likely destinations are to OSU, Michigan, USC, Miami, and Penn State. Luke Fickell or whoever the new coach is better fight hard to keep this one in Scarlet and Gray.
Roger Lewis and Jacoby Boren took care of business, as Pickerington Central advanced in the Division I-Region 3 playoffs with a 55-14 win over Dublin Coffman. Lewis scored two times, once on an 81 yard catch and then again on a 98 yard kick return, while Boren helped the Tigers dominate in the trenches all night long.
In a nail biter, Upper Arlington edged out Troy in the Division I-Region 3 quarterfinals by a score of 21-20 in overtime. Frank Epitropoulos continues to be a do-it-all player for the Bears, playing wide receiver, safety, and punter as UA faces local rival Hilliard Davidson in the next round.
Najee Murray and the Steubenville Big Red advanced in the Division III-Region 3 playoffs by beating Wintersville Indian Creek 68-13. Murray had two catches, including a 53 yard touchdown, and also helped shut out the Indian Creek defense in the second half after they started off hot.
Finally, Blake Thomas and Cleveland St. Ignatius won 29-14 against Youngstown Boardman in the Division I-Region 1 bracket. Thomas, who came off a big game against rival St. Edwards, continued his stellar play, catching two touchdown passes on the night.
2013 Initial Rankings Gone Public
While there are many recruiting services out there, 247 Sports is one of the more respected along with Scout and Rivals. 247 came out with their Top 247 list for the best players in the country for the class of 2013 and Ohio State apparently hasn't been playing it safe in terms of who they are going after on the national landscape.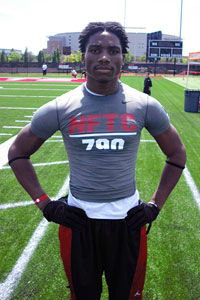 On the list, Ohio State is a major player for 7 of the top 50 (14%), 15 of the top 100 (15%), 19 of the top 150 (12.67%), 25 of the top 200 (12.5%) and 32 of the top 247 (12.95%). Obviously the percentage of players goes down as you get out the top 100, but if the Buckeyes were able to pull in about 1/3 of the players that they have targeted on this list, they would be in a very good position when it comes to Signing Day in 2013.
Things are certain to change as these juniors make the summer camp trips and play their senior season, but the players included in the top 100 that the Buckeyes are in on include LB Jaylon Smith (#4), ATH Jalin Marshall (#5), WR Robert Foster (#14), DL Henry Poggi (#26), DB Cameron Burrows (#32), DB Leon McQuay (#43), QB Malik Zaire (#47), OL/DL Billy Price (#52), OT Kyle Bosch (#55), QB Aaron Bailey (#57), LB Tim Kimbrough (#60), DL/TE Jake Butt (#70), TE Jacob Matuska (#80), RB Derrick Green (#85), and DT Tashawn Bower (#99).
Out of that group you have to like your chances to be amongst the finalists with in-staters Marshall, Burrows, Zaire, Price, Butt, and Matuska, and I really like the chances with out of staters Smith (brother of Rod), Kimfpough, Green, and Bower. You can probably throw McQuay, as well as a bunch of other targets not currently on this list in there if Urban Meyer takes over, but that's a whole other beast to slay.
Needless to say the 2013 class is looking like it could be one of Ohio State's best in a long time and it should be exciting to see how things play out.
Let The Early Signing Period Begin
Today is the first day that the class of 2012 basketball prospects can sign during what is called the early signing period. Unlike football, basketball allows two windows for prospects to sign national letters of intent to the school they will be accepting a scholarship one, with the second period coming in the spring. This year's early signing period starts today and runs until November 16th, meaning prospects have a full week to decide if they want to put ink to paper when it comes to their college decision.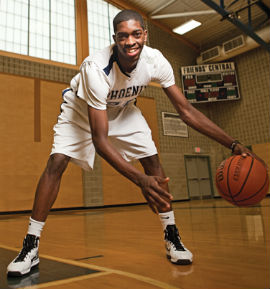 The Buckeyes are looking to add at least one player and possibly two in the class of 2012. They are definitely looking for a big man, as they know Jared Sullinger will likely depart for the NBA after this season, but are also considering some wing players as the only guaranteed scholarship open will come via William Buford graduating from Ohio State.
The two main targets for fans to keep their eyes on are Tony Parker of Miller Grove High School in Georgia and Amile Jefferson of Friends Central High School in Philadelphia.
Parker is the big man Thad Matta is coveting and at 6-9/270 can pick up right where Sullinger left off. The Buckeyes are one of four finalists along with Duke, UCLA, and Memphis, but from the look of things it will be OSU and Duke in it for the long haul. While Parker originally planned to sign during the early period, he said recently he needs more time to make his choice, and a verbal commitment will likely come closer to January, meaning he won;t be signing until the spring.
On the other hand, Amile Jefferson said he will likely make his college decision official before the November 16th deadline. Jefferson is a 6-7/190 wing who also has the ability to play power forward and is extremely athletic. He just came of an official visit at NC State and is taking his final visit to Stanford this coming weekend, with a decision coming shortly after. In addition to OSU, the Wolfpack, and the Cardinal, Villanova, Temple, UConn, and Kentucky are on his final list. I think this one will go to NC State at the end of the day, adding to a star studded class, but the Buckeyes will be in it until the end, giving fans something to look forward to next week.