Good morning Buckeye faithful and welcome to your Tuesday Skull Session.
The Buckeyes are on the road again this week as they prepare to face an undefeated Illinois squad that is capitalizing on a weakened Big Ten conference this season. It always upsets me when the Buckeyes play away from home and it has little to do with home field advantage.
On Saturdays in Columbus, this place is a whole new world. People are without a doubt excited about the game, but the atmosphere and the pregame festivities are truly amazing. On a day when there's a home game, I usually wake up to chants of "let's shotgun," or "hand me another beer," along with ear-blistering music coming from my neighbor's house.
But I'm not mad, it's a blissful tune which suffices for my typical alarm clock going off. It's a different feeling when the Buckeyes play at 'The Shoe', not just because of people drinking at unusual hours or stuffing their faces with food fresh from the grill. There's definitely an aura and mystique to the feeling, something almost palpable.
Just seeing the sea of scarlet and gray jerseys along with sprinkled pockets of opposing fans flooding the streets of OSU's campus always fills me with joy. Oh well, here's to looking to Oct. 29 when the Buckeyes return home and we all get to enjoy the awesomeness that will be Eat Too, Brutus.
DEPTH PERCEPTION. Ohio State has released its official depth chart for this week's tilt against the Fighting Illini with few changes from last week.
Braxton Miller, despite his injury, is still listed over Joe Bauserman for this Saturday's game, suggesting he will be playing, banged up or not. Sorry to all of Kenny Guiton's groupies, but he is not listed, even as a back up, on this week's two-deep, meaning Overthrow Joe will likely come out of the bullpen should Braxton have to leavre the game at any point.
Mike Adams is still listed at left tackle after being very impactful in last Saturday's matchup. Andrew Norwell will back up Adams while also starting at left guard. Norwell will be backed up by the returning Marcus Hall, who had started on the right side in every game he's played this season. Jack Mewhort will get the start over Corey Linsley at right guard. The return of Hall brings some added depth to the line and having the same line-up in back to back weeks will hopefully produce more offensive cohesiveness and stability for the entire unit. Now if only JB Shugarts could learn a snap count...
OUR ONLY HOPE? CBS national columnist Gregg Doyel has written an article claiming Gordon Gee and Gene Smith's only way to prevent further catastrophe to the football program is for the school to hire former Florida head coach and current ESPN commentator, Urban Meyer.
The article states that another source, SportRappUp.com, is claiming Meyer has been in contact with Penn State about a possible coaching job. Whether this is true or not, I suggest that the chants of Urban Meyer to Columbus be put to rest for now. I understand the Buckeyes are playing down to a level that hasn't been seen in a while, but giving up on Luke Fickell and saying we can't win with this team in this year isn't going to turn things around.
Do I like Meyer as a head coach? Sure, who wouldn't? Do I think he wants to come back to coaching? I have no idea, and I certainly am not ready to send Fickell to the unemployed line. Crazier things have happened than OSU possibly signing Meyer, but if people think he's going to ride in on some white horse and save OSU from mediocrity, they're crazy. This team is young and needs to experience mistakes before success. Let's not panic so soon.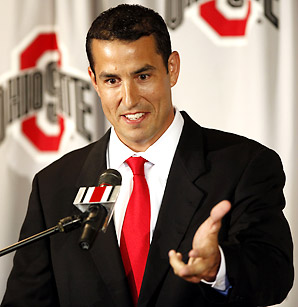 STILL MILLER TIME. It was an offensive explosion that seemed to have formed out of thin air against Nebraska this weekend. Braxton Miller looked calm, collected, and in charge, as he threw for 95 yards and a touchdown on 5-8 passing, with 91 yards rushing on the ground. This is what people expected from Miller since day one, but he finally showed glimpses of greatness last Saturday.
But then, he got hurt. The budding star quarterback, who was injured every year of his high school career, went down with a sprained right ankle. Surely people were holding their collective breath as he made his way to the sideline. The season itself has been hard to watch, but imagine it without your star quarterback, your blue-chip prospect of the future. That would be ugly.
However, all those in a panic will need to calm themselves down. It appears Miller should be ready to play this Saturday against 16th ranked Illinois. If Miller is for some reason not able to go, Fickell mentioned Guiton, despite not being listed on the official depth chart, will be considered for playing time over Joe Bauserman. I know that made at least some of you smile today.
THE DEED IS DONE. Texas and football have always been married in holy matrimony. It's like peanut butter and jelly; it just works. This is why I still have no idea why the Texas Christian University Horned Frogs ever felt like a good fit in the Big East.
It's reasonable that TCU wanted to be in a BCS conference and be privy to an automatic qualifying bid, but the two were just never meant to be. They were like peanut butter and tuna fish. TCU is so far from almost every other Big East school, it would've made traveling an adventure (especially for the non-revenue/olympic sports) and TCU, itself, an outlier. But TCU maintained they were right at home with the Big East until the conference began to completely fall apart.
And just when it looked like TCU was about to regret their decision, they got what they wanted most: A spot in the Big 12. It's a perfect fit for this team, where the school can remain close to more traditional schools for them in the heart of Texas.
TCU announced Monday night that they'll be paying the Big East $5 million to leave the conference in order to take up residence in the Big 12. While the down side is losing all that money, TCU will actually be in the Big 12 in time for next year's athletic year in 2012-2013. This is the home that TCU probably wanted all along. And now they have it.
LOS LINKS. Michigan State's Delvon Roe is giving up college basketball for an acting career... How high are the stakes for Luke Fickell... OSU had the best and worst of both worlds Saturday night... More shots at Gene Smith... OSU falls in ESPN's latest Big Ten power rankings.