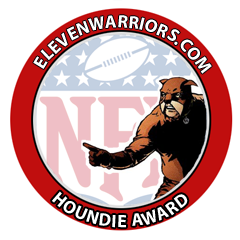 The Houndie is an award formerly known as the Buckeye NFLer of the Week.  After 2 years of existence, we searched for a catchier name, so with the help of a well placed typo and the ensuing 11W comments, the current title was created.
If you're anything like me, this past weekend's football action can only be classified as an epic FAIL. Not only did I have to sit through one of the worst Buckeye games ever, my Bears got demolished down in New Orleans and so did my fantasy team for that matter. The icing on the cake was the lackluster lineup of games we received locally in Cbus for Sunday's NFL slate; @1: Cleveland at Indy and Seattle at Pittsburgh, then @4: Cincy at Denver. It's no wonder I almost gave up on watching football the rest of the season around 5 o'clock on Sunday.

The most entertaining game of the weekend was Buffalo's 38-35 home win over Oakland. Though the Raiders surrendered 268 yards passing and 3 TD's to Ryan Fitzpatrick, Chimdi Chekwa recorded his first career tackle and was credited with just the one on the day. Terelle Pryor appealed his 5-game suspension last week to the Commissioner, but even if he could play right now, he has a long way to go to replace incumbant Jason Campbell, who threw for 323 yards and accounted for 3 TD's.
Speaking of Auburn QB's, Cam Newton put on another aerial display, as Carolina lost to the Packers, 30-23. Newton set a rookie record by passing for 422 yards, a week after topping 400 in is debut. Can anyone imagine a scenario where TP does this in his first two starts or for that matter, ever? Perhaps another example of how far off Pryor really is from seeing the field anytime this season. In the game, Chris Gamble barely upped his first week's performance by registering 3 solo stops in the loss, while A.J. Hawk had 2 total tackles and Ryan Pickett didn't record any stats, which isn't unusual for these two against strong passing teams.
In Detroit, the Lions continued their strong play from the end of last year, disposing of the hapless Chiefs, 48-3. Rob Sims once again started at RG for the Lions, but Bobby Carpenter didn't record any stats in his reserve LB role. Though he made the active roster, Donald Washington has yet to record a tackle this year for the Chiefs, who have been outscored 89-10 thus far and lost RB Jamaal Charles for the season with a torn ACL.
I must admit, even though the Browns and Colts were on TV here, my eyes were still bleeding from watching bad football the night before and I couldn't watch this one. There were rumblings earlier in the week that Anthony Gonzalez was ready to return from his bum hammy injury that kept him out of week one and though he wasn't inactive, he also didn't record a catch. Once again, Robo was held catchless for the Browns, who ended their 5-game losing streak to Indy, by winning 27-19 on the road.
Another potential bad team is Minnesota, who let a 17-0 halftime lead slip away in the 4th, as Tampa stole a 24-20 road win. Michael Jenkins had 3 catches for 29 yards, as Donovan McNabb spread the ball to 7 different receivers in his 18 completions. For the second straight week, Antoine Winfield made a strong case for the Houndie, leading the team with 11 solo stops. Through the first 2 weeks, 'Toine has 21 total tackles, which is tied for 3rd in the league.
Another player who received strong consideration this week(but as I admitted last week, it's an automatic occurance) was Dane Sanzenbacher, who had 3 catches for 33 yards and caught his first TD, an 8 yard pass to open up the scoring. Dane saw extended playing time with Roy Williams inactive and had Cutler target him 7 times in Chicago's 13-30 loss to the Saints. For the Saints, Will Smith sat out the last game of his suspension and Malcolm Jenkins helped hold Cutler to 19/45 passing for 244 yards, registering 5 total tackles along the way.
In New York, Nick Mangold was carted off the field in the second quarter of the Jets 32-3 win and is expected to miss 2-3 weeks with a high ankle sprain. Thankfully there didn't appear to be any ligament damage, but it comes at a bad time for the Jets, who set off on 3 straight road games against the Raiders, Ravens and Patriots. Santonio Holmes got the Jets on the board early, with a 17-yard TD catch from Sanchez. Suprisingly, that was the first time the Jets have scored an offensive first quarter TD in the last 16 games. Holmes would finish the day with 3 catches for 42 yards.  
Out in San Fran, the 49ers lost a heartbreaker to the Cowboys, 27-24 in OT. Last week's winner, Ted Ginn actually lead the team with 4 catches for 38 yards and only had a chance to return 4 punts, with an 11-yard average (3 of Dallas's 4 KO's went for a touchback). Ginn's 4 catches were the most in a game for him since December 27, 2009. On defense, Donte Whitner had 4 solo stops and a pick, but he and his secondary teammates continually got beat all day, as the Cowboys threw for 427 yards in their comeback win.
The late afternoon delight in Cbus was the Bengals dramatic 22-24 loss in Denver. Despite the Broncos only suiting up 3 WR's and The Choosen One playing emergency slot receiver, the Bengals couldn't make enough plays when they needed to. Nugent held them in the game, connecting on FG's of 45,37 and 23, while also nailing both his XP's. Nate Clements finished the day with 4 solo tackles and an assist, helping the Bengals hold Denver to 195 yards passing.
Down in Miami, Brian Hartline caught 2 for 36 yards in Miami's 13-23 loss to Houston, while Na'il Diggs saw his first action of the season for San Diego, recording an assist in their 21-35 road loss to New England.
Both primetime games this week featured Buckeyes in prominent defensive roles. On Sunday, Kurt Coleman started his second straight at SS, making 3 total stops, while Brian Rolle didn't make a mark in Philly's 31-35 loss. The Eagles once again learned they will live and die with Michael Vick this year, as he had 3 TO's in the game.
On Monday, the Rams are 0-2 after losing to the Giants, 28-16. Little Animal lead all tacklers with 9 solos and 5 assists, while Jake Ballard caught 1 pass for 13 yards in the win. LS Jake McQuaide had plenty of chances, as the Rams punted 7 times, while attempting 3 FG's and an XP.
As you can see, the Buckeye football funk affected more than just the current roster this weekend and we typically like to give the Houndie to a winning performance, which the Cardinals had for 58 minutes Sunday. There is little doubt Beanie Wells has been a disappointment thus far in Arizona, eclipsing the century mark just once in his 3-year tenure there, but so far this season, he is on the verge of shedding his bust label. For the second straight week, Beanie had 90+ yards and a TD, but the Cardinals couldn't hold on, as the Redskins rallied to the 22-21 win. Wells had 3 carries for 6 yards in the first half, as Arizona decided to dial up 19 passing plays on the road. Coming out of the locker room, Beanie toted the rock 5 times on the first possesion for 42 yards, leading the Cards into the red zone before a Kolb INT. On the next possesion, Ken Wisenhunt continued to remember the running game, calling Beanie's number 4 times for 41 yards, including his 2-yard plunge that put them up 14-10 with 3 minutes left in the third.
Wells would get just 2 more carries after his score, so it's no wonder the Cards lost, as they passed 6 more times in that span. On the early season, Wells is averaging an outstainding 5.7 per carry and is on pace for 1,400+ yards. His 183 yards to date has him 8th in the league. Like Ginn last week, Beanie was shut out of the Houndie's in 2010, but he is the early favorite to take home the 2011 season award.