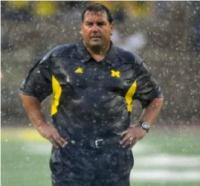 Welcome to Week 2: Electric Boogaloo of Big Ten action. While you were hooked up to an EKG machine thanks to the Toledo game, your cardiologist may have advised you to forgo watching any more football yesterday. Luckily for you, my doctor works in an office nestled between a Cash for Gold store and a sushi buffet so, like FDA-approved drugs and sterilization, he pays no mind to such things. 
Other than the requisite second-week laugher games, it was an eventful weekend for the conference. We had embarrassing losses. We had triple OTs. We had coach seizures. We had, approximately, 370 turnovers. We had umpteen Omaha Steaks commercials. We had historic(ally bad) football being played. BIG TEN!
MICHIGAN 35, NOTRE DAME 31
In a game more hideous than the throwback uniforms Michigan wore and more eye-gougingly repulsive than a rain-soaked Brady Hoke, Michigan overcame their own awful defense at the expense of Notre Dame's. Denard Robinson channeled former Wolverine Les Miles and Forrest Gump-ed his way to four touchdowns in the fourth quarter, including the game-winner with two seconds left. Fortunately for Michigan, even two seconds isn't long enough for their defense to blow the game. Unfortunately for the rest of us, there is no rule that states two teams who play this horrendously must both lose.
The first game under the lights in Michigan Stadium, in front of a record-setting crowd, demonstrated that both teams need to work on their night moves1. There were missed tackles a-plenty and eight turnovers between the two schools. The Wolverines erased a 24-7 deficit, taking their first lead with just over a minute remaining in the game. Notre Dame regained it almost immediately on a touchdown pass with 30 seconds left. Three plays and 80 yards later, Michigan won the game on a Robinson pass to Roy Roundtree. Of UM's 452 total yards, Shoelace accounted for 446 of them. The Michigan D gave up 513 yards. 
Does Fozzie Bear count as a tickle bear? Because MGoBlog is feeling positively Muppet-y. Wocka, wocka. Meanwhile, the M Zone hails it as the "Greatest. Michigan. Comeback. Ever." And somewhere last night, every defensive member of the '85 Bears died a little, even the already-deceased ones.  
IOWA STATE 44, IOWA 41
Such a coveted treasure is the Cy-Hawk Trophy that it took three overtimes for the intrastate rivals to decide who would take home the temporary version2 of the award. Iowa State converted a 4th & 4 for a TD to force a second OT, and in the third OT, Iowa settled for a field goal. ISU responded with a James White TD and the win.  
Iowa QB James Vandenberg played competently, going 16/28 with two TDs and no interceptions. Marcus Coker somewhat rebounded from his disastrous game last week. Although he still had a fumble, he also rushed for 140 yards and two scores. Black Heart Gold Pants singled out Keenan Davis, who caught five passes for 95 yards and a TD, as one of the few things that did not suck on the day. The Hawkeye defense gave up 473 yards, 279 of which were in the air. Before Saturday, the Iowa D had not allowed more than two touchdown passes in a game for 35 straight contests. The Cyclones threw for four TDs.
ALABAMA 27, PENN STATE 11
Proving that it is physically possible for an SEC team to venture north, Alabama traveled to Happy Valley and happily left with the win. The QB platoon of Penn State tanked, with starter Rob Bolden completing 11 out of 29 pass attempts for 140 yards and an interception. Matt McGloin's moxie could only conjure up 1/10 passing for 0 yards. It could have been much worse, but two interceptions were reversed upon review3. Of three Nittany Lion turnovers, the Crimson Tide converted two into TDs. Silas Redd added a TD late in the fourth quarter when the game was well in hand. QB A.J. McCarron (19/31, 161 yards, 1 TD) and RB Trent Richardson (111 yards on 26 carries, 2 TDs) played well for Alabama, who somehow survived without Mensa member Duron Carter.
For Black Shoe Diaries, it felt a bit like February 2nd, as once again, fans witnessed "a strong defensive showing and a sputtering offense that failed to find the endzone."
One Penn State streak was broken and one was kept alive. Going into the matchup against the Tide, Penn State had won 23 consecutive nonconference home games. The loss to #3 ranked Alabama means PSU hasn't beaten a top-five opponent in eight straight tries.
NEBRASKA 42, FRESNO STATE 29
Until late in the game, Nebraska had their hands full with welfare-scammers Fresno State, who led 17-14 at the half. Then, charisma-vacuum4 Bo Pelini politely asked his team to play better, and they scored 21 points in the fourth quarter to cement the win, including a 100-yard kickoff return by freshman Ameer Abdullah. The NU defense, which is supposed to be one of the best in the conference, gave up 444 yards. Corn Nation puts the blame on Carl Pelini, who "got flat-out outcoached most of this game". Taylor Martinez struggled some with his passing game (10/21, 219 yards, 1 TD, 2 INTs) but made up for it with his feet, rushing for 166 yards and two TDs. Husker Mike maintains with the OL problems, "Martinez is going to have to throw more."
WISCONSIN 35, OREGON STATE 0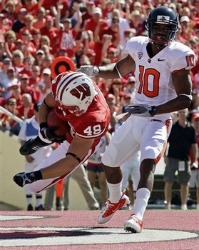 In hopefully their only victory against an OSU this season, Wisconsin once again benefited from the superior play of QB Russell Wilson (17/21, 189 yards, 3 TDs) and RB Montee Ball (118 yards on 18 carries, 2 TDs). Perhaps jealous of Jake Stoneburner's accolades last week, TE Jacob Pedersen caught two TD passes.
After a less-than-stellar debut, the Badgers' defense pitched their first shutout in two seasons. Bucky's 5th Quarter called it "a good confidence boost" for a D that will soon face more difficult challenges. 
Due to poor timing, and not at all because of cupcake scheduling, Wisconsin has now won 30 consecutive nonconference games, postseason excluded.
RICE 24, PURDUE 22
Unable to produce last-minute magic again, Purdue fell to Rice, who beat a BCS opponent for the first time since 2001. The Owls' Justin Allen blocked what would have been the game-winning field goal on the final play of the game. QB Caleb TerBush, while not lighting the world on fire, played respectably for the Boilermakers. He threw for 183 yards and 1 TD on 18/31 passing and ran for 68 yards and a score. For Rice, former Michigan RB, and Austin Spitler victim, Sam McGuffie rushed for 48 yards on nine carries and caught two passes, including a TD, for 38 yards. 
Boiled Sports calls out the Legend of Danny Hope's Mustache, lamenting, "a team like this Purdue one simply cannot overcome obstacles like poor coaching and bad decision making from the leaders." Hammer & Rails agrees, believing it's time to "start fresh and hope for the best.  We can't hit rock bottom any harder than we already have."
On the other hand, there were no ACL tears for the Boilermakers yesterday, so that's basically a win.
VIRGINIA 34, INDIANA 31
Rallying from a 23-3 deficit in the third quarter, Indiana took the lead with 12 minutes remaining, only to lose on a last-second field goal. Especially after a disappointing loss last week, it was a heart-breaking, and truly Indiana-ish, defeat. The Crimson Quarry admits, "this one will sting for a while".
With the scored tied and just over a minute left in the game, Virginia DE Cam Johnson snatched the ball from QB Edward Wright-Baker at Indiana's own 23-yard line, setting up the game-winning FG. New IU coach Kevin Wilson is 0-2. Cavaliers coach Mike London, in his second season with the team, notched his first road win. 
NEW MEXICO STATE 28, MINNESOTA 21
Eclipsing the loss, Minnesota coach Jerry Kill suffered a seizure with 20 seconds to go in the game. Kill has a history of such attacks and is now thankfully in stable condition. QB MarQueis Gray had an up-and-down afternoon, running for 110 yards but only completing 50% of his passes (16/32, 2 TDs, 2 INTs). His teammate, WR Da'Jon McKnight, made several highlight-worthy catches and ended up with 146 yards receiving and one TD.
Big Ten Standings
Legends
Michigan
0-0
2-0
Michigan State
0-0
2-0
Nebraska
0-0
2-0
Northwestern
0-0
2-0
Iowa
0-0
1-1
Minnesota
0-0
0-2
Leaders
Illinois
0-0
2-0
Ohio State
0-0
2-0
Wisconsin
0-0
2-0
Penn State
0-0
1-1
Purdue
0-0
1-1
Indiana
0-0
0-2
As disheartening a day as it was for Minnesota, Troy Stoudermire now holds the record for career kickoff return yardage in the Big Ten. New Mexico State coach DeWayne Walker, a former Golden Gophers cornerback, improved his record to 6-21 and was even on the receiving end of a Gatorade bath. It was their first win against a BCS opponent since 1999. 
NORTHWESTERN 42, EASTERN ILLINOIS 21
In place of Dan Persa for the second straight game, QB Kain Colter led Northwestern to a win over Eastern Illinois. Like last week, Colter was impressive as he ran for 107 yards and three TDs while throwing for 104 yards on a 10/13 effort. He got knocked around a bit on a third-quarter score, but he only sat out one series before returning to the field. Still, Lake The Posts emphasizes that with all the other injuries sustained by the Wildcats, "he HAS to learn to protect himself better".
MICHIGAN STATE 44, FLORIDA ATLANTIC 0
After last week's underwhelming victory over Youngstown State, Kirk Cousins' most likely spoke to his teammates and received a standing ovation. That led to Michigan State easily defeating Florida Atlantic. Cousins was precise on the day (16/21, 183 yards, 2 TDs) and running backs Edwin Baker and Le'Veon Bell each scored a TD. More notably, B.J. Cunningham became the Michigan State leader in career receptions. 
FAU coach Howard Schnellenberger, or quite possibly the Bernie Lomax incarnation of him, watched his team pick up one first down. All game. The Spartan defense only surrendered 48 yards. Meanwhile, The Situation was in attendance, hanging with Izzo. So, Sparty, get some better taste in television. 
ILLINOIS 56, SOUTH DAKOTA STATE 3
Before Illinois cruised to a 2-0 record, everyone, including South Dakota State, was unaware that a South Dakota State even existed. Against the FCS opponent, the Illini running game was deadly. Seven different players carried the ball and scored six TDs on the ground. QB Nathan Scheelhaase had two of them, as did freshman RB Donnovon Young. UI totaled 514 yards of offense on the day. 
1 Somewhere, Bob Seger is weeping while he stalks an unsuspecting woman on Mainstreet.
2 Not the one you'd find in a Hallmark store or on a shelf in your grandma's sitting room. 
3 As Anderson Russell can attest to, almost interceptions don't count. 
4 I saw a minute of his interview on Step Into My Office on BTN. If that guy isn't in the middle of having an aneurysm, he could easily be mistaken for a birch tree.