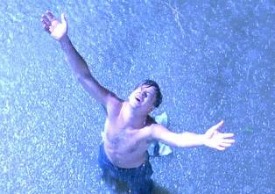 Welcome to the Big Ten: A New Beginning. We are not just greeting a new football season—praise be to the football gods—but in addition, the conference formerly known in niche internet circles as the Big Televen is now the (Corn)huskier B1G. While you were celebrating the successful debut of future co-Heisman winners Joe Bauserman and Braxton Miller, you may have missed out on the rest of the B1G action.
Or, perhaps, you woke up early yesterday morning, on less than four hours of sleep, when a nasty storm wiped your power out. As you waited for it to return, because it never goes out for very long, the noon kickoff time slowly approached and you realized that the only person you knew within 50 miles that had electricity was a 92-year-old residing in an assisted living home. It's not like college football Saturdays are a precious commodity. It's not like this offseason was the incarnation of the ninth circle of Hell. It's not like the sweet release of a new season was supposed to be akin to the climax of Andy Dufresne's prison escape. 
So, you conceded defeat and headed over there to watch the season opener with an elderly woman who knows nothing about football, talked through most of the game, has no internet, and uses the word "icebox" in a way that is not a reference to Mark Dantonio's favorite movie, Little Giants. At halftime of the Michigan game, you had to leave because the bedtime of a nonagenarian is 5pm. Then you discovered that the estimated restoration time for your power was 11:30 the following night. By some minor miracle, you managed to not go on a killing spree and instead, were able to make contact with an electricity-blessed friend who lives 45 minutes away. You, still unshowered and resembling a homeless person at this point, tracked her down at a liquor store, refrained from drinking the entire contents of the store, and borrowed her house key so finally, at 10pm, you could catch up on the day's gridiron battles and start to write the article you had due the next day about all the games you didn't get to watch. 
Not that that would actually happen to anyone. Even Jack Tripper would say, "eh, that's a little too farcical". Nevertheless, I've got you covered with the 11 other B1G games from this stormy first weekend of college football. 
Michigan 34, Western Michigan 10
When the manboobs of Brady Hoke jiggled onto the field of Michigan Stadium, a new era in Ann Arbor commenced, one in which the Wolverines prevailed over their instate brethren from Kalamazoo in a game called early due to bad weather. The torrential downpour, and the lightning that caused two delays and an evacuation of the stadium1, could have signaled the End Times. A defensive UM player positively contributed to the team's efforts? Running backs not named Denard Robinson toting the rock with an average over 1.2 yards/carry? That's either Armageddon or Poseidon helping them avoid a 4th-quarter collapse. 
WMU took an early 7-0 lead on their first drive, but Michigan responded immediately, with starting RB Fitzgerald Toussaint scoring on a 1-yard run, his first of two touchdowns. He finished the game with 80 yards on 11 carries. His backup Michael Shaw also scored on a 44-yard TD run in the 3rd quarter, before the game came to a premature end. Robinson, who is supposed to run the ball less this season, still carried it eight times for 46 yards.
Threatening to take the lead again in the second quarter, the Broncos' quarterback, Alex Carder, was intercepted by linebacker Brandon Herron who returned it 94 yards to give the Wolverines a 7-point lead. In the third quarter, he scored again when safety Jordan Kovacs forced a Carder fumble and Herron ran it back for TD. It was the first time in Michigan history that a defensive player scored twice in a game. Despite forcing three turnovers total, the defense had its weaknesses, especially in the secondary against WR Jordan White, who accounted for 119 yards on 12 catches. WMU, outgaining the Wolverines in first downs, only amassed five fewer total yards, even though they lost by 24 points.
Northwestern 24, Boston College 17
With starting QB Dan Persa still recovering from Achilles tendon surgery, Northwestern was led by Persa's backup, Kain Colter, to a victory over BC. Referring to it as "a HUGE win" and progress for their program, Lake The Posts was impressed with Colter, who was 17/24 for 197 yards and ran for 71 yards, scoring a TD that tied the game at 10 right before halftime. The Wildcats kept in on the ground in the second half, with RBs Mike Trumpy and Adonis Smith each rushing for a TD.
The Eagles refused to go away, thanks in part to Andre Williams, who was filling in at RB for the injured Montel Harris. Williams ran for 114 yards and scored a TD in the fourth to cut the deficit to 7. The Northwestern D held on a key 4th down with three minutes left, but Boston College got the ball back with a chance to tie the game. Instead, Wildcat defensive lineman Vince Browne sacked QB Chase Rettig to end the game.  
Purdue 27, Middle Tennessee State 24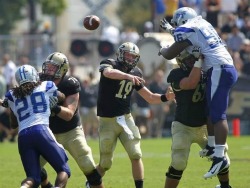 As the fifth starting QB for Purdue in a year, eventual ACL tear victim Caleb TerBush threw a 35-yard TD pass to Antavian Edison with less than a minute left to give the Boilermakers a 1-0 start to the season. The teams traded scores in the fourth quarter, and Ricardo Allen blocked what would have been a game-tying field goal as time expired. It was redemption for Allen, who fumbled a punt in the first quarter that eventually led to a MTSU TD. 
While TerBush totaled 219 yards in the air with 2 TDs and 1 interception, Boiled Sports pointed out his "inability to hit open receivers", but Hammer & Rails thought he grew leaps and bounds with that final TD pass. Both Purdue blogs opined that despite the ugliness, such as the defense surrendering 460 yards, all that matters is the win. Other Boilermakers helped the cause were Justin Siller, who caught five passes for 54 yards, and Ralph Bolden, making a triumph return from an ACL injury2 to account for 120 yards on the ground.
USC 19, Minnesota 17
In his first game as Minnesota's head coach, Jerry Kill almost orchestrated an upset in the Coliseum. Down 19-3, the Golden Gophers came back in the second half, only to fall short when backup QB Max Shortell threw an interception with less than a minute remaining in the game. Shortell, a true freshman, replaced an injured MarQueis Gray, and with 8 minutes to go, threw a TD pass to Brandon Green. Gray left the game with cramping and tallied 94 yards in the air while rushing for 48.
Ultimately, Minnesota wasn't able to overcome the QB/WR tandem of Matt Barkley and Robert Woods, the latter of whom caught 17 passes for 177 yards. The Daily Gopher, while despising the term, admitted that it was a moral victory. The much improved second-half play could be a sign that better days are ahead for Coach Kill's team.
Nebraska 40, Chattanooga 7
Making its B1G debut, Nebraska had no trouble with the Southern Conference powerhouse Chattanooga. Cornhusker QB Taylor Martinez handled the new offensive scheme well, as he passed for 116 yards and led all rushers with 135 yards and 3 TDs, one of which was a 43-yarder on 4th and 2. RB Rex Burkhead contributed 75 yards and a TD. Still, Husker Mike had his concerns with the new offense, calling the option-look "rusty" and the OL performance "ineffectual".
Defensively, Nebraska only gave up 60 yards on the ground. DE Cameron Meredith was a force, recording two sacks and an interception. But Corn Nation was perhaps most impressed with walk-on kicker Brett Maher, saying he could be their key to winning the conference. On a windy night, Maher was 4/4 on field goals, including a 50-yarder. He also averaged 52 yards on four punts.
Basically, Nebraska opened its season by beating up on a FCS cupcake. Welcome to the Big Ten!
Illinois 33, Arkansas State 15
Despite a slow start, Illinois showed off its talented offensive weapons to best Arkansas State. QB Nathan Scheelhaase passed for 267 yards and two TDs. All 16 of his completions went to A.J. Jenkins, who caught 11 passes for 148 yards, and Darius Millines, who received the other five for 119 yards. Each scored a TD. RB James Ford added two TDs on 86 yards rushing.
Illinois blog A Lion Eye laid out the argument for their first opponent of the year to be the likes of ASU instead of, as in previous seasons, Missouri: "a program like Illinois needs to build a foundation and then slowly grow towards consistency". So, for the first time since 2006, the Illini begin the season with a 1-0 record.
Penn State 41, Indiana State 7
Penn State started its season off with a bang when Chaz Powell returned the opening kickoff for a TD3. Rob Bolden (6/12, 37 yards) took the first snaps at QB, but Matt McGloin (6/8, 77 yards) also saw time at the position. It was the running game, though, that was most dominant, accumulating 245 yards. Silas Redd led the effort with 103 yards and two TDs. Joe Suhey, Michael Zordich, and Shane McGregor also rushed for a TD each. Black Shoe Diaries predicts a season of vintage JoePa4, which means "an athletic, physical running game leading the offense". 
Big Ten Standings
Legends
Iowa
0-0
1-0
Michigan
0-0
1-0
Michigan State
0-0
1-0
Nebraska
0-0
1-0
Northwestern
0-0
1-0
Minnesota
0-0
0-1
Leaders
Illinois
0-0
1-0
Ohio State
0-0
1-0
Penn State
0-0
1-0
Purdue
0-0
1-0
Wisconsin
0-0
1-0
Indiana
0-0
0-1
On the other side of the ball, the Nittany Lion D only gave up 64 yards on the ground. The overmatched Indiana State team managed to get on the board with two minutes left in the game. The PSU defense also forced three turnovers. Their big test comes next week against Alabama.
Iowa 34, Tennessee Tech 7
In another game that was delayed by lightning, Iowa easily took care of business against Tennessee Tech. Although the Hawkeyes only led 3-0 after the first quarter, they quickly scored another 24 points before halftime. James Vandenberg hooked up with WR Marvin McNutt for two TDs. McNutt was the recipient of 140 of Vandenberg's 216 passing yards. The new starting QB, who also scored on a 1-yard TD run, did a respectable job taking over for the more interceptable, and more patriotic, Ricky Stanzi. 
The bad news for Iowa was in the running game, where RB Marcus Coker fumbled twice and gained 41 yards on 11 carries. He was replaced in the first quarter with freshman Mika'il McCall who looked good with 61 yards on 9 carries. Unfortunately for the Hawkeyes, he broke his ankle and will miss the remainder of the season. Black Heart Gold Pants has some choice words for Angry Iowa Running Back Hating God.
Ball State 27, Indiana 20
In the other B1G loss of the weekend, Indiana fell to Ball State in a contest that was played in Lucas Oil Stadium. With a 17-14 halftime lead, the Hoosiers couldn't hold on and gave up 10 points in the 3rd quarter. Edward Wright-Baker threw his one TD pass to Demarlo Belcher, who made an acrobatic catch and then slipped away from the defender for a 65-yard score. While that duo had a nice game, Ball State's QB, Keith Wenning, was better, completing 23 passes on 29 attempts for 174 yards and 2 TDs, and rushing for 64 yards and one TD.
Indiana's pedestrian running game, which gained just 107 yards total, was not much help. The Crimson Quarry was not expecting this loss, so it was a disappointing way to for the IU faithful to begin the Kevin Wilson years. This season doesn't look very promising for them. 
Michigan State 28, Youngstown State 6
In Spartyland, expectations are high. That can only mean one thing: Michigan State rang in the new season in decidedly mediocre fashion. On Friday night, they defeated Youngstown State after a mistake-filled first half that included seven penalties and a muffed punt. The Only Colors seemed rather sanguine about it all, remarking, "a few areas to improve on, of course, but that's a large part of why teams schedule these 'guarantee games' in the first week". 
Kirk Cousins had the privilege of throwing for 222 yards and a TD. B.J. Cunningham's nine receptions for 130 yards means he is now tied with Mark Trannon for the most career receptions at Michigan State. Edwin Baker rushed for 91 yards and Le'Veon Bell ran for two TDs.
For those who like their football heartfelt, OL Joel Foreman let his teammate, and cancer survivor, Arthur Ray Jr. start in his place. It was the first time Ray had played in a college game.
Wisconsin 51, UNLV 17
Wisconsin kicked off the season Thursday night and cruised to victory over UNLV. Leading 20-0 after the first quarter, the Wisconsin offense encountered few problems. Montee Ball scored four TDs, rushing for three and catching another one. Russell Wilson threw two TDs and scored on a 46-yard run. Wisconsin fans are giddy about Wilson, who is making everyone forget about Scott Tolzien. To be fair, like every other Badger QB off the Aryan Assembly Line of the Greater Madison Area, the expiration date on remembering Scott Tolzien is only about three more days5.
In a Carrie Bradshaw voice, no doubt, Bucky's 5th Quarter wonders, "Is Wisconsin's big-play offense too much of a good thing?" The quicker the O scores, the more the young, and flawed, defense has to take the field. 
So, you know, maybe don't crown them Big Ten Champs just yet.
1 The stadium, not the people in it, was evacuated, though Michigan fans probably could have used it. 
2 Obviously.
3 Apparently, Indiana State watched the nonexistent 2010 Buckeyes for tips on how to cover kickoffs.
4 Redundant, I know. And where was JoePa during the game? In the press box as he recovers from injuries sustained by being an 82-year-old head coach.
5 Despite having a savant-like memory for useless trivia, I can only name one other Wisconsin QB before Tolzien, and that's for one giant choke of a reason.