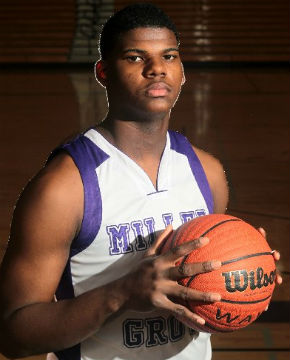 We're back with another edition of the 11W Recruiting notebook and today we'll be talking a little bit of hoops in addition to all the football goodies your heart could desire. Before I dive in to what the Buckeyes are doing, I'm going to do a little recruiting of my own for Team 11W and the #1 target on my board is you, the reader.
As you all know, we're hosting the second annual "Eat Too Brutus" tailgate this year prior to the Wisconsin game. We've already received some good feedback in terms of attendees and what not, but there's always room to make the event bigger and better, especially when it supports a great cause like the Stefanie Spielman Foundation for Breast Cancer Research at Ohio State's Comprehensive Cancer Center-James Cancer Hospital and Solove Research Institute.
I know some of you are a bit down after the loss to Miami, but this is THE Ohio State University and the boys will turn it around. Don't wallow in your sorrow thinking that it's pointless to make the trip to Columbus because your pessimistic view of the Buckeyes has you feeling a smothering at the hands of Russell Wilson. Have some faith, and know that if things don't go the way we'd all like them to when the game kicks off, at least you would have had an absolutely awesome time from sunrise to sunset in the RV lot behind Nick Swisher Field at Bill Davis Stadium.
For those of you who physically can't attend on the 29th, fear not, as you can still be a part of this great event. As we told you last week, all proceeds from t-shirt sales go to the Spielman Fund, and with you picking the price you pay for your ETB shirt, there's really no getting out of this one. Stop slacking and get your super cool new shirt today.
Alright, enough of my rambling, I know you're hungry for the 11W notebook. Speaking of hungry, how about some City BBQ? Join me after the jump for the latest recruiting news.
Buckeyes In Action
Matthew Hager of Buckeye Sports Bulletin has the latest from around Ohio High School Football from last Friday night. In case you're too lazy to click the link, I'll break down some of the highlights from future Buckeyes in action last week.
Warren Ball continued his stellar play in a DeSales 42-7 victory over Union (KY) Ryle. Ball had 130 yards and 5 TDs on just 13 carries. DeSales' offensive line has struggled all season long, making Ball's performance during his senior year that much more impressive.
Three Buckeye commits were in action in the same game on Friday, as Pickerington Central took on Lancaster. Jacoby Boren and Roger Lewis came out on top of Luke Roberts, as Central won 21-0 to open Ohio Capital conference play. Lewis didn't do much on offense, while Boren was very solid on the offensive line, paving the way for three rushing scores. Roberts had 47 yards on 11 carries for Lancaster in the losing effort.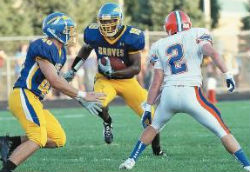 Bri'onte Dunn helped Canton Glen Oak improve to 4-0 on the season in a 34-7 victory against Massillon Jackson. Dunn ran for 169 yards on 21 carries and scored 4 times in the win, proving that he is the type of runner that can put a team on his back. With a good offensive line and solid passing game, it will be difficult for many teams to stop Dunn's rushing attack and the Golden Eagles this season.
Josh Perry is going to be a linebacker or defensive end when he gets to Columbus, but it sure looks like he could help someone out at running back.The Olentangy star ran for 199 yards and 3 touchdowns in a 35-25 road victory at Dublin Scioto. His runs of 61, 1, and 88 yards showed he has the power to punch it in from up close, as well as the athleticism/home run speed needed to take it the distance. Oh yeah, this is a defensive recruit we are talking about folks.
Finally, Blake Thomas had a big impact in St. Ignatius's 27-8 win over Centerville. Thomas caught 5 passes for 55 yards and a touchdown in the win, as the Wildcats moved to 3-1 on the year. Jake Stoneburner, Reid Fragel, Jeff Heuerman, and Nick Vannett are a nice collection of tight ends. Blake Thomas only adds another great player to that group.
Miami Game Not A Factor
We just told you what the current Buckeye verbals did last weekend before the Buckeyes took on Miami. What we didn't tell you is what they did after a disastrous 24-6 loss in Sun Life Stadium Saturday night.
I got in touch with a number of the current commits to ask them their thoughts on what happened in South Beach. Most of them caught the game (Frank Epitropoulos was actually at the game) and were obviously disappointed with the results, but recognized that this is a young team trying to find its identity in a time of turmoil. The sentiment seemed to be that the quarterback conundrum, lack of experience on the road, and some missing key players all contributed to the loss.
When asked if the game had any impact on their thinking or decision about Ohio State, all of them gave one consensus answer. That was they were still 100% Buckeye and couldn't wait to get to campus to help the team improve. That shouldn't come as a surprise to anyone who has followed recruiting at all, considering these players have stuck with their non-binding commitments to the school despite all that has happened over the past 10 months. Talk about true Buckeyes.
2013 Passers Appealing
Speaking of quarterbacks, there are some very talented ones in the recruiting class of 2013. Some names to take note of are Lexington (KY) Catholic's Kyle Bolin, Kettering Alter's Malik Zaire, Canton Glen Oak's Reid Worstell, Seffner (FL) Armwood's Daryl Richardson, Massillon Washington's Kyle Kempt, St. Henry's Kyle Stahl, Brecksville's Tommy Tupa, and Virginia Beach Salem's Bucky Hodges. 
All of these players are extremely talented, but it's uncertain if any of them are serious players to sign with Ohio State. Why you ask? Well it's certainly not the players' choice, but rather the school's, as the Buckeye staff, as it is composed right now, isn't sure if they need a signal caller in 2013.
In addition to having redshirt sophomore Kenny Guiton, redshirt freshman Taylor Graham, and true freshman Braxton Miller, the Buckeyes have Cardale Jones coming in this winter from Fork Union Military Academy. Those four players are more than serviceable and there may even be more than one future starter among the group.
That being said, it is unknown if Guiton or Graham may leave after this season, as it appears Braxton Miller is the future at quarterback for now. If either or both of them do, there will certainly be a need to add some players at quarterback, and any of the above could be good options. Factor in the possibility of a new coaching staff wanting to pick their own signal caller and we could possibly go from seeing zero quarterbacks in this class to two players at the position.
Tony Parker to Ohio?
Sorry to get your hopes up Cavs fans, but this Tony Parker doesn't have a history with Eva Longoria.This Tony Parker is a senior at Miller Grove High School in Lithonia, Georgia and is rated as a consensus top 50 player in the country for the class of 2012.
Standing at 6-9/270, Parker is a dominant post player and could be the successor to the center position after Jared Sullinger departs Columbus, possibly as early as this year. Parker originally trimmed down his list to a top five of  Duke, Ohio State, Memphis, Georgetown, and UCLA, with home schools UGA and Georgia Tech in the mix, but some recent visits have him thinking otherwise of late.
Parker is now apparently down to three schools, with the lucky finalists being Ohio State, Duke, and UCLA. He visited OSU a few weeks ago, during the weekend of the Toledo game (where he could be seen on TV on the sidelines with Jeff Boals), and apparently rated the visit a "10". It seemed this outstanding prospect connected with the current players and coaches so well that he already scheduled a visit for Thad Matta to come down to his high school so that he can spend more time with him.
Parker did also schedule visits to Duke (10/28) and UCLA (9/30), but right now it looks like the Buckeyes are the leader in this one. Thad and the staff have been on the trail for this kid for a while, much longer than Coach K and Ben Howland, and I have always had a feeling that he would pick the good guys. While this is far from over, Parker would be a huge get in a class that will total a maximum of two players, and likely will only include one, due to a young squad taking up most of the allotted scholarships. He definitely isn't as game ready as Sullinger was coming out of high school, but with a bit more seasoning he could be a very dominant post player at center for the Buckeyes in the near future.
Check out the highlights on what could be the new "TP":