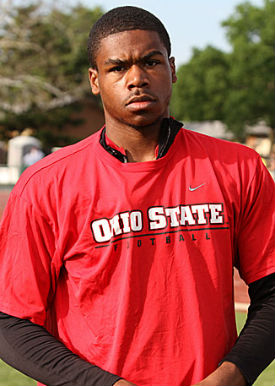 Welcome back Buckeye fans to another edition of the 11W recruiting notebook. While most of you have been solely focused on the 42-0 thrashing of Akron that the current OSU players gave us last Saturday, I've been hard at work tracking down some potential future Buckeyes to get the latest on their recruitment and see how they've been performing on the high school gridiron.
Opening weekend in college football is always a big one for many reasons. One of those is recruiting as many top prospects take the opportunity to soak in the first game festivities while they have less pressure and commitments during the early part of their season and school years.
The Buckeyes hosted a number of 2012 prospects this past weekend which was expected, but the more surprising thing was how many 2013 players came out for the event. Ohio's own Jalin Marshall, Caleb Day, Cameron Burrows, Evan Lisle, and Ben Gedeon were all in attendance to see Ohio State in action. In addition, as we first reported last week, Eli Woodard of Vorhees East in New Jersey made a last minute decision to drive out to Columbus with his family for his third visit to campus in the last three months.
This group of prospects is a an extremely talented group and the fact that OSU is able to get them to come to a game together is a huge plus. Word on the street is that Marshall, Burrows, Day, and Woodard have all have started to form a bond dating back to summer camp and talking online, and have even discussed playing at the same school together in a few years. For Buckeye fans, the good news is that the school they are likely to all go to is Ohio State, as all four either have OSU at the top or in the top two on their list.
I wouldn't be surprised to see all six of the above mentioned players end up in Scarlet and Gray. It's looking like the 2013 recruiting class is going to be a very special one for Ohio State and it's good to see that after all of the off-season turmoil that recruiting is back on an upward swing in Columbus.
Pickerington Central Stars Shine Despite Loss
Pickerington Central was downed 38-21 by Cincinnati St.Xavier in the first day of the Kirk Herbstreit Classic on Sunday, but that didn't stop some of the Tigers' best college prospects from putting on a show for fans.
Ohio State commit and Central WR Roger Lewis was the talk of the day. The senior notched 4 catches for 112 yards and 2 touchdowns, but was even more impressive was his showing of being able to pick up yards after catch by utilizing his great speed and athleticism.At 6-2/190, Lewis moves extremely well for a guy his size and many in the Shoe are already starting to compare him to current Buckeye freshman Devin Smith. Being what we've seen of Smith thus far, I will certainly take another one in the form of Roger Lewis.
Jacoby Boren also plays for Pick Central and lined up at right tackle for most of the game. The youngest Boren is up to 6-3/290 after weighing about 270 last season and is likely slated to play center for Ohio State. Boren, like his brothers, is a bull dozing run blocker and will just have to adjust to the speed and mental aspect of the college game before he's pancaking opposing players in no time.
Finally, a third prospect that could end up playing in the 'Shoe regularly on Saturday's is 2013 DE/LB Taco Charlton. Charlton lined up at linebacker for the Tigers on Sunday and recorded a sack, but wasn't a high impact player at all times during the game. While he looked decent in coverage, Charlton likely projects as a defensive end and that is where I think he will play at the next level. An OSU offer should be coming soon for Charlton and I expect him to join his teammates in coming to Columbus.
Elks and tarblooders can't get it done either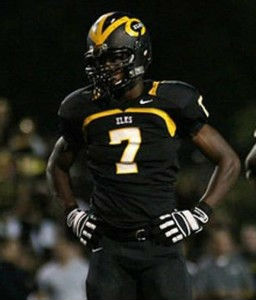 In addition to Pickerington Central, two other Ohio teams with high level prospects competed in Ohio Stadium this past weekend.
On Sunday evening, the Centerville Elks fell to 0-2 on the season after falling 34-17 to Indianapolis Cathedral. The Elks have two prospects the Buckeyes are interested in recruiting in 2012 OLB/DE Ifeadi Odenigbo and 2013 OT Evan Lisle.
Odenigbo is a freak athlete, standing at 6-4/220 and runs at 4.4 40-yard dash. He lines up at defensive end for Centerville, but many feel he will play linebacker at the college level, and the Buckeyes are recruiting him for the Viper position that Bobby Carpenter played. Those sentiments were echoed Sunday when Odenigbo struggled against the Cathedral offensive tackles for most of the day, even though he registered 5 tackles (3 for loss) in the contest. Just starting football two years ago, "Iffy" is still raw and learning the game, so it makes sense that playing in space and going after the quarterback will probably suit him better in the long run. Also to note, Odenigbo's parents toured campus and met with Jim Heacock earlier in the afternoon. Always a plus when you can kill two birds with one stone.
Lisle is a 6-5/260 junior who played mostly tight end and some tackle during his sophomore season. He made the full transition to the offensive line this year and has looked very good thus far for the Elks. He is certainly a player to keep an eye on and one I think OSU will eventually end up offering in a 2013 class that will have a large focuse on the offensive line positions.
Like Centerville, Glenville didn't fair well either in their Herbie Classic match-up. The Tarblooders fell to Georgia's Camden County by a score of 23-14 and looked awfully unimpressive, especially on the offensive side of the football.
Neither Glenville score was an offensive touchdown, as V'Angelo Bentley accounted for all 14 points on a punt return and a recovered fumble taken to the house. Bentley was the most impressive Tarblooder on the day, showing persistence at running back, good coverage skills at corner, and tremendous speed and agility on special teams. It's not looking like OSU is going to offer at this pouint, but somebody is going to be very fortunate to pick up Bentley on Signing Day.
OSU Commit De'van Bogard played middle linebacker in the contest and looked very good, making plays all day and was constantly around the football. Bogard is expected to play safety at the next level, but I can see him as a Jermale Hines type of player who could line-up at either strong safety or the STAR position, although I think Bogard has better coverage skills than Hines. It should be itneresting to see what the staff does with Bogard, but one thing that is for sure is that he has the talent to be a big time college football player.
A Job Well Dunn
To finish things off on a good note, Buckeye fans have a lot too look forward to when it comes to Brionte Dunn. Despite rumors he was opening up his recruitment and others that he was ditching the Bucks for Michigan, Dunn seems to be all about Ohio State and his focus is apparently all on the football field.
In a game against Massilon Washington, Dunn's Canton Glen Oak team trailed 21-7 in the 4th quarter but the 6-1/220 running back carried his team to a 22-21 comeback win with two rushing scores to seal the deal. Overall, Dunn finished with 249 yards on 39 carries and 2 rushing TDs, while also throwing for a touchdown on a halfback pass for Glen Oak's first score of the night. Dunn was an absolute beast and showed that he has the talent, athleticism, and durability to single handedly carry his team to a victory over a more than quality opponent.
I never really bought the chatter about Dunn not honoring his verbal pledge to Ohio State as long as the sanctions weren't too serious and it doesn't appear things are headed that way. Anything can happen, but right now it looks like the Bucks are getting an extremely gifted talent.