Ring the alarm, Buckeye fans. This is your last skull session in which there are double digit days until the season begins. It feels damn good to be just 10 days away from seeing Luke Fickell lead his squad through the awaiting tunnel of pride organized weeks ago by the great John Hicks. 
Don't worry, I'm not amped enough to pull one of those lame, "It's Art Schlichter days until kickoff!!1!!!!1!" lines out of the leather replica Buckeye helmet I wear when writing posts (think Jack) but I'm hyped enough to get excited over the media finally getting a better look at the special teams coverage units. 
In case you were under a rock last year (a few years actually), you know that while Tressel stressed the importance of special teams every time a microphone came within 20 feet of his grill, the Buckeyes pretty much sucked at covering kickoffs. 
So, which players might make up the KO coverage team? Yesterday, from left to right, the unit looked like this: Orhian Johnson, Dominic Clarke, Carlos Hyde, Verlon Reed, Ryan Shazier, Drew Basil, Ron Tanner, Rod Smith, Jamie Wood, Pittsburgh Brown, Doran Grant. 
I personally like seeing some starters out there. I could even stand to see a few more. As I scan the list, I'm wondering two things. First, wouldn't this be a great place to slot Curtis Grant? Secondly, which guy will be the one that decleats dudes? I'll take Shazier. He's been impressive from day one. 
With that bit of news out of the way, let's see what's under the covers of your hump day skully...
THE GAMUT OF EMOTIONS OUT OF KNOXVILLE. Wow. I like to spend the bulk of my skully's ripping on others to boost my own fragile self-esteem but I want to kick today's bullets off with a serious topic. In case you missed it, the legendary Pat Summitt, she of 1,071 wins and eight national titles, announced yesterday she's been diagnosed with early-onset dimentia.
According to Summitt, she decided to get tested following the end of the hoops season after having a series of erratic memory lapses including during the heat of games as she struggled to strategize. She plans to continue coaching - hoping for another three years - but you have to wonder if she'll be able to do that no matter how much responsibility she turns over to her assistants. 
My corneas have never been able to handle watching women's hoops aside from one time when I was gambling online a lot and took UConn -42 against another Big East team just for giggles as part of a parlay but anyone who dislikes Geno Auriemma as much as Summitt is someone I can root for. 
In less painful news from the land of horrible team colors (can't imagine being a fan and having to buy puke-orange clothing), former head basketball coach Bruce Pearl is about to be slapped with a multi-year show cause penalty sometime later today. 
 IS THE REAL DEREK ANDERSON MIXED UP WITH THE BOOGER SUGAR?! I definitely would never waste characters talking about that one DA charading as a quarterback. Instead, I'm talking about the former Buckeye and Wildcat basketballer who also played parts of 11 NBA seasons. 
According to a government witness, who it should be noted is a killer and drug dealer, Anderson was the money man behind a big time drug trafficking organization. There's a lot of he said / thug said in the accusations and denial via Anderson's lawyer, Scott C. Cox, but Cox does note Anderson had an issue of being overly loyal and friendly to some of the losers that grew up in his project. 
I always liked Anderson as a player and never faulted him for transferring to Kentucky. Here's to hoping dude isn't too mixed up in this stuff.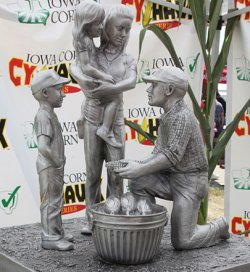 THE CY-HAWK DIES AND EARLY DEATH. First of all, what sense does it make to even have a trophy for the winner of Iowa State vs. Iowa? I doubt even half of Iowa gives a crap about who wins that turd of a matchup.  
Well one thing is for sure, whether or not the fans care about the game, they definitely hate the new Cy-Hawk Trophy that was created to replace the old trophy that simply pictured a dude with a bronze football. Go figure. 
With trophy-hate crazing the state, the new sponsors of the vaunted rivalry, the Iowa Corn Growers Association, have decided to shelve the trophy best described as "a farm family huddled around a bushel of corn." 
Until a new, less embarrassing trophy can be crafted, the plan is to create a temporary trophy so the winner of the September 10th showdown can be properly recognized. The ICGA is also taking fan suggestions on what the long term trophy should look like. Any ideas? I say abolish the idea of a trophy altogether. Instead, the winner gets to stroke the legendary Tim Dwight's hai...nevermind. 
In all seriousness, if we're forced to live without a do-over on Leaders of Legends, I think the folks of Iowa should be made to live with the Cy-Hawk. 
NOTHING SAYS TRADITION LIKE 32 UNIFORM COMBINATIONS. Not that the Maryland Terrapins have much tradition to start with but in an attempt to drum up some fans and maybe some recruits, alum, current university trustee and Under Armour owner Kevin Plank backed the gimmick giving the team up to 32 outfits (yes, they should be called outfits when you resort to something like this). 
I struggle with this fad to begin with and it's compounded with Maryland because their colors and logo are so brutal. It's just not mathematically possible to come up with 32 combos that aren't gag inducing. Seriously, check some of these nightmares out.
Although it wasn't in the story, I checked with Dohrmann and he confirmed the unveiling was held at the old Members Only warehouse where David Bowie served as emcee. Oh, and defintely check Spencer clowning on the fat dude modeling uni's. 
HORVATH'S GOODS TO BE HAD...IF YOU'RE RECESSION PROOF. Uncovered by the dudes at MVictors, it looks like a friend of OSU's first Heisman Trophy winner, Les Horvath, is selling a bracelet loaded with awards earned during Horvath's time at Ohio State. 
The seller claims the bracelet was put together by Horvath for his wife and contains the following goods:
1942 and 1944 Big Nine Western Conference Champs football shaped charm
1942 and 1944 Gold Pants
1944 Chicago Tribune POY football shaped charm
1944 Colliers All-American Team football shaped charm
You have until August 28th to rob a bank and submit your bid. 
VALUE MENU. <Butthead voice>Whoa.</Butthead voice> found THIS (NSFW) when googling "Jack Nicklaus buckeye helmet"...Joe Namath rules...Longhorn freshman Quandre Diggs has a cool name and an even cooler nickname...Hipsters vs. Old People...Winner of yesterday's earthquake funnies...2nd place...How not to slide into home plate.