Rise and shine Buckeye netizens, it's time to resume cackling at Da (SM)U while observing what a real investigative report looks like, courtesy of Charles Robinson.
Think Derpmann is hoping "Ellis" has pics of OSU's entire two-deep getting tats while doing coke off the breasts of strippers as Tressel looks on spinning vinyl in between sessions of making it rain c-notes or what? 
And what about ESPiN? Think the execs are still reveling in the strategy of repackaging Ohio State stories for the last eight months while Yahoo! was busy uncovering what is potentially the most explosive story in college football since JoePa's bout with the runs SMU was sentenced to lethal injection?
We'll get into the details of that in a bit but first, let's see what else is cooking in the hump day skully. 
RICH ROD AND HIS CLUMSY ULTERIOR MOTIVES ARE SO CUTE. Now, I could admittedly be off base here but it makes this story more fun. 
Making the predictable transition to analyst, Rich Rod has some thoughts on Michigan's upcoming season:
I'm biased.  I think they can do very well. They got 19 returning starters, player of year in the league returning in Denard Robinson, eight home games, first five at home, so I think they are going to win nine or 10 games.
Nine or ten games? With a new offense, no Stonum and a defense that makes even Paul Westhead blush? I think Hoke is going to do good things up north but nine or ten games this year? Can't see it from a program that's got exactly six wins over the last three conference slates. So, was this a self-serving comment from RichRod? I believe so. He's read all non-stop quotes from Hoke and those surrounding the program about getting back to Michigan football and he feels slighted. His response is to play along by hyping expectations so when they don't come to fruition, he can feel good about it. 
WANTED: A GOOD HOME FOR #2 JERSEYS. With gameday fast approaching, #2 Ohio State jerseys are overflowing in area Buckeye swag shops, creating a bit of a dilemma for store owners. 
According to at least one retailer Darren Rovell encountered, the numbered jerseys must be ordered about 10 months in advance if the wish is to have them for sale in time for the upcoming season. That reality left many stores overflowing with #2 jerseys. Fanatics LLC says sales are down 60% since TP left school. 
Interestingly, the team shop inside the Schott marked #2 jerseys down to $20 from $60 while the OSU Bookstore has kept the price at $60 both in store and online. Similar to SportsWired Retail owner Bryan Johnson, they must be "hoping Christian Bryant has a breakout season."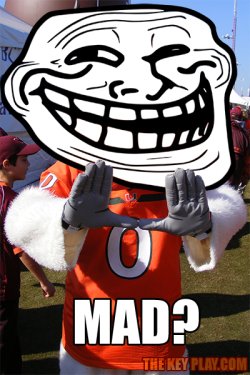 (SM)U = LULZ. Wow. For months now we've heard the rumor of an impending haymaker landing on a major program and unlike SI's polished turd on Ohio State, the boys at Yahoo! brought the goods thanks to a singing booster and epic amounts of research, documentation and interviews to back claims of major shenanigans down in Coral Gables. 
The booster, Nevin Shapiro, is looking at serious time in prison thanks to misappropriating $80mil via a fraudulent grocery distribution biz as part of his role in a Ponzi scheme. Looking to lessen his time in the hole, Shapiro agreed to cooperate with the government's investigation and upon being shunned by the 'Cane players he took care of after they made it big in the NFL as he asked them for money, the chip on his shoulder turned into a boulder. 
Initially planning to write a book that would take down the U, Shapiro instead granted 100 hours of interviews during Yahoo!'s 11 month investigation detailing an historic amount of potential NCAA violations occurring over an eight year period in which he was a booster and co-owner or a sports agency. 
Dude claims he provided impermissible benefits to as many as SEVENTY-TWO athletes with no less than seven COACHES in on, or aware of the hijinks, including members of the football and mens basketball coaching staffs. Twelve current football players are named in the report including Jacory Harris and Travis Benjamin.
The depth of the investigation is flat out insane, with each Miami football and basketball player allegation summarized in addition to allegations against seven players from other schools, the seven coaches and a handful of other staffers. 
A few of the more awesome details/allegations include:
Multiple parts of no less than four major bylaws appear to have been violated including:
Bylaw 11 - impermissible compensation to coaches
Bylaw 12 - compromised amateurism of athletes
Bylaw 13 - improper recruiting activity
Bylaw 16 - improper extra benefits to athletes
Typically, there is a four year statute of limitations but due to "a pattern of willful violations", it's possible that statute could be off the table. 
Shapiro was called "L'il Luke" as the diminutive bank machine was revered for taking over where Luther Campbell left off. 
Allegedly, football coaches blatantly delivered recruits to Shapiro for recruiting pitches that included trips to his house, rides in his Mercedes and visits to strip clubs. All expenses paid. 
Allegedly, no less than 39 players got hoes on Shapiro's tab including at strip clubs, at rented hotel rooms and his yacht.
Shapiro says he gave a hoops coach 10k to secure a commitment from DeQuan Jones. 
Shapiro recalls organizing bowling, fishing and pool tournaments for players with cash to winners. 
Shapiro claims to have offered up access to his yacht multiple times per week and also bought items ranging from an engagement ring, rims, watches, TV's, plane tickets and an ABORTION for a stripper that a player had gotten pregnant on Shapiro's dime. 
Shapiro notes offering bounties including payouts for big hits, injuring opposing QB's. He says Devin Hester took him for $7.5 in bounties including $500 for getting a celebration penalty following a KO return for a TD (also $500). 
Kellen Winslow Jr. can't drive, regardless of mode of transport. 
Miami claims to have been cooperating with the NCAA well ahead of the Yahoo!-bomb but it's hard to imagine that helping if even a third of this stuff is proven true especially knowing former Miami AD Paul Dee not only honored Shapiro during a game for his donations to the school but also lobbed some damning comments regarding USC's recent troubles as he headed up the NCAA Committee on Infractions saying, "high profile players demand high-profile compliance" and "they should've known." 
Those comments soaked in hypocrisy should keep USC officials busy for awhile. Lord knows we're tired of their opinions about Ohio State. 
YEP. IT STILL PAYS TO BE FAMOUS. Video of Oregon's Cliff Harris being pulled over for going 118mph, with Darron Thomas riding shotgun, hit the intertubes, reinforcing the benefits of being somebody. Personally, I don't really have an issue with how it was handled but while admittedly being ignorant to the law, I have a hard time thinking the same outcome would be reasonable if an 11W staffer was pulled over for going 118, driving without a license in his girlfriend's rental car and reeking of tree. 
JIFFY-POP. More on JT's visit to Browns practice...Attn: Columbus Drunks, this place will drive you and your car home...Big 12 slogans...socket head...Player concerns in Happy Valley.