Happy Tuesday everyone, and welcome to your morning Skull Session. This week marks the last non-football week of the year, which to me is kind of like the last non-eating-everything-in-sight day before Thanksgiving (which also has a lot of football, creating a horrible one day conflagration of lust, gluttony, and sloth that threatens to consume my very soul, year after year).
This is what we refer to as crunch time. If there's any obscure fact or unit breakdown or Akron you haven't read yet, read it. If you don't yet know what shoe size Rod Smith wears, find out. If you haven't rewatched every vacated win from last year so that it is imprinted forever into your brain, do so until your eyes bleed.
What I'm trying to say is that you're on notice, readers of 11W. Why do you think we've been throwing season previews and internet memes and obtuse jokes about Watch the Throne at you for the past week or so? For fun? Well I didn't hear anybody laughing, did you?!?
Anyway, where was I? Oh yeah: stay out of my booze.
AL DAVIS TP'S HIS HOUSE I'll be honest; I never thought that Terrelle Pryor was as fast as the coaches at OSU claimed he was. OSU has a reputation for fudging their 40 times a bit, and for all his athleticism I really didn't think the dude could run a legit 4.4. But, when he did just that at his workout for NFL teams, I think pretty much no one in the world was surprised when speed loving Al Davis and the Raiders took him in the third round of the supplemental draft yesterday. And speaking of which, here's a nice little rundown from CBS about how some other supplemental draft picks have fared throughout the years.
TP said that he'd be willing to play anywhere, and someone pointed out that if he can run routes and catch passes with any sort of regularity, the only person in the measurable-happy NFL who matches his numbers is Mr. Calvin "Megatron" Johnson. Something to think about.
PAT FORDE WOULD LIKE YOU TO KNOW THAT BIG TEN FOOTBALL STINKS Pat Forde is probably ESPN's worst college writer (and one day I would really like to see Rittenberg just lay into the guy) and this article finds him dredging up the argument that because of a demographic shift to the Sun Belt, B1G football is bad and SEC football is good. There are a number of ways you can go after this article, but I'll leave it at this:
Recruiting rankings are a dangerous yardstick -- I don't remember seeing top 10 programs Boise State and TCU dominating on signing day, whereas I've seen a lot of highly ranked classes fizzle at places like Miami and Clemson. But even with that in mind, the Big Ten is generally being left behind by warm-weather schools.
So recruiting rankings are a "dangerous yardstick" for evaluating the overall regional quality of players, but Forde then goes on to base the rest of his argument on them. "Them" meaning the ESPN 150 rankings. Has no one at ESPN heard of the phrase "confirmation bias?" Ever? Hey, maybe the reason why there are so few kids from northern schools in your recruiting rankings is because your talent evaluators buy into the idea that there isn't any talent in the north that your analysts keep saying that the recruiting rankings prove!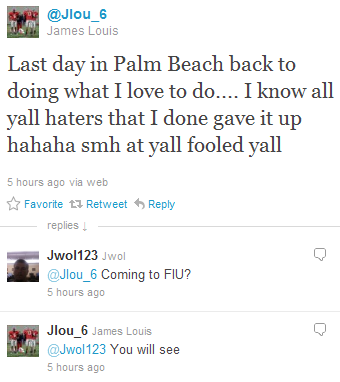 (FLORIDA) INTERNATIONAL MAN OF MYSTERY James Louis apparently left the Ohio State program under somewhat murky circumstances, but since that time his fans (me) have been wondering, "What's next, James? What's next?!?" Well, it seems like we may soon have an answer, as KJ (no more Keyboard, please, he's not a child) has indicated via Twitter that he's about to make a decision about his future. In all seriousness, we wish the dude the best of luck, and hope he tears it up in whatever conference he lands in.
I CAN'T HELP MYSELF The Omaha World-Herald released their analysis of Ohio in terms of football recruiting, and as angry as it makes Pat Forde, the results are unsurprisingly positive. To wit:
• Ohio, the third-largest state in the Big Ten footprint, sent 414 scholarship recruits to Big Ten schools over the past decade. Illinois was next in line with 259.

•Ohio had 741 players on FBS rosters in 2009, according to a Tulsa World report. That ranked fourth nationally (behind Texas, California and Florida) and exceeded the combined totals of Michigan and Illinois (709). Pennsylvania was second in the Big Ten with 401.

•Ohio has five of the top 20 metro areas in America in terms of producing FBS football recruits. Pittsburgh (20th) was the only other non-Sun Belt city on the list.
Ohiowns. Yes, there is the usual Rust Belt blather about how everything is going to hell in a handbasket, but truthfully it comes down to this: the state of Ohio has roughly 12 million people living in it. Ohioans are absolutely crazy about football. Therefore, lots of people will play it, and many good players will come from the state. It's not rocket science, and unless there's some kind of Skyline Chili-borne plague which kills half of Ohio's young boys, I think we'll be okay in terms of producing talent.
ETC. The coolest punting picture ever... UAB hates America... The only college football preaseason poll you need to read... "MOM it's me Nick Mangold, I was on tv!!"... Steve Mason has a sweet goalie mask... Banned by the NCAA, 2011 version... "Tennessee Football Learns That Proper Spacing Is Everything"