Happy Tuesday everyone, and welcome to your morning Skull Session. In 2006, the seminal group The Black Out Band relased their first album entitled "Video Games." America was unprepared for the music revolution that would soon wash over them, but soon the world would know the sheer sonic fury of three 11 year olds from Virginia.
Their first single, "Video Games," was a dark and startling look into the inner recesses of an 11 year old mind, a mind obsessed with video games. For example, take this lyric from virtuoso songwriter Hunter, wherein his ennui is laid bare for all the world to see. Like Kurt Cobain before him, Hunter is a droll observer of the stagnant post-post-industrial suburbia he finds himself in.
I don't wanna go to school/ Just wanna play video games/ I just wanna be a fool/ Just wanna play video games/ Everything else is really lame
Sung in what can only be described as a heartbreaking half-bored soprano, Hunter pours his heart out as bandmate Tug thunders along on bass while Matthew hews out a sickening beat from the stone that is his drums.
Parents say it's fryin' my brain/ Just because I can't remember my name/ I just wanna play video games/ All the time and every day
Heroically, Hunter and the rest of the Black Out Band confront not just video games, but all of the modern world. They know it's bad for them, yet they cannot pull away. The Black Out Band seeks a simpler, quieter place, where the only thing to disturb the stillness is a driving bassline from Tug's mighty bass. The Black Out Band's website compares them to Neil Young, Led Zeppelin, The Beatles, and Billy Joel. They're being modest.
SCHNELLY NO! So long, sweet prince. You lord of mustaches. You king of southern Florida! FAU's Howard Schnellenberger is going to hang up the suspenders this year, which is a huge loss for classy dudes everywhere. Schnellenberger's detractors might tell you that he was a guy who peaked too early, that he never had any real success after he left the University of Miami, or that mustaches on old dudes aren't THAT cool. Those people are stupid. Not about Schnellenberger's record, they're mostly right about that, but that mustache was amazing.
The other thing that Schnellenberger deserves credit for is sticking with Florida Atlantic University for as long as he did, transforming the Owls from a mediocre 1-AA school into a bad 1-AA school into a great 1-AA school into a bad 1-AA school again into a mediocre D-1 school into a decent D-1 school that won a bowl game and until finally settling among the stars as a mediocre D-1 school. Well done, coach. Well done.
AGGIE AGGIE AGGIE OY OY OY. Remember how TAMU was all set to break up the Texas band and take their dog general and borderline creepy cheers to become the newest member of the SEC? Welp:
Loftin acknowledged his school approached the SEC about inclusion, but said: "There has never been a bid to invite us into the SEC … and if it were to occur in the future, we would certainly want to evaluate that..."
Look, I understand, TAMU. It sucks getting turned down for prom. Believe me, I've been there. You get the flower and the dinner ready and make all the best plans you can think of and BAM. Rejection. Maybe in a few years it'll be as funny to you as it is to the rest of us right now. Maybe then you'll be able to enjoy this series of MS Paint cartoons as much as I did. Maybe. Probably not though.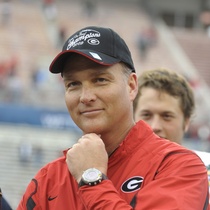 TPEEZY, ALONE. As of this writing (11pm Monday night, in spaaaaccee) Terrelle Pryor is still not eligible for the supplemental NFL draft, which to MJD over at Yahoo Sports, seems a bit mean. He reckons that the interpretation of who the supplemental draft can pick has been applied too narrowly in TP's case, and truthfully I agree with him. Yes, Pryor's punishment was only for 5 games, rather than losing all of his eligibility like the draft generally requires, but come on NFL bros. Pryor made stupid mistakes in college, and made them repeatedly, but he was never shown to have broken any real law.
All I'm saying is, it's pretty hypocritical if they decide to cite moral reasons when Michael Irvin is in the Pro HOF and TP can't even get into the supplemental draft. If what Pryor did is their hangup, then maybe the NFL needs to stop promoting dudes like Ray Lewis or Plaxico Burress too.
EVERY DAY MARK RICHT GRINDS HIS TEETH DOWN A LITTLE CLOSER TO THE GUMLINE. Say "man down." Now say it four more times. Then say "it's cool though, we've still got one uninjured scholarship RB, right over here. You ready for Boise, Carlton? ...What do you mean, 'suspended'?"
And that's Mark Richt's life. Frankly, I think the Georgia Bulldogs have been living in karmic hell ever since that TD celebration incident against Florida. It's kind of sad that Mark Richt lives almost his entire life in a state of profound and unbending blandness, and then for one twenty second moment of his life in 2007 he blows the whole operation. THOU SHALL NOT DEFY POPE URBAN.
YEP. NOPE. Behold:
Athletic directors of the newly expanded Big Ten and Pac-12 conferences found consensus on a "plus-one" football national-championship proposal at meetings early this week that could signal movement toward a revamped Bowl Championship Series.
Oh cool!
Big Ten Commissioner Jim Delany on Saturday told the Tribune that conference athletic directors do not favor a "Plus-One" playoff system.
Oh.
The reason given of protecting the Rose Bowl is pretty lame since, you know, it's not even an automatic Pac-10/Big 10 matchup anymore. Just give us a plus one you jerks.
GUNDY SMASH Apparently Oklahoma State's Mike Gundy is finding himself the target of a lawsuit because he allegedly fired a contractor who had the temerity to show up at his house wearing an OU sweatshirt. The whole story is pretty funny, but my favorite part is probably Gundy proclaiming that his house is OSU soil, which leads me to believe that he envisions college sports as a giant Risk board that he must somehow conquer while fighting off foreign agressors.
Also, even though Gundy sounds like an idiot here, let's be honest with ourselves: if a contractor had shown up at Woody Hayes' house wearing a Michigan sweatshirt, the only lawsuit anyone would've been filing would have been for wrongful death.
KICK ASS, TAKE NAMES, PLAY VIDEO GAMES.