OMG. 
There are now two more days until kick-off. It's like Christmas morning, the day you lost your virginity, your wedding day and the day your first born child was born all rolled into one. Yes, it's possible I view Buckeye football a little more seriously than you, but I will not spend too much time focusing on your faults.
Instead, let's turn our attention to the pressing needs of game-day preparation: loading up on your beverage of choice, getting the chili cooking nice and early and making sure that if you have friends who are Michigan fans (which you shouldn't, if we're being honest) that they know your relationship is officially over until January. There's nothing in the world like Buckeye football, and it's almost here. 
 DEFENSIVE BACKS IN ACTION As this season of ridiculous uncertainty begins for Ohio State, one area that most OSU fans and an average college football fans can agree, is that the "Silver Bullets" will once again be loaded and ready to rock. The defensive line, which returns John Simon's work-ethic, Nathan Williams' tenacity, and "Big Hank's" bigness, along with loads of other talent and depth is probably the strength, but it would be a grievous error to overlook the potential in the Buckeye secondary this year.
Yes, the only returning starter , Orhian Johnson, only started because an injury thrust him into the starting lineup; and yes the losses of Jermale Hines, Devon Torrence and Chimdi Chekwa mean the Buckeyes are incredibly young in the defensive backfield (as they are in almost every other positional group). An infusion of players who missed most or all of last year should help the Buckeyes absorb the impact.
One of those players, CJ Barnett, was a starter last year before injuring himself in last season's second game. Before his injury, Barnett had really begun turning some heads around Columbus, making an impact all over the field, hitting and disrupting plays from the safety position. In just about a game and a half last year, Barnett recorded five tackles and showed a glimpse of what Big Ten football fans should expect this year. Barnett says he is ready to go and 100 percent healthy.
Aside from Barnett, three more Buckeye defenders, Tyler Moeller and Christian Bryant, will also return to the secondary this Saturday and each will look to pick up where they left off last season. Moeller, who tore up opponents offenses prior to tearing a muscle in his chest in the Buckeyes dismantling of Illinois, is not just a psycho on the field, but he's also an inspirational team leader and a guy other players rally around. The importance of his return can't be understated. 
 Bryant, who replaced Moeller at the "star" position in the OSU defense in the Illinois game, started the next two games before an infection in his foot cost him the last five games of the season.  He did return for the Sugar Bowl, and played well in limited time.  "Pittsburgh" Corey Brown, who tore knee ligaments against Purdue and missed the remainder of the season, also returns.  With the injuries that saddled the secondary last year, having FSU transfer Dionte Allen available to play would have done wonders for the Buckeyes defensive depth.
NCAA rules prohibit that, of course, but Paul Haynes can add Allen to the mix this year, and the former Orchard Lake St. Mary's teammate of ex-Buckeye WR Taurian Washington,  will add some much needed experience to the group of young, but very skilled athletes in the defensive backfield.
Meet your 2011 Buckeye secondary: Travis Howard, Bradley Roby, Dominic Clarke, Doran Grant, CJ Barnett, Orhian Johnson, Corey Brown, Christian Bryant, Tyler Moeller and Dionte Allen.  Depth should no longer be an issue, as long as the injury bug doesn't bite too hard this year.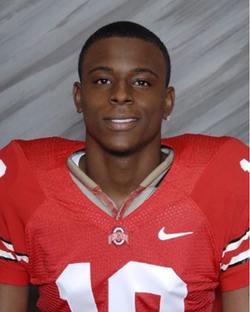 SICILIANO TO THE PRESS BOX. Quarterbacks coach Nick Siciliano will be coaching from the press box this season in a move to get Doc Tressel onto the field to bolster the special teams. Siciliano also said the staff currently has no plan on when Braxton Miller will enter the game (but he definitely will at some point) and whether or not Guiton and Graham would see any time.
Finally, the coach mentioned he has spoken to Terrelle Pryor since he became a Raider and that he wishes him the best and "loves him to death". 
COMPLY 'TIL YOU DIE. So, the Buckeyes had a little problem this past off-season with the NCAA, you may have heard about it.  A few guys, a couple tattoos – the story has been told a few times, no need to rehash it.  As Ohio State found itself becoming the face of all that is wrong with college sports, it became incumbent upon the school to find some way to right the proverbial ship.
It was first reported by the Dispatch in June that Ohio State, in an attempt to start changing the face of compliance at OSU, would consider a central compliance department that would oversee all elements of the University, from athletics to research and medical practices.  While that may still be the case, the CFO for Ohio State, Geoff Chatas, also recommended that Ohio State bring in a law firm and a business-consulting agency to review the state of the compliance department.
I am actually hoping that they find a few rogue compliance agents that have concocted a brilliant plan to scrape fractions of pennies off of transactions in an attempt to get rich over many years.  Damn, it feels good to be a gangsta!
KNOW YOUR ENEMY. Jason Whitlock (a Ball State alum) has put together a story about "The Incredible Hoke" and his head strength and conditioning coach, Aaron Wellman. Now, I don't suppose Wellman is Mike Barwis, because there is only Barwis, but it's impossible to not recognize a different "feel" about this Michigan coaching staff.
They certainly understand the gravity of their situation; and Hoke's respect for UM's history and tradition is evident. Thanks in part to the Buckeyes' woes, UM has positive recruiting momentum which could carry them into a Top 10 class nationally come February.  While Michigan fans should remain cautiously optimistic, I think it's important to note that Hoke's record as a coach certainly doesn't warrant the praise he's had heaped upon him.  His career record is below .500, has never beaten a team that finished a season in the Top 25 and has an 11-41 record in his coaching life against teams that finished a season above .500.
Obviously this UM staff will have better resources, better name-recognition and tradition than any of the places he has been, but it is still telling. Additionally, Hoke's lost three players from his team in the past few weeks, including freshman TE Chris Barnett, who suffered an ACL injury and came into camp overweight, which allegedly contributed to his departure. Barnett took an interesting path to Michigan, and a part of me thinks Hoke might have dodged a long –term bullet on this one, as the NCAA narrows its focus on "street-agents" like Baron Flenory. It has now been 2840 days since Ohio State suffered a football loss to Michigan, in case you were wondering.
QUICK SLANTS. I heard Samuel L Jackson was set to star in film... It's not like it's priceless or anything...The B1G Championship Trophy is revealed - better than the Cy-Hawk no doubt...Taking "green thinking" to vomit hues.