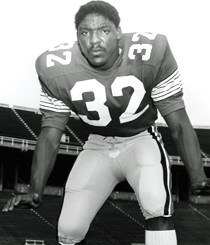 Note: So, I just wanted to make a little note and publically take an L in regards to the article below. In what was a misplaced sense of arrogance, I figured I already knew enough to get me through this piece. Obviously, I didn't, and for that, I apologize. Consider this lesson learned. I struck through some errors and added the corrections. Feel free to shame me in the comments below, I can most certainly take it. (Hell, feel free to even email me about it). And while you can certainly adjust this piece's credibility or my credibility, please don't let the eternal idiocy of an amateur diminish whatever it is you think of this website. Y'all deserve better from me. Now, back to jokes about drinking liquor out of kangaroo skulls!
In a little less than a fortnight, Akron's football team (and their 10 drunkest students who are pretending they're actually Akron fans for the day) will be ferried into the center of the Horseshoe, in front of over 100,000 fans, and they will be ceremoniously butchered like the sacrificial lambs their school's president pimped them out to be. I don't know about you, friends, but I have waited a long time to drink liquor from the skull of a kangaroo. It. Will. Be. Glorious.
Now, from what I gather, all of the speculation and skepticism heading into the 2011 campaign seems to fall on the offensive side of the ball. If Ohio State fails to to achieve success that has become an annual expectation in Columbus, then surely, it will be entirely Ol' Dude Joe Bauserman's fault. (Kidding. Kind of).
There may be some new faces on the defensive side of the ball--but this is Ohio State. As such, the defense, over the course of the last decade, has been more about a system overall rather than the individual names of the pieces which are plugged into it. Sure, the pieces may change, but the expectations remain the same.
And, why should this year be any different?
Apologies to Solomon Thomas, but there will be no pillars of the defensive unit missing the first five games. they'll be able to grow as a unit through the entire season, without the cloud of returning starters hanging over their head. A co-defensive coordinator during the Tressel regime has been appointed in his stead. The system continues. Whatever 11 find themselves out there two Saturdays henceforth will be expected to perform just as well as the 11 who became before them did, because this is Ohio State and that's how it's done.
It's interesting to ponder, but had Jim Tressel's scheme come to fruition, the defense would probably the one hoarding the question marks and skepticism. With the departures of Jermale Hines, Ross Homan, Cameron Heyward, Devon Torrence, Brian Rolle, Dexter Larimore, Chimdi Chekwa, Dorian Bell, and Jonathan Newsome, it's a testament to Ohio State's tradition on that side of the ball as to why there seems to be little doubt about their production this coming fall.
THE DEFENSIVE LINE
Ever since Troy Smith appeared to have either gotten pregnant or soaked his shoes in cement before the Florida-Ohio State national title tilt in 2007, Ohio State fans have been well aware of what having a deep, athletic defensive line can do for a football team. While the likes of Vernon Gholston and Thaddeus Gibson showed glimpses of physical dominance these last few years, Ohio State's overall defensive line play has been sub-par. (Insert low hanging fruit like a SEC speed joke here). This could be the year Ohio State breaks that barrier.
Obviously, the first name that springs to mind when discussing the defensive line is that of junior John Simon, who is expected to be the talisman of the defensive line (if not the entire defense) this year. I observed Mr. Simon in person for the first time last Thursday--and while he is noticeably smaller than you'd expect (there's no way he's more than 5'11")--he is still a wrecking ball of a man. Capable of lining up inside at tackle or on the end, opposing offensive lines will have to account for him on every play.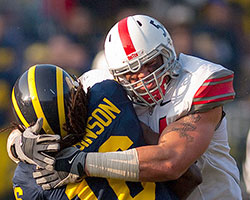 He'll be lining up next to returning defensive end Nathan Williams, who led the led the team with 4.5 sacks last year. While Williams has traditionally been a pass-rush specialist... he will be expected to grow into more of a complete player during his senior season.  Seeing as Williams came on nicely as the season went on last year, there's no reason to think he isn't ready to accept the enlarged role.
While Simon and Williams will be expected to anchor the unit, there will be some newcomers; but don't mistake the lack of game experience for lack of depth on the defensive line. In fact, Ohio State's depth at defensive line could be what makes this defense great.
Sophomore defensive tackle, Jonathan Hankins, who some say is the best defensive pro prospect at Ohio State, will be called in to chop wood throughout games this year. Garrett Goebel &Adam Bellamy, the former four and three star recruits, respectively, are expected to see some time at the tackle position as well. 
JT Moore, a red-shirt freshman, who has been coming on in camp, could be tabbed to back up Nathan Williams. Solomon Thomas, who returns after the first five games, will see some time on the edge as well.
But don't take my word for on the depth of Ohio State's defensive line, take head defensive coordinator Jim Heacock's word for it:
"I would imagine I've got probably 14 guys that could get in the two-deep, in the top eight," Heacock said. "So there's a lot of guys that have a chance."
I could not be happier to hear everybody talk about the depth on the defensive line. It's going to be a great battering ram to use against opposing offensive lines as  the games wane. A great dominant defensive line can make things easier for the rest of the defense, which is good, because as one gets further away from the line of scrimmage, Ohio State's talent and numbers thin.
THE LINEBACKING CORPS
With the departure of linebacking stalwarts Brian Rolle and Ross Homan, (as well as expected contributor Jonathan Newsome), the only returning starter is Andrew Sweat. Sweat, a 6-2" 238 pound senior, will be expected to anchor an unproven linebacking corps. The biggest OSU linebacking news of the summer, however, was newly minted coach, Luke Fickell, tapping his former college roommate, NFL linebacker (and occasional touchdown catching tight end), Mike Vrabel to coach linebackers. Vrabel promised to bring some of his on-the-field intensity to Ohio State, and he has delivered in spades. Almost every practice report filed has a mention of Mike Vrabel being intense. Will this lead to intensity in his linebackers through sheer osmosis? We shall see.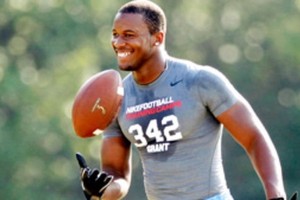 But like everybody predicting the rise of John Simon, Etienne Sabino seems to have garnered the most "breakout year" nods from the Buckeye peanut gallery. While I've always liked Sabino, it seems like people have been predicting his rise for the last two years. While he looked good in camp, he broke his hand last Saturday at the scrimmage. Now, he has said he and his cast will be ready for the September 3rd opener--but having a cast on your hand has to hamper your ability to tackle and make plays, doesn't it?
Storm Klein, a heralded recruit out of high school and now entering his junior campaign, will also be expected to prove the hype was well founded and that he's not the next Mike D'Andrea.
Curtis Grant, a five star recruit, Ohio State loyalist, with an 18 year-old body that appears to have been forged while welding a sledgehammer for 8 hours a day, every day, for the last 10 years, has shown great versatility in his defending as camp has progressed.  While fellow freshmen Ejuan Price and Ryan Shazier have had their moments, it seems that coach Vrabel sees something in Grant, because Vrabel gets after him after almost every play he's involved in. Even as players are moving on to the next play, Vrabel can often be found dispensing his wisdom to the young linebacker.
While the holes left by Ross Homan and Brian Rolle are immense, it's not like those guys were super-human.  (Hell, it took Moeller getting knocked out for the year for Rolle to see the field as much as his talent deserved). Ohio State has produced linebackers for the last decade, so I expect this to continue. Sweat is a proven commodity, Sabino will get his, and somebody out of  the Klein/Grant/Price/Shazier pot will earn the back-up minutes.
THE SECONDARY
If there's a spot where the questions about the new faces in the defense are legitimate--it's in the secondary. Gone are Jermale Hines, Devon Torrence, and their 118 combined tackles; as well as Chimdi Chekwa, last year's interception leader.
Orhian Johnson, a junior, who had 50+ tackles and two picks last year, has versatility to play either safety position and he's my pick for for defensive MVP. (I figure the defensive line, if they could collectively win it, would be the run-away victor; but in my visions, it's Orhian Johnson who reaps the most out of their yeomen efforts. While observing practice on Thursday, it was Orhian Johnson calling out the plays and making sure the DB's knew who their assignments were. Call it a hunch or whatever, I just think Orhian will often find himself in the right place at the time time).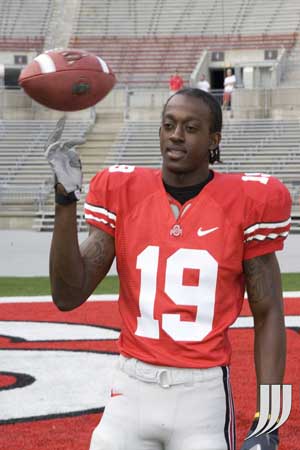 CJ Barnett, returning off of injury, (and also capable of playing either safety position) has been getting the first team reps with Orhian in the defensive backfield. While it doesn't appear there are any lingering affects from his past injury, it's something to watch as the season gets under-way.
Regardless, while Johnson and Barnett will be laying plenty of lumber to opponents this year, the big hole appears to be at the cornerback position.
Sophomore Christian Bryant, who many expected to be the nickelback this year, will probably be one of the two starting cornerbacks. While Bryant appears to have all the tools, we won't know what to expect until he gets consistent, live-game action. (As noted on Thursday: He, along with Barnett & Johnson, have one of the cooler congratulatory handshakes I've ever come across. This handshake is probably the biggest reason I'll be watching Ohio State games this year).
The bigger question is: who will be Bryant's partner? Some have speculated its Dominic Clarke's time to rise, but after Duron Carter and Jonathan Newsome spent the better part of the last two years flaming him on Twitter, I've always been a tad bit skeptical of Clarke. Has he shown flashes? Yes. Is he talented? Obviously. Can I get over how bad he used to get roasted in the social media game? Not really.
According to people who know much, much more than me, such as our very own Chris Lauderback and Alex Geitman, Travis Howard, the 6'1" redshirt junior from Miami has been penciled into the #1 cornerback role. Howard's also been whipsered as a potential All-American. Bradley Roby, the redshirt freshman from Georgia, is expected to play opposite of him. (SEC SPEED IS A REAL THING).
Sophomore Christian Bryant has been seeing time backing up both CJ Barnett and Orhian Johnson, as well as switching in and out of the nickelback position with Moeller.
Duron Carter and Jonathan Newsome's favorite punchingbag, Dominic Clarke and Dionte Allen, the Florida State transfer, will be pushing for this spot as well, although there is a general consensus the senior isn't as talented as Clarke.
The linebacking corps secondary will also get a boost by the return of Tyler Moeller; who, if he plays well, will be the subject of no less than 3,000 puff pieces by fawning media this year. He is also a mortal lock to win Ohio State's "Bo Rein Inspirational Player Award". I'm not sure what to expect from Moeller, who seems to have a been plagued by nagging injuries throughout camp, but the fact he's a 6th year senior should mean he should be somewhat productive, no?
The good news for the Ohio State secondary is that they're not slated to play any prominent passing teams. Sure, Russell Wilson has been doing his thing up in Wisconsin, but seeing some radical shift in how all of these programs have historically played, it might not be 'til bowl season when Ohio State comes across a gunslinger.
I doubt I'm alone in thinking I'd much rather have a dominant defensive line with depth than a bunch of elite corners and safeties out there. Even if the safeties and cornerbacks end up being just mediocre (they won't be), the defensive line should be dominant and deep enough to cover them.
This season will be a true test of the old, "Ohio State doesn't rebuild, it reloads" mantra. The past few recruiting classes will be getting their baptism through fire this year. However, if the Silver Bullet machine is as well oiled as folks in these parts tend to claim, then the transitions should be rather smooth. However, if these players aren't ready to step up, then Ohio State could be in for a long campaign. I, for one, have no interest in watching Joe Bauserman having to come back from a 21 point, second-half deficit.
Our defense is going to have to bail our offense out at times, and as an Ohio State fan, I've just come to expect that. But, I don't think fans will realize what a black-hole Pryor created when he was shoved out Ohio State's backdoor until the season gets underway. Hell, even when he was here, it was never like our defense could afford to give up a ton of points.
I do, however, get the feeling that these kids are ready. While some of them are sophomores, a lot of these guys are juniors, and should be more than ready for their shot at the glory. The depth of the defensive line is what I'm most excited about, and I wouldn't want anybody other than than the Heacock-Fickell brain trust marshaling them. I think, through the use of our defensive line, we'll be able to control and grind out games in a way that would make Jim Tressel cackle with glee. I also believe, Luke Fickell believes, this is the best way to win a football game.
With all the change coming to Ohio State this fall, the Silver Bullets will be looking to have none of it. For them, the system must be carried on, regardless of scandals or "retirements." I, for one, expect to see Tressel's system fully vindicated this year.
Soon, by the grace of Woody Hayes, we will have our answers.