The mastermind of Ohio State's program and offense since 2001 is gone. The athletic freak under center the last three years has moved on, leaving the team without a shred of meaningful experience at quarterback. The WR coach that was gaining momentum as a voice in playcalling left for a head coaching gig. The heart and soul of the pass catching unit is trying to make it with the Chicago Bears. Also history are last year's starting left and right guards. The proven horse at tailback is suspended for five games. So is far and away the team's best returning receiver and its left tackle.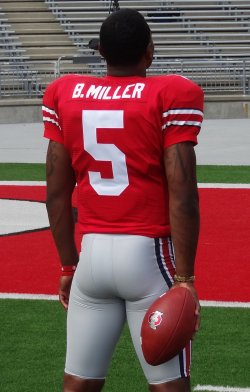 Like any football factory, succession planning was in the works for the anticipated departures of Dane, Boren and Browning. It's the unanticipated losses of Tressel and Pryor that leave the most gaping holes and replacing Posey, Boom and Adams for five games won't be a picnic either. 
Fortunately for Luke Fickell, the cupboard is far from bare as there appears to be a significant amount of unproven but talented kids aching for a chance to show what they can add.
The addition of wide receivers coach Stan Drayton to replace the departed Darrell Hazell could also loom large if he's able to help Bollman install an upgraded screen / short passing game too utilize the versatility of guys like Jordan Hall, Jaamal Berry and Jake Stoneburner.
To bottom line things, Fickell and staff will obviously gameplan to lean on the defense but winning double digit games, which would almost certainly earn Fickell a multi-year contract, will require at minimum, a serviceable offense. 
"Serviceable" is probably best defined as showing consistent ability to score 24-ish points per game in conference via a sturdy rushing attack supplemented by a conservative passing game that capitalizes on positional versatility and while not afraid to take shots down field, focuses sharply on winning the always decisive turnover battle. The Buckeyes have averaged a +16 in turnover margin the last three years, amassing a 33-6 record overall, including 21-3 in conference. 
Though many positional questions are starting to be answered with just 12 days remaining until kickoff, the offense is still an enigma with regard to exactly what its identity will be and which players will have the most influence on how things shake out. 
In an effort to sort some of this out, let's take a look at each offensive unit: 
Quarterbacks
What began in spring as a four man race has whittled down to just two following last Saturday's jersey scrimmage. Jim Bollman indicated after that Kenny Guiton still has an outside shot but translated, that just means he'll probabaly get a series or two of mop up duty the first two games because the battle for meaningful playing time is a a duel between only senior Joe Bauserman and freshman Braxton Miller. 
As of today, Bauserman is your frontrunner to start against Akron but there's no question Miller will figure into the offense all season long. How quickly he develops, combined with what Bauserman shows, will determine exactly how many snaps Braxton sees, and whether or not he takes over the starting gig in a one quarterback system. 
For his part, Bauserman has done enough thus far to earn snaps with Posey talking yesterday about how the 26 year old has separated himself from the competition the past week. Meanwhile, many players have gushed about Miller's instincts and an elusiveness that makes him a threat both through the air and on the ground. 
In our most extensive viewing of the duo to date, Saturday's scrimmage saw both flash their individual strengths but coupled with an inconsistency that should be expected from such an inexperienced pair. Bauserman threw the practice's only pick, a poor toss behind the receiver leading to a Travis Howard turnover and Miller held the ball too long at times. Both threw some well placed lasers including Bauserman's strike to Devin Smith for 55 yards and Braxton's perfectly placed 25 yarder to TY Williams near the goal line on a deep out which Williams promptly dropped. 
Of note, Bauserman appeared set up to succeed taking all his snaps with the #1 offensive line while Miller saw just 20-25% of his snaps with the ones. That's meaningful in two ways. First, the coaches are giving the nod to the elder statesman causing a reasonable person to believe he's your clear opening day starter. Second, there's reason to think Miller would've been even sharper than his 9/17, 126 yard, 2 TD performance if he actually had a little more time to look downfield.  
Bottom line here, both QB's are going to play for at least three weeks and probably more. If Bauserman plays well, we could very well be looking at a two QB system that lasts much longer than anyone anticipated. If he struggles, Fickell and Co. could opt to hand the keys to Miller full-time, as his upside only gets revealed (and grows) as he plays. Miller's cause could also be aided if the offensive line fails to gel at a quick enough pace, similar to the scenario that saw Boeckman phased out back in 2008.
I hate two QB systems ever since Stan Jackson was allowed to steal snaps from Joe Germaine so I'm banking on Miller seizing the gig full time come Michigan State. 
Running Backs
Though the QB race has been trimmed to two, the same can't be said for the running backs. 
With Boom vacating his starting gig for the first five games, there are only two certainties at this point. One, junior Jordan Hall is your starter and two, he's only your starter until Boom gets back. What happens in between is a bit of a mystery. 
As the starter, Hall is simply not cut out of for running between the tackles all day. Clearly, he's better utilized on plays that get him outside or in space, via either handoff or pass. His versatility figures to be a huge weapon this fall however we all know OSU wants to run Dave, heavily, which means more than one guy is going to tote the rock.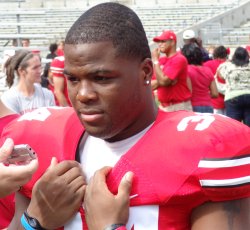 That guy just might be sophomore Carlos Hyde. I wasn't overly impressed with the 238 lb. Hyde the few times we saw him last year, either in practice or on Saturday's, but he looks to be a more determined runner so far in 2011. He didn't have a ton of success in the scrimmage, largely because there were no holes, but he ran with an aggression that showed he's a more confident player than we saw a year ago. He's a guy that can move the pile and should get plenty of looks in the early going. 
The #3, in my eyes, is sophomore Jaamal Berry. I know many are in love with him based off gaudy stats against backup defenders last year and there's no denying his speed and quickness but I'm struggling to think he could ever take the pounding of 15+ carries a game. He's again battling a hamstring injury and with his history, I see him as a complementary player at best on this team. I don't view that as a problem however, as he's obviously a threat to score on every touch and should also be a factor in the return game. 
One guy I'm not as high on, and neither are the coaches apparently, is freshman Rod Smith. During spring ball, it looked like Smith might be on his way to earning significant carries this season but so far in fall camp, it looks as if he's the #4 running back. On Saturday, he never really looked aggressive, failing to show much burst albeit behind a line that provided little space. There's not much chance the staff allows four guys to consistently carry the ball meaning Smith could be the odd man out aside from mop up duty until Boom returns. It's early, but that's how it looks right now. 
If I had to guess, I'd say Hall and Hyde share the bulk of the load with Berry getting a decent amount of reps at tailback as Hall is used in a variety of ways. If Berry can stay healthy, he'll likely challenge Hall for some of his workload with the two most productive runners gaining a higher share of the carries until Boom gets back and runs like his hair is on fire, relegating the most productive back not named Boom to 2nd string and severely limiting the carries of the leftovers, though if it's Hyde, expect Berry and Hall will be featured in other ways such as the screen and return games. 
Offensive line
You know how the saying goes. It all starts up front. How well the line performs especially in September as the staff looks to identify one quarterback, will go a long way towards determining just how successful a season 2011 can be.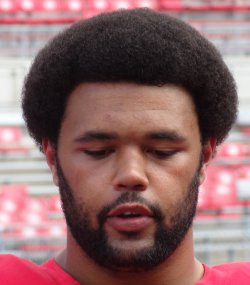 That's a bit scary considering Bollman must replace the starting guards and obtain five games of solid production at left tackle. Having said that, it appears there is enough talent to field at least a decent line that will only get better when Adams returns at Nebraska. For now, your starters from left to right figure to be: Andrew Norwell, Jack Mewhort, Mike Brewster, Marcus Hall and J.B. Shugarts. 
Brewster is obviously the leader of the group, hell the team, and should help sophomores Norwell, Mewhort and Hall with understanding the calls/assignments at the line of scrimmage. Based on what we saw last fall, I expect Norwell to impress as he progresses toward being an anchor of the line next year. In fact, I'm very interested to see what happens once Adams gets back because Norwell is definitely one of the best four linemen not named Brewster. He has to be in the rotation all year in one way or another. No reason to sweat it for now though as injuries, if nothing else, often work this kind of stuff out. 
As with any line, the challenge of this group is two fold. From the small sample size Saturday, run blocking could be another early season issue, as we've become accustomed to in the Bollman era. Knowing the staff wants to lean heavily on the run game, the pressure will be on the hogs up front to perform. If they can sustain a push, things get a lot easier for the quarterbacks. 
At the same time, the pass pro has to be on point if there is to be any true development of a quarterback and subequently, a legit passing game. While Bauserman looks to be somewhat improved with his mobility in the pocket, no way we want him running around under duress and while Braxton is obviously more equipped to make something out of nothing when protection breaks down, having to do that continuously will do little for his development when it comes to orchestrating the passing attack. The silver lining for many is that if the line isn't up to snuff, that virtually guarantees Braxton becomes the starter.
Finishing up with this group, it's of paramount importance the starting unit stays healthy. As we all know, there isn't much in the way of proven depth. The return of Adams will allow Norwell to float but a rash of injuries would be devastating to the entire offense. Freshman Antonio Underwood has reportedly looked decent and Brian Bobek was serviceable Saturday but after sophomore Corey Linsley there just doesn't appear much in the way of game-ready bodies, largely due to youth. 
If the starters stay healthy, there's no reason to think they can't do enough to give the skill positions enough time and space to be a productive, though likely not spectacular. 
Receivers & tight ends
Just like the offensive line, there's a ton of pressure on the pass catchers as their evolution will go a long way toward assisting the quarterbacks in the maturation process. The only problem? Probably only Jake Stoneburner is considered truly mature.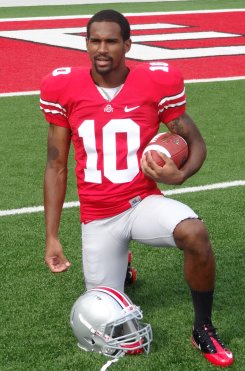 The wideouts feature a collection of promising young players but at this point, that's exactly what it is - promise. Your top two currently appear to be RS freshman Verlon Reed and sophomore Philly Brown. Reed has been a camp surprise showing playmaking ability and most importantly, sticky fingers. Philly hasn't had as much written about him but after a freshman campaign in which he got some snaps as the 3rd receiver, he looks to figure heavily into things, provided he cures his penchant for dropping the football. 
Chris Fields has kind of been the forgotten man but the sophomore made a statement Saturday with a great play on an underthrown ball before turning upfield for a 58 yard touchdown on Christian Bryant. 
Also battling for reps are true freshmen Devin Smith and Evan Spencer. Smith is a physical presence at 6'3", 190 and could very well earn increased minutes. Both made plays in the jersey scrimmage with Spencer hauling in a 55 yard completion after gaining space from Doran Grant and Spencer taking a curl to the house from 25 yards out. I definitely came away impressed with both these young men. They defintely have bright futures. 
At this point, 6'5" RS freshman T.Y. Williams looks to be on the outside looking in unless he starts holding on to the football enough to warrant more looks. He is a ready-made mismatch but not until he shows an ability to catch the ball with his hands especially in traffic. If he gets there, he's going to a sick weapon, most notably in the red zone where the Bucks need all the help they can get. 
Overall, the young group appears to have some playmakers so it will be interesting to see which earn time in the regular rotation. If a couple of them can step up, the receiving corps could actually turn out to be a strength of this football team once Posey returns from suspension. 
On the inside, Stoneburner is clearly the leader of the tight end pack and we all know he has the versatility to be just as effective in the slot or even split wide. He figures to be a big part of the passing game plans especially in the early going as the QB's will most likely focus on shorter, safer routes as they get their feet wet in game situations. 
The impressive depth at TE will allow Bollman to use Stoneburner however he sees fit. Reid Fragel proved a solid target last season and his 6'8", 260 lb frame is also useful in running situations. Meanwhile true freshman Jeff Heuerman is a future star. He's got a swagger that projects as a future leader and his 6'5", 240 lb body comes equipped with soft hands. I really like what I see and hear about this kid. He's going to go down as a great one at Ohio State. 
Couple the fantastic tight end depth with Posey and the potential at wide receiver and the passing attack could actually turn out to be a lot more effective than people think. 
As a unit, this offense won't average the 38.8 points per game of a season ago, and probably not the 29.0 of 2009 but that doesn't mean it can't be serviceable group on a team that figures to feature a stout defense. I think we all prefer having a better feel of what to expect that comes with returning players at key skill positions but I am cautiously optimistic about what this group can accomplish and I feel it's enough to make a very realistic run at double digit wins while setting the table for an even more explosive 2012.