They tell me that Ohio State plays a mere five moons henceforth. I don't know. We'll see. If true, then that's cool, I guess.
COLUMBUS EXPATRIATE KIRK HERBSTREIT DECLARES OHIO STATE WILL BE B1G CHAMPIONS. Herbstreit, who moved his family to Nashville because Ohio State "fans" couldn't leave his wife and kids alone at the grocery store, says that he believes OSU will beat Iowa in the first Big Ten championship game.
"The one thing I hear from everybody is that there is such a feeling of 'team' in that program right now. And I don't think it is just because of everything they've been through as a group off the field in the last seven or eight months.
For whatever it's worth, I agree with him. (Which is one of the big reasons I picked the Buckeyes to go 11-1). I'm sure Herbstreit's opinion will elicit anger or eye-rolls, but personally, I've never seen why everybody gets so upset with a guy who looks like a real life Ken doll. Why do people get so worked up over his opinions?  
THE OHIO STATE FOOTBALL TEAM HAS A MESSAGE FOR YOU, BUCKEYE NATION. The football program has released a finely crafted video featuring various Ohio State players talking about their goals and some of the things which went into them becoming Buckeyes. Eyes set to misty.
TEXAS A&M COULD JOIN THE SEC THIS WEEK. So, remember how A&M was all like, "We wanna roll to the SEC, yo." Then Mike Slive was like, "Eh, I dunno, bros. We could get to 16 teams in five minutes. Right now, we're straight." But then Slive craftily slipped A&M a note that read, "But yo, check it: get your divorce, and then we can get married"? 
Well, A&M plans to finalize their divorce from the Big 12 by the end of this week. They could be repping the SEC within the week. Isn't it crazy how fast these multi-million dollar conglomerations can leave their business agreements?
For me, the much more interesting thing than a team which will win the SEC every 20 years going to the SEC  is... who are going to be the 14th or even 15th and 16th teams that end up making the same move? And remember: when the SEC rips up its contract with ESPN and signs what will probably be a $12,000,000,000 TV deal with somebody--it'd be completely wrong for any of the athletes actually playing the games to see a $00.01 of that money. (And yes, I typed the numbers out to enforce my point even further because I'm a pedantic dick).
HAS THE SUN REALLY SET ON THE ERA OF EXCELLENCE AT OHIO STATE? The Columbus Dispatch's Bob Hunter, who has been writing for the paper since the 1850's, writes about just how quick Jim Tressel's "ejection" from Ohio State came about and how surreal it all seems to be.
I don't know what's going on with this article. I figured it was going to be about how, while Jim Tressel may be gone, that somebody like Fickell, through his years under the stewardship of Tressel, would be in perfect position to utilize all the pillars of Tressel's program. After all, it's not like Tressel was out here running some cutting-edge, super elaborate system. (I feel this point has been undersold in most discussions about this season).
Instead, Bob talks about just how crazy it would have been to talk of Tressel's "retirement" this time last year. He then throws some numbers out involving the program since 2002, and then seems to take issue with Ohio State's ranking of 18th going into this year. I figured he was going to use this as a launching pad to talk about the potential of continuity, but instead he threw out Nationwide Insurance's motto and ended his column.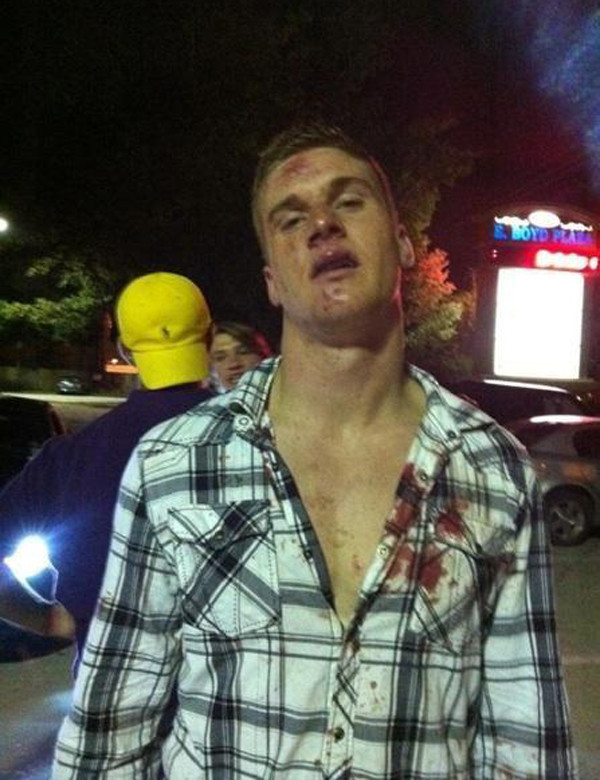 KICKER DREW BASIL ISN'T LIKE RECENT OHIO STATE KICKERS, BECAUSE HE ISN'T OLD, YOU SEE. I was excited about Drew Basil, because with a name like Drew Basil, I assumed he was British. (And as we know, all British people play(ed) soccer, which means they can all kick balls very long distances).
Of course, much to my chagrin, none of this is true. While he did play soccer, Basil is from Chillocothe, is a former All-State kicker, and is very good at bowling. I guess bowling is what you do when you're from Chillicothe and don't traffick or use methamphetamine.
Basil had his only two kicks of the 2010 campaign blocked, but seems to have the full faith of new special teams coach Dick Tressel heading into this season.
CALEB TERBUSH IS THE NEXT ONE UP ON PURDUE'S ACL CHOPPING BLOCK. Danny Hope's Mustache has named Caleb TerBush, whose only college game came 22 months ago, Purdue's starting quarterback. He's the 5th Purdue quarterback in under a calendar year. I'm baffled why the "b" in "TerBush" is capitalized. I'm also baffled by the fact that TerBush would accept the starting quarterback role, given the heap of corpses he had to climb to assume the role. (Somewhere out there, though, there's the small child who will one day benefit from having his ACL grafted back together with pieces of TerBush's harvested ACLs. So there's that).
JORDAN JEFFERSON PROBABLY WON'T BE PLAYING ANYTIME SOON. The LSU quarterback and linebacker Josh Johns have been indefinitely suspended for their (alleged) role in a bar fight which resulted in a (Marine with a criminal history) getting kicked in the head. (Results of the encounter can be see to the left).
The most disconcerting thing for me to come out of this story is the fact that Jordan Jefferson owned 49 pair of shoes. What man needs 49 pairs of shoes? I don't even think I've owned 49 pairs of shoes in my entire life. Granted, I've bought about three pairs of shoes in the last six years, but still--there's no need for a grown man to have more six pairs of shoes.
And secondly, I wasn't there, but I think I've seen this movie before. (Actually, I've seen it quite a bit). Random Drunk Bro is mad because athletes are in the bar, getting free drinks, hogging all the women, and generally having a good time. Of course, eye contact is made, somebody bumps somebody, and now Random Drunk Bro has a point to prove, namely being, THESE FOOTBALLERS CAN'T BE THAT TOUGH, because Random Drunk Bro is always the toughest dude in the world. Always.
And this is how somebody like Jordan Jefferson ends up kicking a Marine in the head outside of a bar named "Shady's" in Baton Rouge, Louisiana. The "victim" of the incident refused treatment at the scene -- proving just how big of a hubris problem he has -- so what's the problem here? Nobody died and lessons were handed out across the board. Instead, felonies have to be bandied about and now Marines are threatening college football players. Awesome.
Also, the sound you're hearing, is national media sharpening their axes, ready to unleash all sort of terrible sanction/suspension jokes during the lead up of the LSU/Oregon. Unfortunately, Ohio State/Miami's tilt will probably shatter the newly assembled terrible sanction/suspension joke barrier here within a few weeks. I'm already shaking my head. 
PARIAH TERRELLE PRYOR WILL MAKE HIS PROFESSIONAL DEBUT ON FRIDAY. Now, I don't care about any NFL preseason game not involving the Cleveland Browns, but I bring this news: Terrelle Pryor, who has shown signs of rust in practice, is expected to play this Friday against Seattle. I'm not sure if Pryor will make it as a QB, but I'm glad to see he will be getting his chance to prove some people wrong. Regardless, I think Pryor will end up having a fine NFL career.
Pryor does, however, have the support of Jim Tressel, who also apologized to Ohio State fans on the same day some Ohio high school football coaches wore sweatervests and ties in his honor.
RANDOM THINGS FROM THE INTERNET TO DELAY YOUR MONDAY. How Detroit is getting "re-purposed"... Have you ever wanted to be a treasure hunter?... Katt Williams' thugged-out mid-life crisis brought itself to a Young Jeezy concert in Phoenix... JEDI KITTENS... Did you know Martin Luther King Jr. was an advice columnist at one time?... Are you rich? Do you like sushi and whiskey? Then you might like Russian prisons... Watch Tyreke Evans and Derrick Williams destroy high school kids... Ashley Young shows his class... A kingly picture of The Eternal King, Warren G. Harding