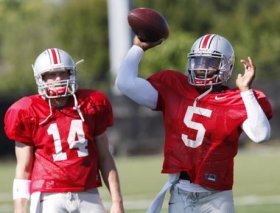 The first jersey scrimmage under the Fickell Regime took place today in Ohio Stadium and unlike previous versions under Tressel, ended without a winner decided on the scoreboard. 
Instead, Fickell shared post-scrimmage that the team will review film to determine who won based on loose criteria including turnovers and toughness. 
Based on that info, it's hard to say which side of the ball 'won' but it's important to note the defense only came up with one turnover. They didn't blitz a lot tough and based on what we know about the inexperience at QB, employing a more blitz-heavy attack could've easily swung the mythical score. When they did blitz, Sweat was a man among boys but Johnny will have all your notes on that side of the ball shortly so stay tuned.
Speaking of the QB's, both were up and down with neither doing enough to grab sole possession of the job. By the unofficial count, Joe B was 7/13 with a TD and an INT while Braxton was 9/17 with 2 TD. I continue to believe Joe B takes the first snap against Akron with both seeing about 50/50 time until a clear starter emerges. 
Where I'm hedging a bit after today, is exactly how soon that will occur. Bauserman looked better than I expected though he clearly had the better blocking. I just hope Braxton is comfortable enough with the offense heading into the Michigan State game so the two QB system won't be necessary. 
Overall, it was a good day on the injury front as only Chase Farris appeared to sustain any meaningful injury. He left limping and came back on crutches. Nick Vannett was shaken up after it looked like he slammed the back of his head on the turf after getting undercut but no word on his status. Of those I noticed held out of action today, the notables were DeVier Posey (nicks?), Jaamal Berry (hammy, of course), Tyler Moeller and Reid Fragel. 
With that out of the way, I'm taking the easy way out in the form of rapid-fire bullets on what I witnessed on the day. 
The rundown:
Placekicker Drew Basil was a solid 5/6 on FG's including a long of 41 yards. The lone miss was a 30 yarder he pushed right though it appeared there was a breakdown on the right side of the line causing the whole play to look rushed. 
Devin Smith, Jeff Heuerman, Chris Fields and Devin Spencer all scored touchdowns on the day. The lone turnover belonged to Bauserman on a poor interception I'll elaborate on below. 
The red zone offense was not pretty. The scrimmage was set up with the offense starting at either their own 10, own 35 or the 25 yard yard line (which I'm calling red zone for purposes of this writing) and by my count, the offense scored just one red zone TD in six tries. The lone score came via a nice read and throw from Bauserman to Heuerman on a crossing route on 3rd and goal.
Bauserman got the better look at the defense since he was behind the 1st team O-line more often and there is a HUGE dropoff between the 1st and 2nd team O-Lines. 
The QB's were live for about three of four possessions before the black jerseys came out which limited Miller's ability to showcase his talent especially before the aforementioned shoddy blocking.
Kenny Guiton was 4/10. He didn't look good at all. Graham was 3/4 but big whoop, basically. It's long been a two-horse race though Bollman said after Guiton still in the mix. Not buying it.
Thad Matta and his staff were on hand.
Boom Herron is by far the most talented running back on this team. He had just a few carries behind that same backup line and dude was bringing it, fighting for every inch. 
None of the RB's found much room to run though, besides Boom, Carlos Hyde stood out the most to me. He finished just 9/20 but showed toughness between the tackles. 
Jordan Hall finished 9/17 with the coaches doing nothing to get him in space. He ran off tackle a few times and never lined up in the slot from what I can remember. There was simply no attempt to play to his strengths on the day. 
Rod Smith was the least impressive to my naked eye and he finished 6/17. As I've seen others write, he seems a little too upright especially when in heavy traffic. He also carried the ball like a loaf of bread on one carry, almost losing it as he was spun around by a defender. Definitely looked like a freshman on that carry.
The starting line from left to right is clearly Norwell, Mewhort, Brewster, Hall and Shugarts with Stoney at tight end. 
Chris Carter has a LONG way to go before he can be an effective backup. He was the worst lineman out there from what I saw today. He made Daryl Baldwin look like Lawrence Taylor. 
Speaking of tight ends, Mila Kunis sure has one. Also, Jeff Heuerman is going to be an All-American candidate down the road. Dude is a player. I can see him getting lots of balls thrown his way this year as the QB's figure out what's going on and today he pulled down five catches for 45 yards including a touchdown pass from Bauserman on a crossing route. 
Moving to the wideouts, Chris Fields made a great play on an underthrown ball from Miller, turning it into a 58 yard TD. With Christian Bryant running stride for stride down the seam via the slot, Fields made a play on what would positively be described as an intended back-shoulder pass by jumping to haul it in before racing toward the back right pylon for the score. Great catch, great adjustment on the underthrown ball. 
On the next possession, Devin Smith caught two straight balls, the last one a 55 yarder on a perfectly thrown laser from Bauserman on Doran Grant. It was Bauserman's best throw of the day. 
Philly Brown had a 30yard-ish reception on the first drive of the day, turning a 15 yard pass from Bauserman into a longer gain as he raced up the left sideline. Bad D more than anything, it appeared.
Devin Smith recorded a 25 yard TD reception of a Miller pass on a curl route in which he broke a tackle, spun left and darted up the left sideline for six. Excellent individual effort. 
T.Y. Williams continued to earn his reputation as a guy who can't hang on to the ball. Miller found him with a perfect toss near the front left pylon on a deep out route and Williams proceeded to bat at the ball, just above his helmet, in a way that I can only compare to how you see a happy one year old clap. It was truly a spastic effort that would make you wonder if he didn't see the ball until the last minute but that seemed pretty much impossible as it wasn't a timing pattern, per se, and it was a long throw of 25+ yards.