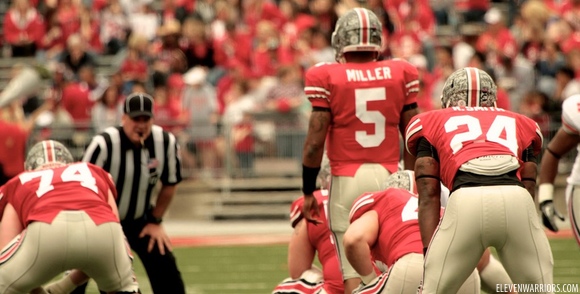 Sometime after lunch on Thursday, Pat Forde took a break from compiling lists of nouns, irrelevant statistics and girls he'd like to bone to bless the Twitterverse with our first "Bus" of the season.
Yesterday, lines for the opening weekend of games were released. We now know that Vegas believes LSU (-3), Boise State (-2.5) and Ohio State (-34) should get off to winning starts, while their opponents, Oregon, Georgia and Akron, will likely be facing a one game hole to start the year.
Later on today -- 3:15pm to be precise -- the 22 members of Ohio State's freshman class will report for fall camp1. Tomorrow morning, the upperclassmen will report and then Monday, the two groups will meet on the field at the Woody Hayes Athletic Center for the first day of fall practice.
Finally.
We've endured quite the offseason and though we still have a date next week with the NCAA, the focus has finally shifted to the action on the field. Lucky for us, there's a lot to get excited about.
We have a young, first-year head coach with a proven track record of aggression and excellence as the nation's top prep heavyweight, a four-year starter for the Buckeyes at nose guard, and connoisseur of Affliction apparel, that all but guarantees his personality will be reflected in his team. This means, among other things, that we'll likely get to experience an offense and defense playing for the kill regardless of clock and margin.
If it's not Fickell pushing the tempo with the Silver Bullets, it will most certainly be his good friend and new linebackers coach, Mike Vrabel. Vrabel's fire and intensity is legendary in Columbus and he also knows a little bit about the game. Bill Belichick claims he's "as well-suited for coaching as any player I have ever coached." Pretty high praise coming from a guy that knows something about winning football games. Now imagine what Vrabel will be able to do with elite talent.
For the first time in three years, there's a huge question mark at quarterback. The battle to replace Terrelle Pryor will take place over the next month between senior Joe Bauserman, sophomore Ken Guiton, redshirt-freshman Taylor Graham and true freshman Braxton Miller.
It doesn't hurt that the most talented of the group, Miller, has been with the team since January, working out, absorbing the playbook and developing a rapport with an equally green group of wide receivers. The majority of fans clamoring for Miller to start the opener should take solace in the fact that, although not quite as physically blessed, Miller begins his Ohio State career as a better football player than Pryor.
Because of key departures and suspensions, this camp will feature many more position battles -- really, the most we've seen in a long time -- beyond what will transpire at quarterback.
Dane Sanzenbacher is in camp with the Bears and DeVier Posey will be sitting the first five games of the season, leaving the receiver corps with just Philly Brown as the only returnee that saw significant action last season. Until Posey returns, at least, there is an opportunity for two or three of the younger guys to step up. Whether that will be Chris Fields, who earned rave reviews in camp last season, T.Y. Williams and his freakish size, true freshman Devin Smith, Keyboard James, tight end Jake Stoneburner split wide on the regular, or another youngster remains to be seen.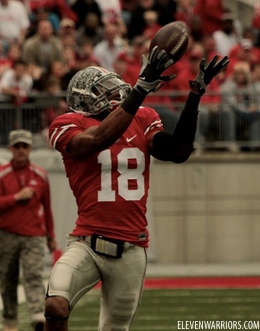 Similarly, at running back, the Buckeyes will be without their leading rusher and workhorse, Boom Herron for the first five. And just like at wide receiver, this position is absolutely stacked with young talent. For your primary, do you go with the big (and deceptively quick -- as in 4.42 quick) Carlos Hyde, the supremely talented Rod Smith, the burner, Jaamal Berry, or solid and dependable Jordan Hall? Can you even go wrong here?
Andrew Norwell has the early lead in the battle to replace Mike Adams at left tackle during Adams' suspension and the lack of depth at tackle may mean that battle is already over, but two multi-year starters must be replaced at guard with the graduation of Justin Boren and Bryant Browning. Between Marcus Hall, Jack Mewhort and Corey Linsley, two of those guys will become starters.
At linebacker and cornerback, much of the same. New faces will get the opportunity to step into positions vacated by graduating seniors. Ohio State has recruited well at each of those positions recently, so again, these position battles should be a lot of fun to watch. In the secondary, we'll also witness the triumphant return of the team's best blitzer, star/safety Tyler Moeller, looking to cash in on a rare sixth season of eligibility2.
Ohio State will also be choosing captains for the 2011 season this month. The six chosen last year were an anomaly, so look for the typical four to be chosen this year. Andrew Sweat, Michael Brewster and Orhian Johnson all made the trip to Chicago for Big Ten Media Days, so the odds are good that at least two of those players -- Sweat and Brewster -- will be chosen, but what about the other two? Stoneburner and Moeller make a lot of sense, but what about Johnson? Or even John Simon? Both are juniors, but tabbing them would not be completely unprecedented.
Perhaps most importantly, we have a regime intent on providing an unusual level of access, so we'll be able to provide coverage of these battles on levels not seen in Columbus in over a decade.
What's not to be excited about?
1 Stick around this weekend for full coverage of both groups reporting. If Marcus Hall shows up with another trash bag as a suitcase, we'll have footage.
2 Another burning question related to the secondary: Will Ron Tanner wear that killer bow tie on road trips?