Fall camp is a weird one this year. Gone is the school's winningest coach in the post bell-bottom era. Also gone is a three year starter at quarterback that was on the verge of shattering every Ohio State career passing record of worth.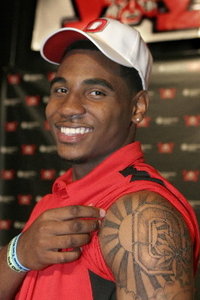 As a result of "The Troubles" that enveloped the program in the spring, taking down both coach and quarterback, new head coach Luke Fickell will preside over something that's been pretty rare in Columbus for the better part of the past decade. For only the second time in the last seven years, OSU finds itself entertaining a quarterback battle in camp.
The last time we entered a season without an entrenched starter was 2007, after the departure of Heisman winner Troy Smith. Todd Boeckman emerged as the winner of that competition and promptly led the team to a 10-0 start and a #1 national ranking before the Buckeyes were unceremoniously dumped at home by Juice Williams and the Fighting Illini in early November. The team would rebound, defeating Michigan the following week, before a series of fortunate events propelled OSU back into the top slot and a BCS Championship game matchup with LSU, which the team eventually lost.
The following season, Tressel and Ohio State welcomed the nation's top recruit in Terrelle Pryor, but Boeckman had done enough in his maiden campaign to enter camp as the undisputed starter. His reign at the top didn't last long and after a lackluster performance in a 35-3 waxing to USC in the Coliseum, Pryor emerged as the team's starter.
The freshman would go on to start the next nine games, winning eight of them, including a thrilling comeback against Wisconsin on the road and Ohio State had a new quarterback.
The next two years, Pryor took steps towards becoming a well-rounded passer, improving each season. Last year, he led the Big Ten in touchdown completions, finishing with 27 on the way to over 2,700 yards through the air. He was no longer just a gazelle that could manufacture first downs on his feet, but a legitimate passing threat.
All of that came crashing down of course and now we find ourselves in the position we are currently in: four unproven guys with varying levels of talent and experience, all vying for the chance to lead the team.
Joe Bauserman
The leader heading into camp based on experience in the program alone, the redshirt senior will turn 26 this fall thanks to a daliance with pro baseball after signing a contract with the Pittsburgh Pirates way back in 2004.
If it seems like he's been in the program forever, he has. Bauserman was Pryor's primary backup the last three years and saw spot duties in blowouts along the way. He saw the most action of his career in a 73-20 blowout win of Eastern Michigan last season, finishing 5 of 6 for 59 yards and a touchdown (earning him a gaudy 220.9 quarterback rating for the afternoon).
For his maturity and experience, he's never really caught on with the fans. The cringes in the Sugar Bowl were audible when Pryor went down with an injury in the fourth quarter and whatever love he's earned from his tendency to throw nice deep balls in spring games past has gone out the window when his mobility has been called upon.
There's no question he's the most advanced of the four contenders from a knowledge of the playbook point of view and if Tressel were still around, you would have to imagine that Bauserman would get the nod to take the first snap of the 2011 season.
Kenny Guiton
Guiton was a late commitment to the 2009 class, earning a collective "Who" from a fanbase that had him nowhere on the recruiting radar. He redshirted his rookie season and then went on to see (very) limited action in 2010 despite earning rave reviews for his heroic spring game performance that year.
In that game, he hit Taurian Washington with beautiful 45 yard strike with just over a minute remaining to provide the final points in the Gray side's 17-14 comeback victory. Though Ohio State had an entrenched star at the position, Guiton's buzz was palpable after the performance.
For all of the buzz, he rarely saw the field last season, holding down the #3 position on the depth chart. He would go on to finish just 1 of 2 on the year, seeing action in only four games, with an interception against the Hoosiers in week six.
He does have his supporters in the fanbase and has continued to learn and grow within the program, earning him a solid shot at the job this fall.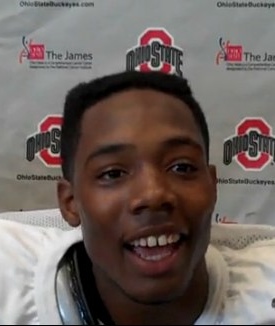 Taylor Graham
The son of former Buckeye and New York Giants quarterback Kent Graham, Taylor arrived as part of the 2010 recruiting class. The 6-4 signal-caller was a four-star recruit from Rivals in that class and entered with a reputation of being a fine pocket passer.
His mobility is limited (he arrived at Ohio State coming off a knee injury in his senior season at Wheaton, IL) and he's still consuming the playbook, which he had plenty of time to do during his redshirt year last season.
At various points during the last two years, Graham has earned rave reviews (and scout team accolades) for awareness in the pocket and nice touch, but as with Bauserman, there are real concerns about his mobility. If he has a great line, to play behind, he'll be more than fine, but if he has to scramble for his life, you won't be faulted for having flashbacks to Boeckman in LA.
Braxton Miller
Of the four quarterbacks competing for the job, Miller is by far the most touted. Playing for Wayne High School near Dayton, Miller was on recruitniks' radars after starting as a freshman for coach Jay Minton.
As a senior, Miller led Wayne to a Division I state championship berth against Lakewood St. Edwards. Though his team would eventually lose 35-28, the quarterback accounted for all four of his team's touchdowns (two on the groun and two through the air) and nearly 300 yards of total offense.
Scout.com pegged Miller as the #2 quarterback recruit and the #13 prospect overall in the 2011 class, giving Ohio State it's second five-star quarterback in three years.
Miller would arrive at Ohio State early in January and took part in the spring game, displaying the talents that had earned him all of the recruiting love he had received. At times, he was the best player on the field, even though he'd only been on campus for a little over three months.
From a tools perspective, he can do it all. He throws a nice spiral and short and deep balls and is equally dangerous running with the football. He'll have to get up to speed with the playbook, but appears to be doing just that. Though quiet, he's also a natural leader with members of his class looking to him for guidance.
There are, however, concerns about his health, as he was injured in his final two seasons in high school, taking him out of all or part of games.
---
With new coach Luke Fickell facing an uncertain future, he will likely be more ready to throw a freshman into the fire, so that has to bode well for Miller emerging as the starter. Already, it appears as if Bauserman and Miller have emerged as the top two horses in this race and though many fans expect Bauserman to start the season with Miller eventually taking over, I'm not so sure we won't see Miller line up for the first snap against Akron.
The coaching staff has stressed how they are looking for leadership and toughness out of a starter, so if Miller can stay healthy, he has the other side locked down.