As a grand finale for Season Preview Week here at Eleven Warriors, I racked my brains and after many moons of careful deliberation, I finally decided that the best way to close it out would be to pass the mic and let each 11W MC strut their stuff for a bit. Today your favorite writers will offer up a truly funky fresh breakdown of how the season plays out, based upon the illest questions that I could come up with.
And, I've gotta say, the 11Dub crew truly went all out in their responses. It's unfortunate that I couldn't include all of them as that would end up being a multiple part post stretching through the Nebraska game, but rest assured that I included all of the responses that made me laugh the most and/or represented the best potential for future mockery and derision. Also to those of you pointing out that I'm not the one who had to go out on a limb and prognosticate months into the future so who am I to talk: you're right. I am a tremendous, tremendous wuss.
So without further ado, I present the 2011 Eleven Warriors Roundtable!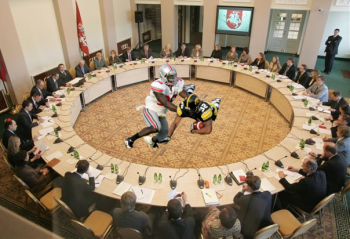 What are your expectations for THE BUCKEYES going into the 2011 season?
Jason: The talent is still largely there. It will be interesting to see how the team fares in the first five games without Posey, Herron and Adams and of course we'll soon find out whether Fickell shares Tressel's same constrictor approach to suffocating opponents while holding the lead. I don't expect the team to go unbeaten, but I wouldn't be shocked to see them playing in a January bowl game.
Alex: Honestly I'm not sure what to expect. I think the defense will be really good, but to be quite honest I'm very concerned about the offense. I think you could see anything from a complete mess of a team that goes 6-6/7-5 to a team carried early by the defense that develops a highly effective offense and wins the Big Ten. I'm not sure if I'm excited or nervous, but either way this will be the most entertaining season in a long time.
Ramzy: A funny thing happens when new coaches take over stocked teams.  Look at what Bob Stoops, Urban Meyer and Tressel did with players recruited by John Blake, Ron Zook and John Cooper.  Change is often good, even when no change was needed.
Which Simpsons quote/rap lyric best describes the 2011 Ohio State Buckeyes?
Jeremy: "I'm not normally a praying man, but if you're up there, please save me Superman"
DJ: Still rock my khakis with a cuff and a crease/ Still got love for the streets, repping 213/ Still the beat bangs, still doing my thang/ Since I left, ain't too much changed
What record does OSU need to post in 2011 for Luke Fickell to keep his job?
Chris: That's a tough question. With recruiting for next year at stake, it seems possible he might get offered a contract before the season is over. If they do wait until the end, I think a 9-3 season would lock up a contract though I think the manner in which they compete, handle adversity etc, not just wins/losses, will be factored in.
Ramzy: Ten for a guarantee.  Nine and strong recruiting/program climate karma and he's got a good shot.  Eight and he needs some help.  Seven and he can take over at Akron.  Six and we'll require restraints, lithium and electro-shock therapy.
Joe: I think he'll need 10 or 11 wins including a win over UM and not getting blown out in the bowl at the very least.
Give me an argument for Braxton Miller being the starting quarterback from day one.
Sarah: Remember Todd Boeckman vs. USC? Now picture an older, beardier, gingery version of that. Ohio State will probably need a QB who can buy time with his feet and elude tacklers and even if Miller struggles some, and he will have his ups and downs, that experience is the best learning tool for this season and for future seasons.
DJ: Because this is how it works when you play EA Sports' NCAA Football franchise. You take the young, underdeveloped quarterback, play him, and by the time he's a senior, he's got a 98 rating and going for his third Heisman. Of course, this isn't how it works, but I'd still wish we'd play Braxton and just live with whatever mistakes he makes. Ol' Dude Bauserman has never instilled confidence in me, and he's just as prone to terrible throws as Braxton might be.
What game on the schedule are you the most excited for?
Luke: Akron. This is Neo walking into the metal detector. Show me your weapons or show me that this season is the other 2 Matrix films.
Alex: I think like most, the Wisconsin game at night for a chance to avenge last season's lost and the Eat Too Brutus event will be sweet, but nothing, and I mean nothing, gets me more excited than OSU vs Michigan.
The 2010 Buckeyes put up 38.8 points per game, good for 11th in the country. In terms of points per game, what's a reasonable expectation for the 2011 Buckeyes?
DJ: Dear God, the 2010 Bucks scored 38.8 per game? This didn't make sense to me, until I realized, elite college football teams only play 3-4 competitive games a year. They say 17 points is all you need to win most football games. We'll probably control the clock through the running game and let our defense wear people down. Due to the likes of Akron, Colorado, etc. on the schedule, I'll say we end up with about 28.8 points a game.
Jeremy: I think it's reasonable to expect between 24 - 27 points a game this year.  Defense should still help put the team in good spots, and the return game should be as good or better than last year.
Luke: Without any viable targets in the passing game and extreme uncertainty under center, the odds of this team scoring 38 (much less something far closer to palpable like 30-33) a game is going to take some serious MACrificial lamb-ing for those kind of numbers to become even a twinkle in Dr. Luke Fickell, PhD's eye.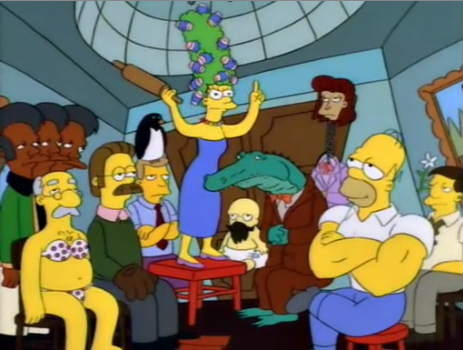 Which players on the offense and defense need to have great seasons for the team to be successful?
Corey: On offense, Joe Bauserman. It's not the popular choice athletically, but the dude is 26 and should be able to manage the game better than Braxton. If he can some how manage a year that was statistically similar to Krenzel's in 2002, this team will also have a chance in every game.
Chris: Defense: Andrew Sweat. This team needs a playmaker at linebacker and Sweat looks primed to fill that role with the switch from Sam to Will. From what we've seen, Sweat is going to straight blow up this year. Along with Simon, Sweat also shows outstanding leadership qualities that can't be underestimated during the course of a tight game.
DJ: Nathan Williams on defense. He's been a pass-rushing monster, but we need him to have a more complete role this year without giving up pass-rushing ability. I don't envision too many teams running on us, and if we can get a consist pass rush--look out. On the offensive side of the ball, I think it's obvious: whatever carbon-based life-form is in the quarterback slot.
Is this the year Michigan finally breaks mummy's curse and defeats Ohio State, or is Brady Hoke the George McClellan of college football coaches?
Danny: Not buying into Michigan yet. They lost one of their best receivers in Darryl Stonum, and their defense is still suspect. This is year one for Brady Hoke, he should be focusing on getting his feet wet and learning the lay of the land, not cannon balling right in. Wow, that would make a huge splash.
Sarah: The most annoying person I know is like the human equivalent of the song "Who Let the Dogs Out". He's a guaranteed migraine. Every time I have to see him, I want to strangle him with my bare hands, and if I did, I would probably be awarded the Presidential Medal of Freedom. If Brady Hoke leads Michigan to a win against Ohio State, he would be even more insufferable than that. I can't let myself picture it happening, because it would lead me down a rabbit hole of apoplexy that would end in a rage blackout and a warrant out for my arrest in 37 states.
Chris: Ohio State will not lose to Michigan this year. Good for them for going out and hiring their Michigan Man. He clearly gets the rivalry and is the typical arrogant Michigan man that's easy to hate but the fact of the matter is that talent wins football games and right now, there is still a pretty wide gap in talent when you compare the two rosters. I'll begrudgingly say they are on the right track but a polished turd is still a turd as far as Michigan's 2011 roster goes.
Give me a best case/worst case scenario for Ohio State football this year.
Luke: Assuming all the stars align? A convincing enough 9-3 (maybe even 10-3 if you count the bowl game) to put us in terrifying Bill Stewart/Larry Coker land. If my trepidations aren't the same old xanax fuel, 6-6 is a LOST pilot-esque ultimately poorly rationaled plane crash apocalypse.
Jeremy: Best case? 12-2, BCS bowl game. Worst case? 7-5; Bauserman can't hack it and Braxton gets his confidence shaken to the point of no return.
Jason: Best case: 11-1 and a BCS bowl. Worst case: 7-5, losing some games that Tressel would not have lost.
Alex: I think worst case you're looking at a 6-6/7-5 season with losses to Miami, MSU, NU, Wiscy, UM, and maybe one game we shouldn't lose. At best, you're probably looking at 11-1 in the regular season with the chance to play for the B1G championship and a BCS Bowl.
DJ:  Best case scenario is shocking the world and somehow winning the national title. The worstt case scenario is, much like USC last year, we take our first L and then the wheels come off. I think our kids have a little more steel in their backbone than the likes of Matt Barkley, though.
Chris: Best case: 11-1 regular season, win the conference championship game, earn a BCS bowl bid. Worst case: The QB position refuses to shake out favorably, the defense is always on the field and we go 8-4 in an ugly enough fashion that compromises the continuity of the entire coaching staff.
Ramzy: Runs the table, wins the national championship.  Or walks off the field in Ann Arbor destined for the Who Cares bowl while a dozen Michigan players shatter their vertebrae trying to hoist Floppy McJowels on their shoulders. The delta, she is wide.
Danny: Win the Big Ten, Braxton steps up as the wave of the future. Worst case, OSU barely qualifies for a bowl game and Miller struggles.
Sarah: Best: 2002. Worst: 2001, without a win against Michigan.
Corey: Best case, everything clicks. As I expect every year, a Big Ten and National Championship. Worst case, injuries and poor QB play lead to a 9-4 record.
Joe: Best: Win the B1G and go to the Rose Bowl. Worst: 2004. Ugh.
And that's that! Thanks again for all of your input guys. If I didn't include your favorite response, just remember; it's not because it was terrible. It was because I don't like you!