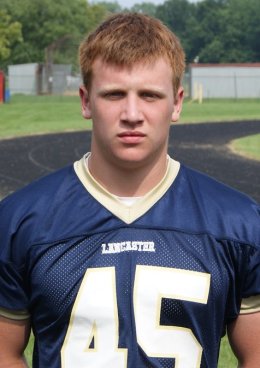 Roughly two weeks after being offered a scholarship to play football at Ohio State, linebacker Luke Roberts of Lancaster took little time to pull the trigger. 
The Rivals 3-star arranged a visit to campus and quickly decided to become the 10th member of the 2012 class. The 6'2", 225 lb blue-collar tackling machine tallied 96 stops, 23 TFL and three sacks last year, earning all district honors. 
Roberts helped Lancaster to a 1-0 start to their 2011 campaign with a 32 yard TD run and a two-point conversion in last Friday's 35-13 spanking of Logan. 
A cerebral and fundamentally sound player on the field, he's, by all accounts, an amazingly high character kid that will make a great addition to the Buckeye family. 
We recently caught up with Luke to inquire about what factors went into his decision to play at Ohio State, what his career path might look like and if former Lancaster stars Bobby Carpenter and Jim Cordle gave him any advice, among other queries: 
You recently committed to OSU and held offers from Arizona, Purdue, Cincy, Wake Forest and Indiana. How did it feel to finally make your decision and why did you choose to commit when you did?
It was a huge relief to finally have the weight of making a decision off of my shoulders. After visiting OSU and praying a lot about the decision, I knew that it was the right place for me and I didn't see a reason to wait.

I understand your dad is an Arizona alum. How difficult was it to choose the Buckeyes over the Wildcats?
Growing up I watched the Wildcats pretty often so I was definitely a fan of the team. However, when it came down to making the decision my dad wanted what was best for me and that was obviously at Ohio State.

Have you spoken to the coaches about the current issues going on at OSU and if so, how did that factor into your commitment?
I have had the chance to speak with Coach Fickell about everything. It didn't really affect my decision that much because at the end of the day Ohio State is Ohio State and they continue to be a very successfull program.

As a linebacker, I assume you are excited about the hiring of Mike Vrabel. Have you had a chance to talk with him if so, what was the conversation like? If not, which coach recruited you?
The first time I visited Ohio State was the day that Coach Vrabel was hired so I did get a chance to talk with him. Obviously he will be a huge asset for me, as he has a great wealth of knowledge about the linebacker position.

We hear you are interested in pursuing Business at Ohio State. Any thoughts as to what your dream job outside of football would be?
I want to major in International Business at Ohio State. I'm not sure about a dream job. It would probably be something overseas though.

What are your goals for your senior season at Lancaster both individually as a group?
I don't really focus on individual statistics so individually it would just be to contribute as much as I can so my team can win a state championship.
What do you feel are your biggest strengths on the football field? What do you feel you need to work on before you get to OSU?
I would say my biggest strength as a football player is my football IQ. I can read offenses very well and I am almost always in position to make the play. Before I go to Ohio State I would like to continue working on my speed and change of direction as those things are hugely important for linebackers.

What was your favorite college team growing up? Which player and why?
Honestly I wasn't a huge college football fan up until a couple years ago. I would have to say my favorite team was Arizona though because of my dad.

Have you met any of the other players committed to the Buckeyes yet? Do you plan to help the coaches recruit other high school players they have offered?
I have had a chance to meet several of the Central Ohio commits luke Josh Perry, Frank Epitropolous, Warren Ball, Jacoby Boren, and Pat Elflein. And, yes, I want to do anything I can to help this recruiting class.

Jim Cordle and Bobby Carpenter are two former Lancaster stars to play for Ohio State. Did either of them offer any insight on the program? if so, what did they have to say?
I have been able to talk to both Bobby and Jim. Bobby helped me train this offseason and was a great source of advice throughout my recruitment. I plan on graduating early, and I know Jim Cordle did that so I talked to him about the pros and cons of that decision.

Tell us about Luke Roberts off the field. What are some hobbies/interests other than football?
I'm a really competitive person so I love just getting a group of guys together and playing pick up basketball or really having any type of physical competition.
Highlights