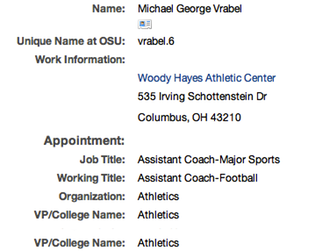 Following weeks of speculation, it's finally official (H/T: @ntderosu). After 14 years earning an NFL paycheck, Ohio State's greatest pass rusher is coming back to Columbus.
A press conference will be held tomorrow to make the announcement that former Buckeye defensive end and NFL All Pro linebacker Mike Vrabel has agreed to join Luke Fickell's coaching staff. 
For three seasons beginning in 1994, Fickell and Vrabel lined up next to each other for 38 consecutive games, culminating with the 1996 Big Ten and Rose Bowl championship team whose defense only allowed 11 points per game.
Vrabel ended his Ohio State playing career with an astonishing 66 tackles for a loss and 36 sacks despite playing on teams loaded with NFL talent. 
He also set the school record for most sacks in a single season with 13, a mark that stood for 12 years until Vernon Gholston recorded 14.5. Editor's note: Gholston recorded 7.5 of those sacks in two games against a significantly weaker schedule than the one Vrabel's Buckeyes faced in 1995.
Despite taking the Big Ten Defensive Player of the Year awards in both 1995 and 1996, Vrabel wasn't drafted until the 91st pick in the 1997 draft.  He leaves the league within weeks of Orlando pace, the draft's top overall pick, fellow teammate and fellow selection to the NFL's all decade team (2000-2009).
Vrabel's NFL career was anything but forgettable: He played in four Super Bowls, sat across from Jim Rome without beating the smug out of him, delivered a David Letterman Top Ten list and is the only player in NFL history to catch two TD passes and record a sack in a single game.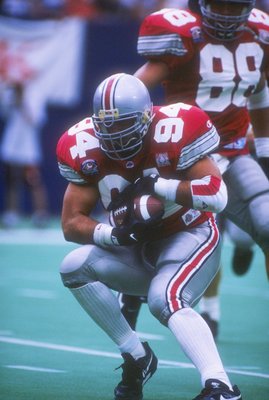 In all, Vrabel finishes his NFL career with 57 sacks, 11 interceptions and 10 receptions as an eligible receiver, all of which resulted in touchdowns.  Cris Carter has nothing on him.
While Vrabel's Buckeye days were spent on the edge of the defensive line, he found his NFL success not only as a linebacker but as a result of his flexibility at the position.  Vrabel played in both three and four-backer sets in every single spot, inside and outside.
If a teammate was injured (Junior Seau) sucked (Monty Beisel) or was too old to still be playing (Chad Brown) Patriots head coach Bill Belichick had no problem seamlessly sliding Vrabel into that man's position.  A pre-med guy at Ohio State almost exactly two years younger than his new boss, Vrabel has the cerebral superiority to match his physical prowess.
The elephant in the room regarding Vrabel's hiring to coach linebackers is...can he coach linebackers?
The concerns are two-fold; one being his long-rumored off-the-field demeanor, which has been purported to range from jockular machismo to unhinged douchebaggery and the other being his qualifications to coach Ohio State's linebackers.
The Tressel era saw numerous crony hirings, ranging from great (Mark Dantonio) to exhausting (Jim Bollman) to highly questionable (Nick Siciliano) to outright nepotism (Dick Tressel). 
Fickell and Vrabel are best friends.  They were in each other's weddings.  Vrabel was at Fickell's sweaty introductory press conference.  The crony element here is inescapable: No other retiring NFL linebacker could walk out of a lockout situation into the WHAC as Vrabel is doing now.
However, Vrabel's NFL cache and - we'll call it this, going forward - dynamic personality should be a hit with recruits.  In addition, his job responsibilities will not include architecting the Silver Bullet schemes, constructing game plans or diagnosing offenses. 
He's coaching linebackers under Jim Heacock's tutelage.  He's shouting, motivating, encouraging, instructing.  He's transferring tactics, knowledge, ideas and energy to players trying to learn what he just spent 14 years being paid to do. 
Vrabel is exponentially more qualified to coach linebackers than Siciliano is to coach quarterbacks, and he'll have his best friend - an excellent defensive coordinator himself - and a Broyles winner in Heacock to guide him. 
The cultures at Ohio State in 1996 and 2002 were very similar; the defense led the way.  Players would rather get caught screwing up or slacking off by a coach than by someone like Vrabel, or Matt Wilhelm, because getting nailed by the latter would be worse.  Now Vrabel will be in a true authority position, but the mentality should not change.
Vrabel will be a welcome addition to the Ohio State staff and he and Fickell together should have a positive impact on the culture of the team.  The real wild card will be how Vrabel personally adjusts to life without crushing dudes: This August will be the first time since 1988 that he won't be wearing a helmet and pads.