Until last Monday, the fully-equipped touring edition of the 2011 Ohio State Buckeyes was scheduled to debut on October 8 in Lincoln, when the Tatgate Five suspensions concluded with Jim Tressel also returning to the sideline.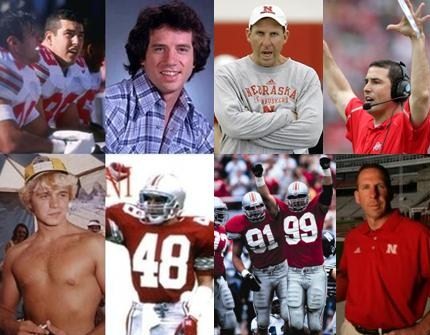 That debut was cancelled indefinitely with Tressel's abrupt resignation last Monday, and as a result of the subsequent coaching shuffle in Columbus, Ohio State vs. Nebraska will now hastily serve as the first-ever matchup of former Ohio State football players coaching an FBS game against each other. 
It also provides us with a bridge to both the revitalization of the Ohio State brand under John Cooper as well as a direct link to the last time the conference welcomed a school into its membership
Nebraska boss Bo Pelini and Ohio State interim capo Luke Fickell represent the first two of the three distinct acts that comprised the Cooper era in Columbus, with Fickell also playing a prominent role for the Buckeyes the year that the Big Ten became eleven.
Pelini, who came to Columbus in what ended up being Earle Bruce's fedora-adorned farewell season, played on four mostly-lousy Buckeye teams that bridged the atrophying Ohio State program under Bruce to what developed into the reliable NFL feeder system under Cooper that still operates today.
Mark "Bo" Pelini [Author's note: Only dogs are actually named "Bo" and every male from Youngstown not named Urban is named Mark, Jim or Robert by law since 1835] was a fairly popular Buckeye on some fairly unpopular Buckeye teams.  Despite playing on some mediocre seven and eight-win squads that featured defenses that would not finish among the top ten of the Tressel era (this is math even you can do; Tressel had ten defenses) Pelini never seemed to quit on any given play.  Not in the first quarter; not in the fourth.  That overused term "flying around the ball?"  That was him.
He wasn't extremely talented from a football standpoint; one of those "slow white guys" Coop famously quipped about when he arrived in Columbus - but Pelini had a Big Ten heart.  In his four years at Ohio State he was a three-time selection to the Academic All-Big Ten team and he took home the Bo Rein award as a senior co-captain, which means his teammates voted him as one of their leaders as well as their most inspirational player. 
Pelini's teams lost 18 games in his four years on campus, which ties Kirk Herbstreit's 1988 class for the most losses in any four-year stretch in Ohio State football history going back to 1895-1898.  That's also only four fewer losses than in the entire Tressel era, and it included one of the worst non-Michigan losses of Cooper's legacy, an embarrassing 23-11 Liberty Bowl beating at the hands of a four-loss Air Force team in 1990 that had beaten The Citadel and UTEP by four points, combined. 
That dreadful evening, which spawned the first widespread Fire Cooper talk around Columbus was also Pelini's last game as a Buckeye as well as the final time that Ohio State would finish any worse than third in the Big Ten until 1999. 
The eight-year run at college football supremacy that followed Pelini's transitional period from the Bruce era in would produce three Big Ten championships and four second-place finishes.  The defensive heart and soul of the heart and soul of that run was the greatest heavyweight wrestler the state of Ohio has ever produced.
---
Fickell, a dominating state champion grappler, redshirted his freshman year in 1992 and then proceeded to start all 50 games over the following four years.  Like Pelini, he also refused to quit on any play while also serving as one of those coach-on-the-field guys.  If you were an underclassman and you were slacking during weight training or practice, you would probably prefer being caught by an assistant coach or Coop himself than Fickell, because coaches would probably go easier on you.
Fickell went 41-8-1 as a Buckeye, notching 16 more wins, suffering ten fewer losses and kissing two fewer sisters than Pelini did [Author's note: If you know of a less nauseating way to phrase that, I'd love to hear it.]  Fickell also played an important role in two Cooper era firsts: Ohio State's first bowl win in seven years (1993 Holiday) and Ohio State's first Rose Bowl win in 23 years, the epic 20-17 last-minute victory over undefeated Arizona State which was Fickell's final game as a Buckeye.
These two native Ohioans and former Silver Bullets will face each other October 8 in a primetime game that is still, from a personnel standpoint, potentially undefined.  This was to have been Tressel's 2011 debut.  It was (is?) still supposed to be the return of the Tatgate Five, which remains to be seen in light of new investigations into improper benefits. 
But this matchup is still much bigger than that.  Nebraska and Ohio State are the fourth and fifth-winningest programs in college football history, yet they've only played twice.  Both games were in the 1950s with the Buckeyes winning both contests.  When the Buckeyes faced Notre Dame (then #2 all-time) in 1995, it was preceded by two full years of buildup.  Ohio State's turmoil is overshadowing a larger, longer storyline.
The last time the Buckeyes and Cornhuskers faced each other was only 40 years after the Big Ten had rejected Nebraska for membership for the second time.  The school had originally petitioned the then-Western Conference for membership in 1900, shortly after it had admitted Indiana and Iowa.  Conference said thanks Nebraska, but no thanks. 
Then, in 1908 after Michigan abruptly withdrew from the conference in the only manner it knows how to do anything - an arrogant, prissy huff - Nebraska offered itself up once again to take Michigan's place.  For the second time in a decade, the conference respectfully declined.
Several months later, Ohio State was welcomed into the fold in what turned out to be much more than a rebound admission for conference.  In 1917 Michigan got over its outrage and re-joined the clan, turning the Big Nine into the Big Ten.
Exactly one hundred years after it was turned down twice, Nebraska presented itself again for admission.  And just like that: Hello, Nebraska.
---
And welcome to the neighborhood, too.  The Cornhuskers will face the Buckeyes coming off of at least two consecutive road night games.  One should be a laugher at Wyoming (or as Boise State fans called their trip to War Memorial Stadium last year, 'a dangerous trap game played at a challenging altitude') with the other being its B1G conference debut at Camp Randall compliments of Jim Delany, president of the Welcome Wagon.
It's significantly less messy an integration compared to what happened the last time the conference added a member.  Penn State's inaugural schedule for the race to the Rose Bowl wasn't nearly as neat as Nebraska's is this season.  The Nittany Lions already had several games for the '93 season planned in advance, which forced it to squeeze in matchups with its new conference brethren wherever it could. 
As a result, Penn State opened with a home game against Minnesota, a 38-20 win which put Joe Paterno all alone in first place in the Big Ten after only playing one game. Three of the following four games were against USC, Rutgers and Maryland with another conference game at Iowa – the first conference roadie – with Tennessee serving as the Nits' season finale. 
In a victory for the old guard of the Big Two/Little Eight, Penn State finished the year 10-2, with those two losses coming back-to-back in October to Michigan and Ohio State, where Paterno's squad only managed to score 18 points combined.
Clearly, that October date in Lincoln will be the confluence of several storylines that are not laden with scandal or program strife.  With Tressel permanently gone and Pryor potentially out the door as well, the legacies of both coaches who barely missed crossing paths in the same locker room should be elevated to center stage. 
As the season draws closer, we should see green shoots of this story being reported along side or in place of where FOIA records requests, NCAA hearings and Columbus used car dealership sales reports currently take daily residence.  Ohio State and Nebraska are finally playing each other, and their histories are far more tangled than people may realize.
For Buckeye fans coming off of an incredibly difficult week who can also look forward to what can best be described as a nervous summer, this should be a welcome development: An Ohio State football story about actual football.