Much like Tressel's resignation last week, Twitter is buzzing with news that Terrelle Pryor has decided to end his Buckeye career.
By and large, former and especially current players had Pryor's back on Twitter. Here's a glimpse of what they had to say:

Fullback Zach Boren gives Pryor some love.

Ditto for defensive back Travis Howard.

Tight end Jake Stoneburner calls on Ken Guiton, Braxton Miller, Joe Bauserman and Taylor Graham to step up.

Running back Jordan Hall reflects on the departure of his friend and teammate.

Tight end Jeff Heuerman has the right idea.

As does wide receiver Corey "Philly" Brown.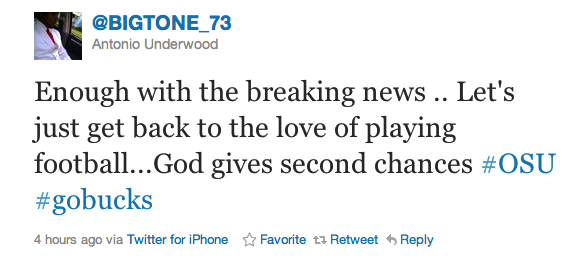 Lineman Antonio Underwood waxes philosophical.

Running back Carlos Hyde provides some unintentional lulz.

Former safety Jermale Hines has Pryor's back.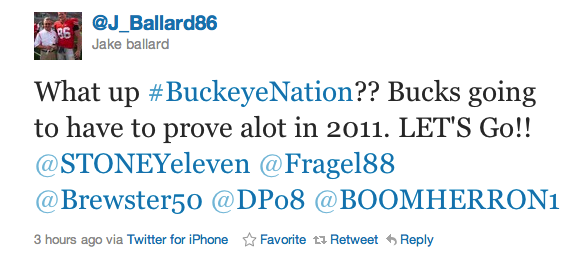 Former tight end Jake Ballard rallied the troops.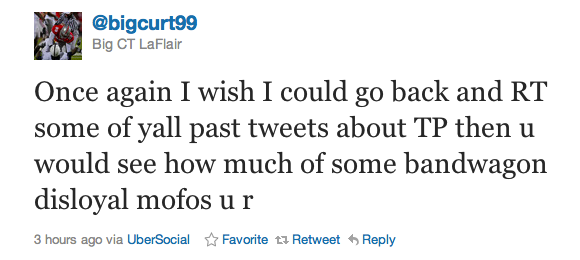 Former linebacker Curtis Terry has words for "bandwagon disloyal mofos".

Former center LeCharles Bently wonders if Pryor was asked to leave.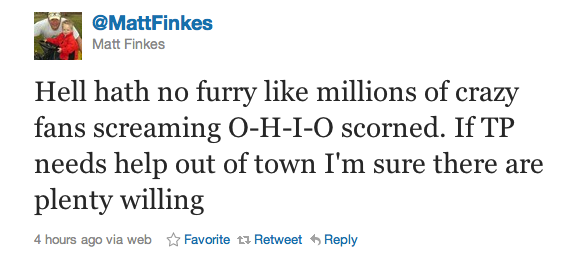 Former end Matt Finkes reflects on scorned fans.

Orlando Pace isn't surprised.

Former defensive back Dustin Fox looks to the future.
And finally, play us off Keyboard James: