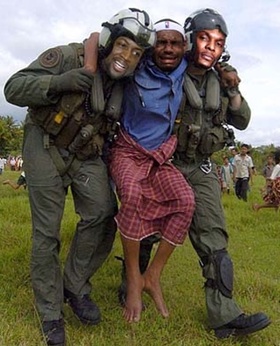 Happy Monday everyone. If you happen to be a Cavs fan, chances are it's a Monday happier than most.
The Dallas Mavericks are your NBA champions and Dan Gilbert's vow lives on, for one more season at least. In fact, Gilbert was feeling it so much that he offered up a free life lesson on Twitter shortly after the final whistle had blown last night.
GETTIN' THAT SHEEPSKIN. 15 Buckeye football players, including 11 who were members of the 2010 team earned their degrees yesterday in Ohio Stadium.
Earning bachelor's degrees Sunday: Joe Bauserman, Ken Blair, Evan Blankenship, Joe Cech, Cameron Heyward, Garrett Hummel, Don Matheney, Tyler Moeller, Dan Potokar, Brian Rolle, Dane Sanzenbacher, Connor Smith, Dwight Smith, Donald Washington and Taurian Washington.
Suiting up for Ohio State is special enoough, but earning a degree is something that will stay with these players for the rest of their lives. For most of these guys, it would be their last appearance at Ohio Stadium while in school. Dane Sanzenbacher reflected on ending his undergraduate career on the same spot he thrilled so many of us on Saturdays:
"It will be bittersweet, obviously. But to be honest: it will be a sense of relief that I've gotten my degree. It will be nice to reflect on the fact that I've completed the school part…that I've done what I needed to do in that regard."

"Being in Ohio Stadium one last time won't compare to being in a game there. It will be cool, though, to have your last official university event in the place where you put in so much work."
Well done, gentlemen.
As you would expect, Gordon Gee was on hand for commencement and although he largely avoided discussing the current football troubles, he urged gratuates and their families and friends to consider the turmoil as temporary when viewed in the context of Ohio State's rich history:
"Let me acknowledge on this day of celebration, in this cathedral of triumph and hope, that many Buckeye hearts are heavy. On rare occasion, this great grand building has been home to disappointment and tumult. That is but a temporary condition."
Ah, the power of positive thinking.
Hello, Luke. Interim Buckeye coach Luke Fickell will meet with the press for the first time today at 4pm ET, with the BTN carrying the event (held at a secret location1) live, both broadcast and on the web. The network will also be carrying an exclusive one-on-one interview with the new coach at 3:30pm ET, so if your afternoon is free, it's a great chance to get to know the new guy.
While this is likely the most underwhelming introductory press conference for a new coach imaginable, I'm still looking forward to hearing what he has to say about his philosophy and his approach to this season. I'm also kind of hoping an "and so forth" slips out. THE PUPIL IS NOW THE MASTER.
Who is Dennis Talbott? ESPN's Outside the Lines ran their second Talbott piece in three days yesterday. Among the new allegations: Talbott setup paid signing sessions as far back as 2006, brought Terrelle Pryor to two of his son's birthday parties, claimed to have been a White Sox pitching prospect while his stepmother told ESPN that she didn't recall him playing any sports in high school, was found in contempt of court for failure to pay child support, falsely claimed to have graduated from Kent State, and other things which make you wonder about a man's character.
Pryor's attorney, however, is still maintaining his client has never received checks or cash from what appears to be the world's shadiest photographer. And to think, we were denied a photo pass last season.
BUT EVERYONE DOES IT!1!!  One of the more frustrating things to come out of this whole ordeal is having our favorite program labeled as cheaters. While technically, that's a fair statement -- Tressel did sit on knowledge that would caused key players to be ineligible -- memorabilia for tats and cash just doesn't feel like full-on cheating. If we're going to be labeled as cheaters, I want to at least see Jim Bollman roll up to a recruit's home with a shiny new Trans-Am, Pony Express style.
You don't have to be a genius to realize improper benefits, whether in the form of comped meals/drinks or sweetheart deals on cars, happens at a lot of places (except State College, where no player has ever received a free meal evidently). We happened to have a handful of investigative reporters in town turning up all of our dirty laundry, thanks to Tressel blood being in the water, but what would happen if those same guys turned up at other schools? Would they wonder who's handing out the rims in Tuscaloosa, or how one man is selling 12 items signed by Denard Robinson? Maybe.
Like SNL of the 80s or the Daily Show of the aughts. A hearty congratulations goes out to our own Luke for his call up to EDSBS2. He'll undoubtedly do the same great work there that he's performed for us for the last two years.
He won't disappear completely from these parts as he'll continue to man the Dubcast, but we will be looking to add a writer (or two) in the near future, so if you think you have what it takes, drop us a note.
Random bits: Tennessee had their day before the NCAA COI and a verdict is expected in 8-12 weeks... Bill Stewart is out at West Virginia after trying to discredit coach-in-waiting (and now head coach) Dana Holgorsen via leaks... TMNT PSA... Bow in awe at the balloon whisperer... Like a boss... Like a boss (part two)... Lincoln is vigilant.
1 No, really. The release announcing the presser kindly asked the press to keep a wrap on the location..
2 If you're scoring along at home, in the last six months we've helped a writer get a newspaper gig and land on the staff of one of college football's preeminent blogs.