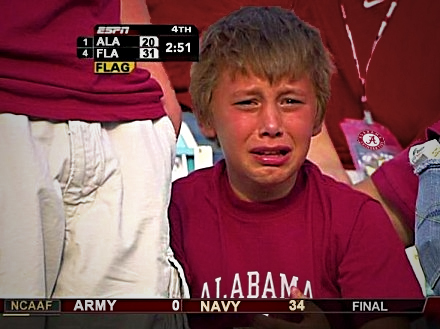 Following news that NCAA investigators left the Ohio State campus over a week ago (I call 'no comebacks'), USA Today was one of many outlets examining how other big time programs have fared in the wake of major sanctions and suggested they are too big to be hurt.  
Specifically, the programs in Tuscaloosa and Coral Gables were reviewed noting Miami won the 2001 national championship following major sanctions levied in 1995 while the Crimson Tide captured the crystal in 2009 after having the NCAA rule book thrown at them in 2002. 
As shell-shocked OSU fans, it's certainly welcome news that these two schools were able to rebound and win a national championship in under seven years after the hammer dropped but that doesn't mean the return to glory didn't hurt like a figure four leglock applied flawlessly to both pride and record book. 
So, how do you define "hurt" or have you chosen to not give it much thought allowing your brain to rest from the potentially bad news? Let's look at some of the pain felt by each program. 
The NCAA took The U behind the woodshed in the form of a Lack of Instutional Control finding in December of 1995 resulting in a one year post-season ban, three years of probation and a reduction of 31 scholarships. The stiff penalties were the result of players receiving in the neighborhood of $400k in impermissable benefits in addition to another 141 football players receiving a combined $223k in impermissable financial aid. A lesser (and much cooler) finding noted players were paid $20 - $200 for touchdowns or crushing hits. 
Quickly digesting the penalties, the 1995 'Canes opted to take their bowl ban that same season, skipping what would've likely been an Orange Bowl appearance to end an 8-3 campaign, in case they pulled off an undefeated regular season in '96. The result? A hard to respect 9-3 record with losses to Florida State and Virginia Tech by a combined 32 points plus a 31-6 drubbing at home to East Carolina. I can't even imagine. 
Terrifyingly, the 1997 season was even worse as the 'Canes posted a 5-6 mark including 3-3 at home, becoming the first Miami squad since '79 to post a losing record. The bottoming out featured four straight losses, one a 47-0 shutout at the hands of Florida State. Rebounding with three straight wins against powers Boston College, Temple and Arkansas State, the 'Canes then lost two of three, one a two point loss at Virginia Tech and the other a 20 point loss at home to Syracuse to euthanize the season. Oh, the humanity. 
In the mediocre Big East, Miami went a decidedly meh 18-7 over the '98 and '99 seasons boasting wins in the Micron PC and Gator Bowl's "respectively", while getting swept by rivals Virginia Tech and Florida State each season. 
The 'Canes finally turned the corner in 2000 going 11-1 in a prelude to the undefeated 2001 championship season and won 12 more games in 2002 before OSU knocked them off in the title tilt. Miami even won another 11 games in 2003. 
So, big time Miami eventually did pick themselves from the mat but the hurt was far from minimal. 
Just as Miami was reestablishing their program, in February of 2002 Alabama was slapped with five years probation, a two year postseason ban and a reduction of 21 scholarships over three years, the result of nearly a dozen major violations. One recruit and his family received $20k worth of benefits including $10,000 in cash from boosters while another was given a car for his oral pledge to 'Bama. The wheels were later repo'd when the kid transferred to Florida. Another booster lathered a high school coach in cash after learning he was seeking $100k and two SUV's in exchange for steering Albert Means to Tuscaloosa. 
Ineligible for postseason play, the '02 Crimson Tide posted a 10-3 season but lost 17-7 to rival Auburn. The sting of the penalties would be felt much more severely the following year as Mike Shula's squad plummeted to a 4-9 mark featuring a queasy 16-19 home shocker to Northern Illinois, a 14 point loss to Georgia, and a 15 point defeat at the hands of Ole Miss before the defense surrendered 51 points in Tennessee's win dropped 'Bama to 3-6 at the end of October. 
Following a 38-0 victory at Mississippi State, the Tide dropped three straight to finish the year including a 27-3 beatdown administered by LSU, another loss to rival Auburn and an eight point loss at Hawaii. I think we can all do without that kind of November to remember. 
The 2004 season realized just slight improvement with Alabama registering a 6-6 mark capped by a three game losing streak including a 16 point win by LSU, another defeat at the hands of Auburn and a 20-16 loss the Minnesota in the prestigious Music City Bowl. Sounds like the Webster's definition of agony. 
A 10-2 mark in 2005 had Tide fans feeling the program was back despite again losing to LSU and Auburn (pay no mind to the fact all 10 wins would later be vacated along with 11 total from the '06 and '07 seasons thanks to mass violations related to free textbooks) but that wasn't the case as 'Bama dipped to 6-7 in '06 and 7-6 in '07, again getting swept by LSU and Auburn each season. Remember how it felt to be on the wrong end of a rivalry for so long? 
Having gone 33-30 over a five year stretch, the 2nd year of the Nick Saban era saw the Tide post a 12-2 mark and they finally beat Auburn (36-0) improving to 12-0 before falling to Florida and Utah setting up the perfect 14-0 championship season in 2009. 
The historical data points do suggest elite programs can overcome major sanctions to rise again but they also illustrate the recovery process can be far from painless. Just how far do you think the Buckeyes might fall? Can it possibly be as bad as Alabama's five year run of 33-30 football featuring two under .500 seasons, one 6-6 mark and five straight losses to Auburn? 
Maybe it's just my rose colored Woody glasses but I refuse to believe OSU will post a losing season on the road to recovery. Far from it. Am I on crazy pills?