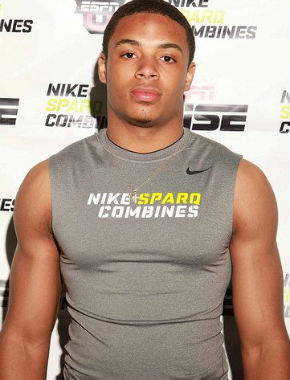 Many kids who grow up in the state of Ohio dream of one day being able to run out of the tunnel at The Horseshoe to play football for the Buckeyes. That dream became a reality for Steubenville DB Najee Murray on Saturday when he was offered and accepted a scholarship to play college football for the team he grew up rooting for throughout his young life.
Murray, who stands at 5-11/180, made quite the impression on new OSU coach Luke Fickell at Saturday's senior advanced camp, where he earned defensive MVP honors for his performance. Locking down receivers all afternoon long (including fellow OSU commit Frank Epitroupolos), Murray did more than prove he belonged in a Buckeye uniform during his trip to Columbus and displayed tremendous speed and ball skills in opening the eyes of onlookers all afternoon. 
Becoming the ninth member of the Buckeye recruiting class of 2012, Murray was happy to get his recruitment out of the way so he can focus on getting ready for his senior season at Steubenville. Like Ohio State, the "Ville" is known for a having a track record for winning and self-proclaimed loyalty/dedication to the program, two things that drew Murray to Columbus where history and tradition defines the football program and university as a whole.
We got the chance to sit down with Najee to discuss his commitment to Ohio State, how it felt to get the offer he long desired, how he will make the adjustment from safety to cornerback, and much more. Join us after the jump to learn about the newest Buckeye.
You went to camp at OSU this weekend, got offered, and accepted. Take us through the process of how that happened.
It started with camp. I went up there, proved that I could play corner, and I ended up winning defensive MVP. Later on that night, I called Coach Fickell to let him know that I made it in all right and then he broke the news to me [that I had a scholarship].
What was your initial reaction when Coach Fickell extended you the offer and how does it feel to officially be a part of the Buckeye family?
I was speechless. Words couldn't describe how happy I was once he told me. It feels good to be a part of the Buckeye family!
What was it about OSU that made your college decision so easy? Was it always going to be Ohio State as long as they offered you a scholarship?
Yeah, I've always wanted to go there since my freshman year. That's when I attended my first football camp there and it was a blast.
I know you had offers from a bunch of schools in the MAC as well as Indiana. Before you committed to OSU, what other schools had you been talking to?
The other schools I had been talking to were Wisconsin, Syracuse, Northwestern, WVU, Cincinnati, UConn, Illinois, Michigan State, and Louisville. 
Have you spoken to the coaches about the current issues going on at OSU? What are your feelings on the situation and will any sanctions have an affect on your decision?
Yeah I've talked to them. To me football is going to be football. Their winning tradition is going to stay the same through all of this. 
If the university decides to hire someone else besides Coach Fickell at season's end will that change your thinking at all?
It will a little, not a whole lot though. It depends who leaves with him.
You played free safety at Steubenville, but the Bucks are recruiting you for corner. What makes them think you are a corner at the next level and what will you have to work on to adjust to a new position?
I think it was me working out at camp and going 4 for 4 in shutting down Frank Epitroupolos really helped out and showed them I can play corner. I also did good in all the drills. I'll just have to keep working at the footwork drills and continue to do work to improve coverage skills.
What do you like to do off the football field? Do you play any other sports? What are your hobbies?
​I like to play XBox, swim, and hang out with friends. I play basketball and run track in addition to football. Last week we broke the 4x200 state record.
What are your goals for your senior season? What are you goals for your collegiate career?
My goal for my senior year is to win states. For college it is to work hard, and push to start. I want to get good grades in the classroom and graduate as well.
If you could say one thing to Buckeye Nation, what would it be?
I'm a BUCKEYE baby! The class of 2012 is going to be remembered.
HIGHLIGHTS: