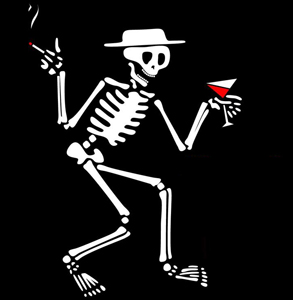 Monday, Monday, Gotta get down on Monday. Everybody's looking forward to the weekdays, weekdays!
Happy Monday, you guys! So what if many of us have a full 40(+) work hours ahead of us and there's no amount of caffeine in the world that can make us want to see the light of, well, any day really right about now. But you know what they say: "When life gives you lemons, turn them into some kind of magic lemon amulet and win the universe." Mark Twain said that once. Really. But I digress. Regardless of day of the week, life continues to not, at face value, seem so awesome for the Buckeye Universe. But those cynical outsiders comparing Jim Tressel to Pakistani Intelligence Directors (hurr, really?) and the like wasting hundreds of words by the handful to touch on a subject only near and dear to their hearts in the petty, troll-y contempt they have for either the coach's? Yeah, they don't exactly speak for the pulse of the Ohio State fan in general nor our honestly somewhat surprising resolve. Losing two national title games to the most intolerable, banal, insecure collective case of my-friend's-dad-can-beat-up-your-Dad'itis in modern sport? Survived and well past. Just imagine how tail-between-their-legs numerous other fan bases would be had they had enough outcomes go their way to the point they found their way back losing to a team from the very same league as the one from the year before that next January by multiple scores? At least underachieving immediately after the title berth a la some kind of NFC Super Bowl runner up would provide a cloak of apathy to rally around when the probable ensuing second straight under-10 win season unfolded in year three. Two consecutive title game losses for most would reasonably be War of the Worlds-1938.
Having your coach disgraced in the court of public opinions though? It sucks. A lot even. It cuts deep. It's disappointing sort of like finding out your religious father has a stack of dirty magazines in the attic or that your little league baseball coach uncle has a problem with the sauce. But we've been through the ringer before and we'll survive this with as much grace and aplomb as anyone in our same shoes possibly could. Look, we understand that given the circumstances and your personal convictions, there's a very, very, very good and reasonable case to make for the most successful figure in our contemporary football history to step aside. We're not denying you that. What we're only asking is that you at least recognize the possibility that cynicism aside our willingness to look for reasons to make this situation the outlier, this exact test case where that lone exception to the rule comes to light isn't based on some blind, fan'ish, irrational cult of "personality". We truly believe this person walks the walk in non-football program management capacities to the point that this apparent streak of nightmarishly poor on the job judgments, actions, mistruths, and potentially professional and personal legacy redefining mistakes still doesn't dilute the conviction that this remains that one out of a hundred situation where maybe an exception could potentially be merrited. We don't expect many (if any) of you to yield down the world-weariness blade, and we're not emotionally (nor intellectually) inhibited to the point that we can't accept come what may, but at least grant us the right to our convictions without belittling us like a child with a parent behind bars. At the end of the day, compiling anymore paragraphs to make the case on a subject no more impactful to you than your 2011 out of conference slate is to us accomplishes little more than externally airing out some kind of mediation between a part of you that irrationally has a distaste for this particular individual and/or athletics entity and the part of you that would approach the situation should the coach in question be your own (feel free to sub in a legendary, local equivalent with similar makeup). Can I recommend NCAA '11/12 for the next generation console of your choice in lieu there of? Beating Ohio State with your alma matter/team of allegiance on Rookie would be just as easy, feel just as rewarding, sell as many on your soap box platform, and accomplish equally as much.
 Don't worry you guys. Nick Sicliano has Trent Dilfer analogies to fix everything. On the heels of friend of 11W Lori Schmidt's own appeal for the Baus, the Dispatch's esteemed Ken Gordon becomes another of the first to lead with the sort of talking points you can expect to hear from the Big Ten Network, ESPN, and really any national rag covering the possibilities for Ohio State's quarterback position for the first five games in 2011 stating that in order to minimize mistakes and best not inadvertently beat his own team, Joe Bauserman will *gulp* be the guy come this fall. Because I hate myself and want all of you to feel just the same, here are a few choice tidbits:
But that's not Bauserman. He speaks in quiet, measured tones, with a shrug thrown in for good measure.

...

 

He didn't have a poor spring, but he also didn't step up and seize the job. He threw an impressive 33-yard touchdown pass in one scrimmage, but overall, his performance was only so-so.

 

...

Coaches and teammates speak of Bauserman in respectful tones, but they tend to always emphasize his knowledge more than his playmaking skills.

...

 

"The best comparison I can make is when Trent Dilfer was the caretaker of the Baltimore Ravens, and he led them to a Super Bowl victory (in 2001)," Siciliano said. "He wasn't expected to go out and put up phenomenal numbers. He was supposed to take care of the ball, and they relied on their defense.
Don't do it, y'all. We have so much to live for. Like basketball season.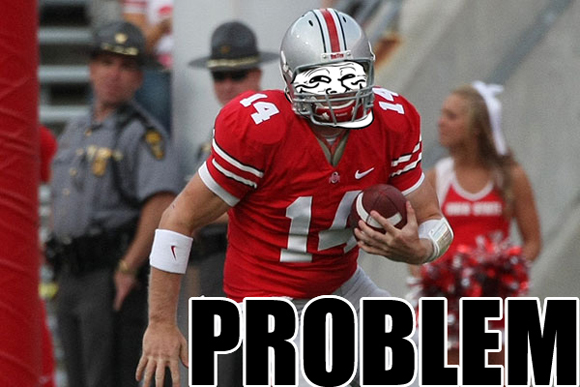 Jim Delaney blah blah blah blah. The BCS is perfect. Okay, so not so perfect, but it's too big to fail, so says B1Guru Jim Delaney:
"You never should be overconfident on legal matters. Like anything else, once they're in a courtroom or in front of a jury, you can't predict outcomes," Delany told USA TODAY. "Having said that, we know what (the college football postseason once) was, and we know what is. And we know there was a thorough vetting of all antitrust issues at the beginning and during (the life of the BCS) because our presidents have always wanted to know the legal basis on which we operate."
It's good to know that if nothing else, Jim Tressel has a future as a speech writer for the league offices. What's that you say? There's more?
"There's no judge or jury in the world," Delany said, "that can make you enter into an four-team, eight-team or 16-team playoff."
Pretty sure it's called the executive and/or judicial branches. Just putting that out there.
NCAA Basketball's Never Been Better :: Let's Break It. The NCAA may be up to their old tricks, trying to muck up their game following arguably (sordid title game aside) one of the best tournaments top to bottom in the last 20 years (or so it would seem): 
College basketball could start looking more like the NBA next season.

The NCAA men's and women's basketball rules committees said Wednesday they are recommending the use of a restricted area arc three feet from the basket and changing the terminology of intentional and flagrant fouls.
On second thought, these suggestions seem fairly reasonable. The lack of a flagrant one/two system in college has long since been necessitated. Essentially making the technical and flagrant function more like the NBA would probably be logical if anything (so long as they don't institute anything full blown lunatic fringe like the time out to advance the ball to half court, so help me God). I could take or leave the restricted area, but with the continued evolution of the big man (even at the college ranks), it probably can't be overlooked forever.
John Shurna's Coming Back. Northwestern's John Shurna has pulled his name out of the draft after spending the last several weeks investigating the reality that he would go undrafted. In related news, John Shurna had declared for the draft.
Gallimaufry. Phil Jackson got the full Scoops Callahan treatment last night at his (probable) farewell presser following the Lakers' obliteration. If you don't know, now you know. This is inexplicably even better than the original. Nu Thang Clan ain't nothin to eff wit. FREE DANE. The most frightening Mexican grocery store in existence. Keen 4ever, y'all.