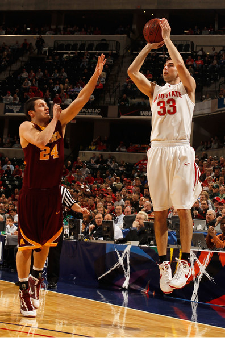 We interupt the local and national Jim Tressel bashing to focus on what we should have been all week, the best damn hoops team in the land. It's a shame that once again this team has had to take a back seat to the football discussion as they look to defend their conference tourney title.  
Up first is Northwestern, who took down Minnesota, 75-65 in the first game of the tourney on Thursday. Michael Thompson set a B1G tournament record with 35 points on 11/22 shooting, including 5 of 12 from downtown. Drew Crawford added 15 points, as the Wildcats played without starter JerShon Cobb and reserve Mike Capocci, both of whom had appeared in every game this season.
The Wildcats and Buckeyes met only once this season in Evanston and NW actaully gave OSU their closet game. If you remember, the game was tied with 17 seconds to go, but David Lighty stole the ball underneath NW's hoop and Jared Sullinger hit 1 of 2 FT's with 3 seconds left to pull out the 58-57 win. The Wildcats played without John Shurna and he has been seen in a walking boot for most of this week, despite playing 35 minutes yesterday.
| # | Name | PTS | REB | ASST | POS | # | Name | PTS | REB | ASST |
| --- | --- | --- | --- | --- | --- | --- | --- | --- | --- | --- |
| 44 | William Buford | 14.5 | 3.9 | 3.1 | G | 22 | Michael Thompson | 15.9 | 2.1 | 4.3 |
| 33 | Jon Diebler | 12.3 | 2.5 | 2.5 | G | 4 | Alex Marcotullio | 5.5 | 2.2 | 2.2 |
| 23 | David Lighty | 12.3 | 4.1 | 3.4 | F | 24 | John Shurna | 16.3 | 4.5 | 2.6 |
| 0 | Jared Sullinger | 17.3 | 9.7 | 1.2 | F | 1 | Drew Crawford | 12.2 | 4.5 | 1.9 |
| 52 | Dallas Lauderdale | 4.5 | 3.5 | 0.2 | C | 12 | Luke Mirkovic | 7.5 | 5.3 | 2.1 |
Opponent
Northwestern comes into the game having shot 42.5 percent from the floor overall and 36.6 percent from deep in conference play, good for 9th and 6th respectively. Though they use a deliberate, Princeton style offense, the Wildcats ranked fifth in B1G play with 66.4 points, while giving up just over 71 a game. They also allowed teams to shoot 50.5 percent from the floor, which put them last in league play, but their most glaring weakness is in the rebounding department. Snagging just 29.5 boards per game on the season, it ranks them 336th in the country, but ironically enough, they outboarded the Bucks 22-18 in the first matchup. With their floor spacing and constant back door cuts, it should come as no surprise the Wildcats rank 10th in the country with 18.6 assists per game.  
The Wildcats always seem to give the Buckeyes fits with their slow down offense, causing them to get a little sleepy on the defensive end and they shouldn't be taken lightly. NW comes in winners in 4 of their last 6, albeit against the bottom 3 teams of the league and Michael Thompson (aka Juice) proved yesterday he has the ability to put this team on his back. Don't expect Bill Carmody to go to his bench much, especially with the aformentioned injuries. 6'9" junior, Davide Curletti played 21 minutes against Minny, contributing 3 points and 4 boards, but he averaged 15 in the previous 2 games. Nick Fruendt, a 6'5" junior will be the other player coming off the pine, scoring 7 points in 11 minutes of action yesterday. 
Buckeye Breakdown:
What a relief to have such a great basketball team in the midst of all this football controversy. There isn't much more you can say about the way this team has played all year, especially since their lost at Purdue, beating their last 4 opponents by a total of 99 points, including the 28 point undressing of Whisky on Sunday. But this is March and anything can happen.
In case you forgot during your Tresselgate delusions this week, last time out Ohio State set a D1 record by hitting 14 of 15 from downtown, including their last 14, which also set a single game record. Their 93 points were the most against Wisconsin since 3/17/2006 and the victory pulled Thad even with Bo Ryan in league wins(85) since Matta has been here and now puts the hoops and football team at a combined 41-3 this year. 
Diebler's run last week brought his season percentage to a staggering 51.1 percent(95/186) and his career total to 41 percent(355/859). He only got off 4 shots in the first matchup and hit his only bucket with 3:38 left, a crucial 3-pointer to give OSU a 57-55 lead, but when your in a zone like Threebler, you're going to get more than 4 shots. Lighty also had a timid game the first go around, making just 2/3 for 6 points, but this is his time of year and he'll be eager to strut his stuff after getting jobbed for the Defensive POY award.
There is little doubt Sullinger wore down as the B1G season transpired. I'm sure the 4 day rest did him good and NW is the type of team he can have a monster game against, going for 21 and 8 in the first matchup despite being double teamed most of the game. I also think Lauderdale will play some solid minutes today and might allow Thad to give Sullinger a couple of extra blows in the first. 
Though the first one was close I don't expect the same today. Ohio State is simply playing too well and they have more scorers. The Wildcats are still going to get their 3's and a few backdoor cuts, but ultimately the Buckeyes are going to control the boards and force NW into long scoring droughts. They'll be looking to get up big early, so the starters can get some extra rest before taking on the winner of Illionis/Michigan on Saturday afternoon.
Etc
Ohio State has won 10 of their last 13 B1G tournament games.
The Buckeyes are 21-0 this year when scoring more than 70 points.
OSU is 171-5 under Matta when leading with 5:00 to play.