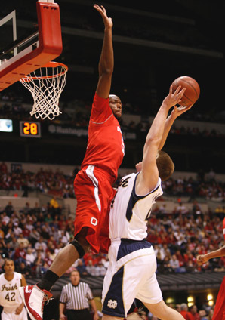 Well, it seems like deja vu. Last week when we should have been focusing on the outstanding season the Buckeye hoopsters had, we were all enamored by the continued fallout from TatGate. So once again, we interupt the talk of suspensions to bring you what hopefully will be the focus for the next three weeks, a Final Four run to Houston.
UT-San Antonio earned the right to play the Buckeyes after winning the Southland Tournament and beating Alabama State, 71-60 in the first round Wednesday night. The Road Runners tied for fifth in the conference and enter this game on a six game winning streak.
Of course the Buckeyes are the overall number one seed and the overwhelming pick by most of the experts to win it all. They weren't given any favors by the committee with their bracket, but as we saw yesterday, this is March and anything can happen. So the talk of potential matchups against the likes of Kentucky, Syracuse, North Carolina or West Virginia needs to be tabled for the moment and let the games play out.
| # | Name | PTS | REB | ASST | POS | # | Name | PTS | REB | ASST |
| --- | --- | --- | --- | --- | --- | --- | --- | --- | --- | --- |
| 44 | William Buford | 14.3 | 3.9 | 3.0 | G | 21 | Devin Gibson | 16.8 | 5.3 | 5.5 |
| 33 | Jon Diebler | 12.5 | 2.7 | 2.4 | G | 31 | Melvin Johnson III | 15.2 | 3.4 | 0.6 |
| 23 | David Lighty | 11.8 | 4.1 | 3.2 | F | 3 | Larry Wilkins | 3.6 | 3.5 | 0.7 |
| 0 | Jared Sullinger | 17.2 | 10.1 | 1.3 | F | 12 | Jerome Hill | 13.6 | 6.8 | 1.0 |
| 52 | Dallas Lauderdale | 4.3 | 3.2 | 0.1 | C | 1 | Stephen Franklin | 6.6 | 4.2 | 1.7 |
Opponent
Jonny did a great job the other day taking a deeper look into this Road Runner team and the school as a whole. In a glance at the Road Runners schedule, it is not typical of a lesser program trying to fill their bank account with early season road games against some power house schools. They only played one game against a power conference and that was a 79-63 loss at Oklahoma State, a 20-13 team. Their most significant wins came at Pepperdine and Houston, each five point victories.
UTSA comes into this game averaging 70.8 points a game, while giving up just over 69. They are shooting 43.1 percent overall from the floor and 35.4 percent from deep, while allowing teams to shoot 41.5 overall and 32.6 from the arc. The Road Runners grab around 35 boards a game and allow their opponents to do the same, while dishing out 12.8 assists and turning it over 13.6 time per contest.
I did not get to watch much of the first round game, so if you did, feel free to chime in on what we can expect from the Road Runners. The few minutes I did watch, UTSA was in a zone on defense as they built a 48-21 halftime lead on the strength of Melvin Johnson's 25 points, but slowed in the second, as they were outscored 40-22. The 6'5" sophomore guard, who apparently has "SWISH" scribbled on the side of his shoes, ended up with a career high 29 points on 9/17 shooting from the floor and 9/13 from the stripe.
Devin Gibson is a 6' senior who was named first team all-conference and is the only player in the nation who is currently averaging over 16 points, 5 boards, 5 assists and 2.5 steals. He holds the school records in assists, steals, FT's, games played and wins, while ranking third in scoring and sixth in FG's and rebounding. He is the only player to record 2 triple-doubles this season in the NCAA, including a 28/10/10 performance March 9th in the conference tourney. Jerome Hill is a 6'8" freshman, who was named the Southland freshman of the year. He can step outside the arc, where he shot just over 40 percent on the season and recorded his fourth double-double in the first round with 14 points and 11 boards.
UTSA won't go very deep on their bench, with 6'3" junior Sei Paye seeing the most minutes. He averaged 5.2 points and 2.4 boards on the season, seeing action in all 33 games, including 23 minutes in Wednesday's win. Paye and the five starters were the only six players who played in evey game this season. With the win on Wednesday, it marked the first 20 win season for the Road Runners in the last 19 years and is the first win in the history of the school in any NCAA tournament.
The Road Runners are coached by Brooks Thompson, a former Oklahoma State and NBA player, who is in his fifth year at the helm.
Buckeye Breakdown:
Bob Baptist had a nice breakdown of the long odds Ohio State still faces to reach the Final Four, even though they are the overall number one seed. In the last 26 years, the team that finished the regular season #1 in the AP poll has reached the Final Four 14 times and only 4 teams that have bestowed that honor or the overall #1 seed have won the title.
The great thing about this team is they have always taken it one game at a time and they know it's a matter of winning a 4 team tournament this weekend in Cleveland. I don't expect them to stuggle today, although I think it helps UTSA that they got to play a game on Wednesday, where as the Buckeyes have had to sit for five days. That factor may allow the Road Runners to stick around for the first half, but the Ohio State defense is too strong and will eventually shut them down.
If Ohio State is going to make a run to Houston, at some point, if not many, Dallas Lauderdale is going to play huge minutes. As mentioned, there are some stud teams in this bracket with more length then the B1G has to offer. I think Dallas has played effectively in the chances he has had recently and if he can keep that up, I still like the chances of this team. However, if he gets in there, picks up some quick fouls and doesn't contribute much, it could be their downfall. As much as I love Sullinger, her won't be able to do it all throughout this tournament.
It's really quite simple though, Ohio State has to continue doing what they have doen all year. Play stellar team defense, feed the rock inside to Sully, don't commit fouls and don't turn it over. This team has veteran leadeship with some youth sprinkled in, but you don't get to 32-2 without knowing what you are doing. I've always liked the composure of this team, they rarely get rattled in tough times and if they can maintain that over the next three weeks, hopefully we won't have to talk about suspensions until the second week of April.
Etc
Ohio State is 39-21 all-time in the NCAA tournament.
Gus Johnson and Len Elmore will have the call on TNT.