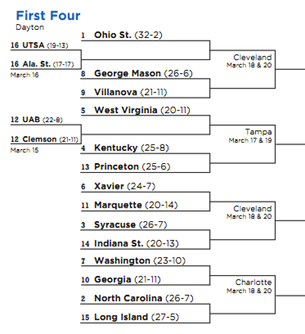 National Bracket Day is finally here (you've entered our contest, right?) and sports fans are spending the next two days picking their own calls for the road to naming the 2010-2011 Men's Basketball National Champion. While Ohio State enters as the favorite (7-2 favorite that is) being the #1 overall seed in the entire bracket, the road to glory will certainly not be easy, and the opponents standing in the Bucks' way will have their eyes on taking down the nation's best team.
In case you were off celebrating the OSU Big Ten Tournament victory and missed the selection show, you can print a bracket for yourself and check out all the first weekend match-ups here. Ohio State will have to wait on Texas-San Antonio and Alabama State to duke it out on Wednesday in one of four play-in games, and we will have more on both potential "second round" opponents before that game. The reason it is called "second round" is because of the change in the tournament this year, which sees expansion to 68 teams and involves four play-in games, including one for an 11-seed (USC-VCU) and one for a 12-seed (UAB-Clemson).
There are many intriguing match-ups throughout the entire tournament, including games between Memphis and Arizona, St. John's and Gonzaga, Kansas State and Utah State, Texas A&M and Florida State, and Butler and Old Dominion (tune in for that one, trust me). In addition to the Buckeyes, six other Big Ten teams made the tournament and the league will see Michigan take on Tennessee, Wisconsin square off with Belmont (upset alert), Penn State take on in-state foe Temple, Illinois face off with UNLV, Purdue play St. Peter's, and Michigan State try to take down UCLA.
It's great to have seven teams representing the conference, although now that it is all said and done, the only team that matters in my eyes is The Ohio State Buckeyes. Their road to Houston starts on Friday, and while you have to like their chance to make the Final Four, getting through the East Region unscathed will not be an easy tasks. Some teams present favorable match-ups and others could be danger, but in the end if OSU plays it's "A" game, they should come out on top. It's now time to take a look at the other 15 teams in the Buckeyes' region, from 16-seed to 2-seed, and see who you may be watching get their best crack at #1 in the coming weeks.
#16 Texas-San Antonio
CONFERENCE: Southland
RECORD: 19-13 (9-7)
COACH: Brooks Thompson
WATCH: G Devin Gibson (17 ppg, 5.4 rpg, 5.6 apg), F Jeromie Hill (13.6 ppg, 6.6 rpg)
THE SCOOOP: UTSA got into the Big Dance by winning the Southland Conference Tournament. The Roadrunners were 19-13 (9-7) on the season and beat McNeese State in the Southland title game to clinch a birth in Wednesday's play-in game. They have played Oklahoma State (L 79-63), Houston (W 68-63), Pepperdine (W 86-81), an Tulsa (L 92-67) in notable games this year, but haven't really been challenged outside the conference. Win or lose Wednesday, their tournament will be over come Friday evening.
#16 Alabama State

CONFERENCE: Southwestern Athletic
RECORD: 17-17 (11-7)
COACH: Lewis Jackson
WATCH: F Nicholas Johnson (13 ppg, 4 rpg), F Tramayne Moorer (12.5 ppg, 5.7 rpg)
THE SCOOOP: The Hornets come in as winners of the SWAC, and like UTSA, will likely have their tournament dreams swept away by Friday evening. They are 0-5 against teams in the RPI top 150 and just 2-8 against teams in the top 200. To make a long story short, these kids are going to have to pull off a miracle to even be in the game at halftime if they are lucky enough to take on Ohio State this week.
#15 Long Island
CONFERENCE: Northeast
RECORD: 12-16 (9-9)
COACH: Jim Ferry
WATCH: F Julian Boyd (12.9 ppg, 8.8 rpg), F Jamal Olasewere
THE SCOOOP: The Blackbirds are explosive on the offensive side of the court, averaging 82.6 points per contest, and it's a good thing too as defensively they give up about 74 points per game. The NEC Champs draw UNC in the first round and once again this is a team that will have to dream really big to win, but with the Tar Heels struggling early in games of late, LIU has a chance to sneak in and give Carolina an opening weekend scare, at least in the first half.
#14 Indiana State
CONFERENCE: Missouri Valley
RECORD: 20-13 (12-6)
COACH: Greg Lansing
WATCH: G Dwayne Lathan (11 ppg, 4.8 rpg), G/F Carl Richard (9.8 ppg, 6.6 rpg)
THE SCOOOP: The Sycamores come into the tournament after shocking Missouri State 70-69 in the Missouri Valley Conference title game. At 20-13 (12-6) on the season, ISU plays a "Big Ten style" of basketball, allowing only 64 points per game and scoring 66.5 per contest themselves. They're 0-2 vs the RPI top 25, 2-3 vs the top 50, 3-6 vs the top 100, and 9-10 vs the top 200. Playing Syracuse's zone in the first round will certainly cause issues, and while they are an underdog to win their first game, Jim Boeheim's team better not sleep on Larry Bird's alma mater.
#13 Princeton
CONFERENCE: Ivy
RECORD: 25-6 (12-2)
COACH: Sydney Johnson
WATCH: F Kareem Maddox (13.9 ppg, 7.1 rpg, 1.8 bpg), F Ian Hummer (13.9 ppg, 6.7 rpg, 1.1 bpg)
THE SCOOOP: In a game that featured the 10 smartest players ever on a basketball court at one time, the Tigers defeated the Harvard Crimson on a last second buzzer beater in the Ivy League tie-breaker game. Despite a SOS that ranks 183rd in the nation, Princeton holds the 41st RPI ranking and was 25-6 (13-2) overall on the season. Notable out of conference games include Rutgers (W 78-73), Duke (L 97-60), Bucknell (W 66-55), Siena (W 86-77), UCF (L 68-62), and St. Joe's (W 74-65), which should prepare for them for their opening round game with Kentucky. This could be a big time sleeper team and I can see them taking UK's young squad down to the wire this weekend.
#12 UAB
CONFERENCE: Ivy
RECORD: 25-6 (12-2)
COACH: Mike Davis
WATCH: G Jamarr Sanders (17.7 ppg, 4.6 rpg), F Cameron Moore (14.3 ppg, 9.4 rpg, 1.4 bpg)
THE SCOOOP: An at-large from Conference USA, the Blazers narrowly made the cut and will take on Clemson in the 12-seed play-in game. The 31st ranked team in the RPI will certainly have a challenge on their hands in taking on the Tigers and then potentially WVU, but they have some experience in the tournament and a coach in Mike Davis who has coached in some big time games. The key for this team is getting guard Jamarr Sanders hot early so that his supporting cast in Cameron Moore can eat up the inside, and fellow guard Aaron Johnson can attack the opposing defense from the perimeter. I'm definitely interested to see this team prove they belong in the field of 68.
#12 Clemson
CONFERENCE: Southeastern
RECORD: 21-11 (9-7)
COACH: Brad Brownell
WATCH: G Demontez Stitt (14.7 ppg, 3.4 apg, 1.4 spg), F Jerai Grant (12.1 ppg, 6.7 rpg, 2.4 bpg)
THE SCOOOP: Clemson is a hot and cold team who can come out and upset any team, but also can drop one they should win as well. Notable games this year have not gone their way, as they were 0-6 against the RPI top 50. They did beat Seton Hall, but lost to Michigan and South Carolina in what was an extremely weak out of conference slate. Demontez Stitt is the spoon that stirs this offense and when he is hitting, the Tigers are very difficult to beat. A player to watch out for is the up and coming Milton Jennings, who at 6-9/225 has the size and athleticism to cause miss-matches on the interior. Brad Brownell has a very talented team on his hands, but harnessing that talent will be the key in both the game against UAB and a potential match-up with West Virginia in "round two".
#11 Marquette
CONFERENCE: Big East
RECORD: 20-14 (9-9)
COACH: Buzz Williams
WATCH: F Jimmy Butler (16 ppg, 6.1 rpg), G Darius Johnson-Odom (15.9 ppg)
THE SCOOOP: At 20-14 (9-9), the Eagles were lucky to get into the Dance, but the 25th ranked SOS and a 60 RPI ranking helped them get in. In non-conference games they certainly challenged themselves, playing Duke (L 82-77), Gonzaga (L 66-63), Wisconsin (L 69-64), and Vanderbilt (L 77-76), but as you can see, they were just edged out by all of those teams. I'm a firm believe that playing in games like that will help you in March, but if Buzz Williams' team wasn't able to figure out how to turn those close losses into wins, then the experience was useless. their first game against Xavier is certainly winnable and the power conference vs mid-major edge is in their favor, but they will have to play defense like they have shown they capable of at times this season. This is a team that could see a early exit or could make a run to the Sweet 16. They are talented and have the goods, but can they put it together?
#10 Georgia
CONFERENCE: Southeastern
RECORD: 21-11 (9-7)
COACH: Mark Fox
WATCH: F Howard Trey Tompkins (16.1 ppg, 7.5 rpg, 1.7 bpg), G Travis Leslie (14.5 ppg, 7.2 rpg)
THE SCOOOP: Not only was it a semi-shock to see UGA in the tournament, but to see them at a 10-seed threw me off my seat a little. Mark Fox has plenty of tournament experience from his days at Nevada and he tries to take his Bulldogs team to victory in a game against a pesky Washington squad. It's hard to gauge just how good this UGA team is and I do think they are on the brink of being relevant yearly in the SEC, but something just doesn't scream winner at me yet. Out of conference games against Colorado, UAB, Georgia Tech, Notre Dame, and Temple, along with their SEC slate, have certainly prepared them for this moment, but stopping the red-hot Isaiah Thomas will be a whole other challenge.
#9 Villanova
CONFERENCE: Big East
RECORD: 21-11 (9-7)
COACH: Jay Wright
WATCH: G Corey Stokes (15 ppg), G Corey Fisher (15.4 ppg, 4.8 apg)
THE SCOOOP: After starting 16-1 to begin the season, the Wildcats went into a whirlwind down the stretch, finishing the 2010-2011 campaign at 21-11 (9-9). With time to heal injuries and an opponent that's not from the Big East, Nova has a chance to get back on track against former Cinderella story George Mason in what should be an excellent 8-9 game. Usually sporting a four-guard system, Villanova is at best when they are firing from three-point range. Contributing factors to their downfall down the stretch were injury to their star in Stokes, a 23rd ranked SOS, as well as the grind and size disadvantage they went up against in conference play. The 'Cats have just two players over 6'7" that play over 12 minutes per game, something that will continue haunt them in the tournament if they are able to get past GMU this weekend.
#8 George Mason
CONFERENCE: Colonial Athletic
RECORD: 26-6 (16-2)
COACH: Jim Larranaga
WATCH: G Cam Long (15.3 ppg, 4.6 rpg), F Ryan Pearson (14.4 ppg, 6.8 rpg)
THE SCOOOP: George Mason was 14-0 at home and 12-6 on the road, so they are going to have to find a way to make themselves comfortable when they take on Villanova in Cleveland on Friday. The Patriots lost to VCU in the CAA tournament, but at 16-2 in the conference, they took home the regular season league crown. GMU executes true team basketball to it's finest, but lacks the depth needed to make another deep tournament run. They can definitely get by Villanova and give Ohio State a good game, but at some point their lack of an abundance of big-time talent has to catch up on them and end what they hope is deja vu of a few seasons back. They are ranked 26th in the RPI, but their 104th ranked SOS is a telling tale that could come back to haunt them when they face opponents from power conferences on opening weekend.
#7 Washington
CONFERENCE: Pacific Ten
RECORD: 23-10 (11-7)
COACH: Lorenzo Romar
WATCH: G Isaiah Thomas (16.8 ppg, 6.0 apg), F Matthew Bryan-Amaning (15.5 ppg, 8.1 rpg)
THE SCOOOP: Washington popped off the bubble by toppling Arizona in the Pac-10 Championship game, but faces a similar team in Georgia in round one. The Huskies earned the 34th ranking in the RPI with a 23-10 (11-7) mark during the season and the 56th ranked SOS in the nation. UW has the potential to explode offensively at any moment (83.5 ppg), lead by Thomas, who at 5-8/185 doesn't let his size bring him down. With a serviceable cast around him, Thomas is the type of player who has both the skills and the heart to lead Washington to a legitimate run this March. Don't be surprised to see them skate past UGA and give UNC all they can handle on the back end of the weekend.
#6 Xavier
CONFERENCE: Atlantic 10
RECORD: 24-7 (15-1)
COACH: Chris Mack
WATCH: G/F Tu Holloway (20.2 ppg, 5.1 rpg, 5.5 apg), F Kenny Frease (11.7 ppg, 7.1 rpg)
THE SCOOOP: Chris Mack can thank Kelvin Sampson for his mistakes, as he has gained a superstar in Terrell Holloway who has lead the Musketeers to a phenomenal season thus far. XU is 24-7 (15-1) on the season, and while their first game against Marquette will be tough, you know that this team rises to the occasion in the tournament (just ask Ron Lewis). With a group that can beat you both inside and out, Mack has picked up where Thad Matta and Sean Miller left off and quietly took this team to a AP rank of 18 and RPI rank 24, earning an at-large bid after getting upset by Dayton 68-67 in the A-10 tournament. Games against Iowa, Old Dominion, Seton Hall, Butler, Wake Forest, Gonzaga, Florida, and Cincinnati have certainly prepared them for the big stage, so if you think the players from the small school in Cincinnati are going to be intimidated, think again.
#5 West Virginia
CONFERENCE: Big East
RECORD: 20-11 (11-7)
COACH: Bob Huggins
WATCH: F Kevin Jones (13.1 ppg, 7.4 rpg), G Casey Mitchell (14.1 ppg, 3 rpg)
THE SCOOOP: Facing the 3rd toughest schedule in the nation, WVU went 20-11 overall and 11-7 in the Big East this year. Bob Huggins has been around the block a few times and the Mountaineers have a roster filled with experienced players who are ready to make a name for the school in this year's tournament. The too will have to await a play-in game earlier in the week to see who their opponent is, but their road to Houston won't be easy either way. Kentucky and then OSU are likely to stand in their way if they want to make some serious noise, but with a coach who has been here before and players who give as much attention to the defensive side of the floor as they do on offense, be aware of this team, as they are very, very dangerous if they can make it past UAB or Clemson in the first game.
#4 Kentucky
CONFERENCE: Southeastern
RECORD: 24-8 (10-6)
COACH: John Calipari
WATCH: G Brandon Knight (17.5 ppg, 3.9 rpg, 4.2 apg), F Terrence Jones (16.5 ppg, 8.9 rpg)
THE SCOOOP: Starting off rocky, the Wildcats finished hot, winning the SEC title and coming out victorious in their last six games and eight out of their last nine. They now hold the 12th ranked SOS and are 7th in the RPI rankings. As per usual, they are lead by a pair of freshman in Knight and Jones, the former of which has risen to the occasion quite often down the stretch. This team is young, but if they continue to play like they did in the SEC tournament, watch out, as they can be very dangerous if they're able to escape the pesky Princeton Tigers in their first game this weekend.
#3 Syracuse
CONFERENCE: Big East
RECORD: 26-7 (12-6)
COACH: Jim Boeheim
WATCH: F Kris Joseph (14.4 ppg, 5 rpg), G Scoop Jardine (12.8 ppg, 5.8 apg)
THE SCOOOP: The nation's 11th ranked team went through a rough patch during the year, losing four games in a row and six of eight, but bounce back to take six of their last seven before getting bounced from the Big East tournament by UConn. Syracuse is a really versatile team and can beat you from the inside and out, but in order to beat them, you will have to have a good shooting game, as their 2-3 zone is among the best to ever to be put on the court in college basketball. The Orange's achilles heel is that they don't have a true "go-to guy" down the stretch, but if Joseph, Jardine, Brandon Triche, and big men Rick Jackson and Fab Melo can  continue their output of late, SU may find itself in a meeting with OSU for a chance to go to Houston.
#2 North Carolina
CONFERENCE: Atlantic Coast
RECORD: 26-6 (14-2)
COACH: Roy Williams
WATCH: F Harrison Barnes (15 ppg, 5.5 rpg), C Tyler Zeller (14.5 ppg, 7.1 rpg)
THE SCOOOP: Like Kentucky, UNC is a very young team, but they are very dangerous and when it comes to OSU, they pose a big match up problem. Their biggest strength is their front court, which not only features the rising Barnes and the stellar Zeller, but also includes John "Stretch Armstrong" Henson who is an absolute beast on both ends of the floor, averaging 11.4 points, 10.1 rebounds, and a whopping 3.1 blocks per contest. The Heels really took off when freshman Kendall Marshall was named the starting point guard in late January, and they'll need him and Barnes to continue to step up if they don't want their youth to result in a earlier than expected loss this weekend. I am putting UNC on upset alert, as they really looked shaky under pressure in the ACC tournament (fell behind big early in all games), but if they can somehow hold their poise and advance to the Elite Eight, they will pose a serious threat to OSU's championship dreams.
As you can see, getting to the Final Four won't be easy, but when you look closer, this is a bracket made up of big names and blue bloods, but not necessarily teams that dominated this year. You can find flaws with each team in the region and you can bet Thad Matta is putting in work to exploit these flaws.