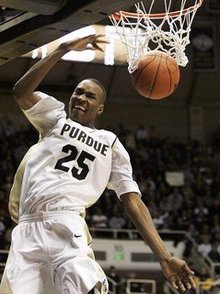 With 5 games remaining in the Big Ten schedule, Ohio State comes into West Lafayette looking to strike a major blow in their quest for the regular season conference title.  With a win over the Boilermakers, OSU will be up by 3 games in the standings with 4 to play. Not only that, but a win would also likely propel the Buckeyes back into the #1 national ranking after Texas and Pitt lost to unranked teams today.
For Purdue, sitting in 2nd place in the B10 standings, this game brings an opportunity to pull within one game of the Buckeyes with 4 to play. It will also be an opportunity to get revenge against OSU for the hammering they took in the first meeting between the two teams. In that game, Boiler coach Matt Painter chose a strategy of doubling Jared Sullinger as a way of trying to slow down the freshman. The plan backfired, as Sully dealt the ball to his teammates and created multiple open looks from distance and OSU buried the Boilers with a 3-point avalanche. 
Purdue still leads the all-time series between the two teams by a margin of 82-76, which includes a 53-24 record at home. However, OSU is 22-4 against Purdue as a ranked team, including 8 of the last 9. In addition, OSU leads the series 6-2 when both teams are ranked. Despite the blowout earlier this season, the two teams frequently play games that become classics. Two years ago, they battled for the Big Ten Tournament championship before Purdue finally prevailed 65-61. Last season, OSU overcame 35 points from Robbie Hummell on their way to a 70-66 comeback win. The Boilers returned the favor in Columbus, winning a low-scoring defensive battle 60-57. 
| # | Name | PTS | REB | ASST | POS | # | Name | PTS | REB | ASST |
| --- | --- | --- | --- | --- | --- | --- | --- | --- | --- | --- |
| 44 | William Buford | 14.2 | 3.8 | 3.2 | G | 23 | Lewis Jackson | 7.6 | 3.2 | 3.8 |
| 33 | Jon Diebler | 11.1 | 2.3 | 2.4 | G | 24 | Ryne Smith | 6.3 | 2.0 | 1.8 |
| 23 | David Lighty | 12.3 | 4.0 | 3.3 | F | 33 | E'Twaun Moore | 17.9 | 5.5 | 3.0 |
| 0 | Jared Sullinger | 17.8 | 10.0 | 1.4 | F | 21 | D.J. Byrd | 4.9 | 2.8 | 1.8 |
| 52 | Dallas Lauderdale | 4.6 | 3.6 | 0.2 | C | 25 | JaJuan Johnson | 20.7 | 7.8 | 1.0 |
Opponent
Purdue has recovered nicely since getting shellacked at OSU, winning 4 out of 5 with the only loss a 66-59 setback at Wisconsin. The Boilers got revenge on the Badgers this past Wednesday, winning 70-62 in West Lafayette. In that game, 5'9" point guard Lewis Jackson hit for 18 points, thus providing the third option that Purdue needs in order to take the pressure off 6'10" center JaJuan Johnson and 6'4" guard E'Twaun Moore. In fact, Jackson has played much better of late, going for double-figures in scoring for 5 of his last 7 games. However, he disappeared in the loss at Wisconsin, attempting only 1 shot and scoring only 1 point. Against OSU the first time, it was a similar story as he took only 5 shots and scored only 5 points. This cannot happen again if Purdue is to have a chance against Ohio State.
Regarding that double-team strategy from the first game, I'll let Purdue bloggers Hammer and Rails describe what needs to change this time (the typos are in the original post):
So what can we do the second time around? Well, it begins with better perimeter defense. We have to stop with the double teaming of Sullinger and trust that JaJuan Johnson and maybe even Travis Carroll can limit him defensively. I rally don't care if Sullinger scores 50 as long as we don't get beat by perimeter shooters again. We have to get out on Diebler, Buford, craft, and David Lighty. We cannot allow them to rotate the ball at will like we did the first time around.
Buckeye Breakdown:
OSU's scoring numbers have slipped somewhat in the past few weeks as teams attempt to slow down the game and limit possessions against them. However, the Buckeyes hot shooting continues as they are still shooting nearly 50% as a team from the field and over 40% as a team from 3-point range. In addition, the team is averaging only 11 turnovers per game which helps them achieve an assist/turnover ration of 1.45. One concern that the team still has is rebounding, where they rank 208th in the NCAA with just over 34 caroms per game. However, the free throw shooting has improved over the past two games (37/45) and the team is now shooting nearly 70% for the season. 
One concern that I see is that Thad Matta has now shortened his bench so much that it is basically a 6-man rotation. DeShaun Thomas saw only 3 minutes against Michigan State on Tuesday after seeing only 6 against Wisconsion. Since Big Ten play has started, Thomas and Aaron Craft have been the only consistent contributors off the bench. The net effect of this is that Craft and fellow freshman Jared Sullinger appear to be wearing down. Craft had an excellent game in the first meeting, contributing 11 points, 6 rebounds, and 6 assists. However, after hitting for double-figures in 5 out of 8 games in January, he has been under 10 in all 4 games in February. During that time, he has shot only 8/20 from the field and 1/6 from beyond the arc.
On Tuesday, Michigan State chose not to double Jared Sullinger but allowed him to get the ball in the post while playing belly-up defense with one man. This would seem to favor Sully, but in fact he was held to 11 points on 3/8 shooting. He did make 5/6 free throws, and he will need to continue hitting those as he is sure to be hammered repeatedly as the games become more urgent and teams become more desperate for wins. Sullinger will need to get tougher and work to get better position in the post, or else teams will continue to push him farther and farther out, forcing him to make multiple moves after the entry pass or shoot a midrange jumper under duress. Another area where the freshman needs to improve is in hedging around ball screens. Teams have been taking advantage of Sully all season long due to this deficiency, and it was never more evident than against Wisconsin where Jordan Taylor repeatedly came open off ball screens before hitting his triples. The hedge is the best strategy for dealing with ball screens, and Sully needs to hustle more so he can be in position to hedge better when his man is the screener.
Etc
Jon Diebler needs only 2 3-point baskets to become the Big Ten's all-time leader in career 3-point shots made. 
Today's game will be broadcast on CBS, with veteran play-by-play man Verne Lundquist joined by former OSU basketball great Clark "Special K" Kellogg. 
Ohio State leads the nation in fewest fouls per game with 14.3 and is second nationally in scoring margin (20.0 ppg.) and turnover margin (5.7).
William Buford has averaged 17 points per game over his last 6 games, and he is now 2nd on the team in scoring at 14.2 points per game.