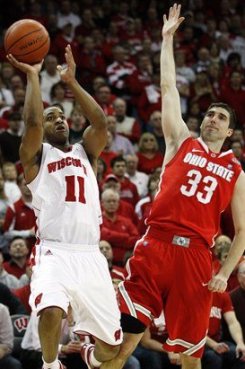 After opening the 2nd half with a 19-6 spurt to take what seemed like a commanding 47-32 lead with 13:16 to play, Ohio State folded like a 9/2 off suit yielding a 30-8 Badger blitz over the next nine minutes to fall behind 62-55 before eventually losing 71-67 this afternoon in the Kohl Center.  
The 30-8 knockout blow saw the Badgers catch fire as they drained 10/12 shots overall and a ridiculous 6/8 from distance behind the unstoppable exploits of Jordan Taylor. A conference POY candidate, Taylor burned OSU for 18 points during the run hitting 6/6 shots with four of those coming from beyond the arc. The Buckeyes kept with their typical plan of switching screens but Taylor still got free doing just enough in the paint to keep defenders honest out top, giving him space to unleash daggers into the body of what was once a perfect season.
The defensive struggles were further magnified by an offense that shot 4/14 over the final 13:16 with three turnovers. Sadly, freshmen hit three of the four field goals (Craft 2, Sully 1) meaning veterans Jon Diebler, David Lighty and William Buford combined for one field goal as the game slipped away on a collective 1/6 shooting with two turnovers.
In the midst of the collapse, OSU still managed to lead 55-52 with 7:11 left after a pair of free throws from Aaron Craft but 10 straight Wisky points to complete the 30-8 donkey punch via a Mike Bruesewitz triple, a deep jumper from Keaton Nankivel and five points from Taylor off his 5th trey of the night plus a pair of free throws killed any hopes of Thad Matta securing his first win in Madison's hostile confines.
Buford led Ohio State with 21 points (10/18) and was in full beast mode over an eight minute stretch ending the 1st half and beginning the 2nd as he scored 15 during a 21-6 run turning a 24-19 deficit with 3:48 left in the half into a 40-30 Buckeye lead with 15:30 left in the game.
Ohio State closed the half on a 9-2 run thanks in large part to Buford. The seasoned vet opened the run with a short baseline jumper in traffic before flashing a soft touch on a fadeaway jumper from the right elbow bringing OSU to within one at the 3:10 mark. After the teams traded a couple empty possessions WB was back at it draining a triple from the right wing off a series of freeing baseline screens tying the game at 26 with 1:01 left. After a Ryan Evans travel, Lighty gave OSU its only lead of the half off a slippery driving scoop shot as time expired to make it 28-26.
After Wisky scored the first points of the 2nd half to tie it at 28, Buford keyed a 12-2 run with eight points, two off a smooth step back J from the wing and two more via a dunk off a whirling feed from Craft, giving OSU the 40-30 lead to complete the 21-6 run. Just two and half minutes later, the wheels began to fall off the run at perfection. 
Personally, I never held too much belief that it was possible to run the regular season conference table, let alone achieve perfection over the course of a full season but the way OSU lost today was not how I expected it to happen. I figured they'd get jobbed on the road by the refs, go stone cold from outside, and/or see Sullinger get in crazy foul trouble. None of that really happened today. Sure, they went cold during a huge stretch of the 2nd half but an inability to generate stops is what lost the game today and I never really thought that would be THE key factor in their first loss.
Craft and his wing mates struggled to get through screens and when Taylor decided to penetrate versus launching threes, often times Sully was out on the perimeter forced to guard Badger big men with range, leaving shooting space that hasn't been there for much of the season.
The end result saw Wisconsin shoot 51% from the field and 50% from distance (12/24). The three point bombing was huge in that OSU managed just a 3/9 effort giving the Badgers a 36-9 scoring advantage from beyond the arc despite the fact OSU shot a blistering 54% from the floor overall.
Sullinger finished with his 12th dub-dub scoring 19 points (7/12) with 12 boards while Dielber added nine. Lighty recorded eight points, four boards and four steals. 
Craft was up and down with eight points and six assists, including a couple big buckets in the 2nd half but staying with Taylor was too much to ask of him and his fellow screen switchers.
Taylor paced Wisconsin with 27 (8/13) point and seven assists whle John Leuer added 12 points and six boards.
Ohio State (24-1overall, 11-1 B1G) still holds a two game lead over Wisconsin in conference play and hosts Michigan State next Tuesday night at 9pm.
Fear not, Buckeye fans. This team was eventually going to lose. They ended up losing to an incredibly well coached team that has lost just 11 games at home under Bo Ryan. And they were up by 15 with 13:16 left and up by three with 7:11 to play. It was a bad loss, but it's not the end of the world because this isn't football.
In the end, winning 24 straight through mid February means little. It's trying to win six in a row to finish the season that really matters.