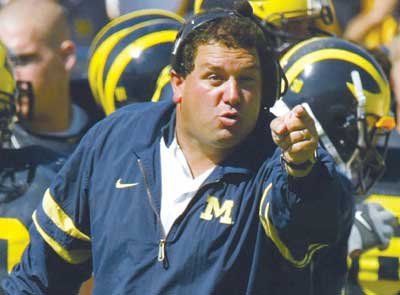 Wasting No Time The 2010 college football season just ended, but already everyone is focused on 2011. We touched on ESPN's Mark Schlabach putting the Buckeyes 10th yesterday, but Adam Rittenberg and Andy Staples show a little bit more love, putting the Bucks first in the conference and at #6 overall, respectively, for next year.
I'm kind of in the middle on this as I think the Buckeye defense and running game will be solid, but teams are going to make them throw the ball while Pryor is out. Jim Tressel loves seniors, so don't count Joe Bauserman out, but I think the team would truly benefit from seeing either Taylor Graham or Kenny Guiton take the reigns for the first five contests. Yes, Braxton Miller will be awesome one day in Columbus, but remember, he is just a freshman, even though he's in Columbus and will go through spring practices this year. That being said, I probably start the Buckeyes in the latter part of the Top 10, maybe somewhere around 7 or 8. Where do you slot the Buckeyes?
 So There Was a MNC? Yes there was and if you didn't catch the game Monday night, you weren't alone. Sloppy football and a disappointing lack of scoring aside, ratings were down 11% from last year's championship game. Granted, the telecast debuted on ESPN this year, marking the first time the event has been shown outside of broadcast networks like ABC and FOX, but show me a sports fan that doesn't have cable. You wonder why the BCS loves traditional powers like Oklahoma, USC, Ohio State and Texas? Check out the numbers this year and you'll see.
 The Hokey Pokey Yes, there are a ton of jokes surrounding Michigan's new head football coach, but none may be better than what the guys at BHGP put together. Sell that pepperoni, indeed. On a more serious note, ESPN has a recap on the Hoke press conference yesterday, while MGoBlog has some current and former player reactions to their new coach. Maize n Brew lists observations on Brady Hoke's preferred offensive and defensive schemes, something that could change in the first few years behind the whistle, as personnel may not be ideal to his liking. Finally, Les Miles didn't take the UM job, and appears to be comfortable in Baton Rouge, inking a seven year extension with his yearly salary around $3.75 million.
 Leaving On an NFL Plane Underclassmen have two more days to declare for the NFL draft and if you want to see a list of all the early entries, Rivals has you covered. Illinois seems to have lost the most out of Big Ten teams, as Martez Wilson, Corey Liuget, and Mikel LeShoure have all declared for the draft. Scout has some analysis on the decisions of the early entry candidates. One school that avoided early departure armageddon is Oklahoma State, after quarterback Brandon Weeden and star wide receiver Justin Blackmon announced they would return next year. The return of two of those two pieces likely vaults the Cowboys into the top 10 to start next season.
 Hoops Love In Andy Glockner's latest Bracketology analysis, the Buckeyes are a #1 seed playing in the Southeast bracket with their first two games taking place in Cleveland (this was published before FSU's upset of Duke). Obviously, this would be a great spot for the Buckeyes to be in, obviously as the #1 seed, but also in gaining a semi-home court advantage in the first couple games. Another reason to be excited about this possibility is the potential for a return trip to New Orleans for the Elite 8 and Sweet 16. If you have never been down to NOLA, I suggest you make the trip if the Bucks are lucky enough to play there this March.
 Quick Shots Ramzy looks back on the Jim Tressel Decade at Ohio State... The coaching carousel in college football has been crazy this off-season... Mark Dantonio and the Spartans are hosting a huge recruiting weekend coming up. The Crimson Quarry has a state of the Indiana basketball program and head coach Tom Crean... Hammer and Rails wonders if Purdue football can follow in Oregon's footsteps and become a national contender one day... Despite his arrest, Minnesota is sticking with Trevor Mbakwe and the trouble with the law will not affect his status with the basketball team.