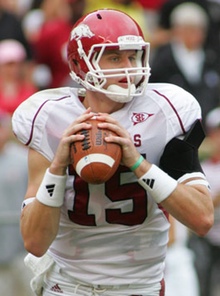 The urgency of 0-9 was palpable at the pep rally held for fans yesterday at the Morial Convention Center in New Orleans. Gordon Gee touched on it. Gene Smith brought it up. Tressel went out of his way to stress the importance of being loud tonight in the dome.
To end the curse, it will take a group effort: the players, the coaches, the band and the fans all willing themselves or their team to a win over the Arkansas Razorbacks in the 77th Sugar Bowl.
The outcome wasn't so kind to us on our list trip to New Orleans, but this Razorback team, while good, is not on the same level as the LSU team the Buckeyes faced in 2008. Meanwhile, OSU has a bit of its swag back, having won 17 of their last 18 outings including last year's Rose Bowl triumph over Oregon, the last time the Ducks lost.
It's the Big Ten and the SEC going head-to-head again and while the results from the 1st weren't pretty, in truth, Ohio State is the only Big Ten team that's consistently built to go toe-to-toe with the nation's elite teams. Tonight, they'll find out if they're built well enough.
Opponent
In interviews this week, Jim Tressel admitted to feeling happy when Ryan Mallett left Michigan for Arkasnas and not because he thought the quarterback would have a better career playing for the offensive-minded Bobby Petrino. Now, he's "being punished for that terrible thought" as Mallett represents the best signal caller OSU will face in over two years. At 6-6, he has the height to see over defensive lines and does so to distribute the ball to a talented corps of receivers, and the nation's best tight end.
Mallett's 3,592 yards are the product of nine 300-yard games (including two 400-yard performances) and his body of work lacks any real blemishes. In the loss to Alabama, he was picked off three times, but finished with 357 yards against one of the better defensive minds in the game in Nick Saban. In Arkansas' other loss, to Auburn, Mallett was knocked out of the game with a first half concussion, but his backup, redshirt sophomore Tyler Wilson (#8) picked up the slack, finishing with over 300 yards in a little over two quarters of play.
His primary target for most of the season, Greg Childs, was injured against Vanderbilt in late October and lost for the season, but juniors Jarius Wright (#4) and Joe Adams (#3) and sophomore Cobi Hamilton (#11) will more than stress the Buckeye secondary. Wright and Adams are smallish (5-10 and 5-11, respectively) but have great speed and will stretch the field, while Hamilton is a larger option (6-3/209) that is as comfortable working underneath as he is running posts. All you need to know about him is that he had an 80 and 85-yard touchdown against LSU. In the second quarter.
When things are covered downfield, Mallett will look for Mackey Award winner D.J. Williams (#45). The senior with a bouncer's physique (6-2/251) will be targeted a half dozen times (or more if the Buckeye defense loses track of him) and will catch everything in his vicinity before punishing would-be tacklers for attempting to bring him down.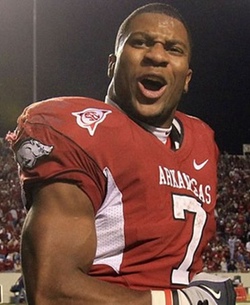 As if the Family Arm isn't enough to contend with, the Hogs feature an emerging star in sophomore running back Knile Davis (#7). His size (6-0/220) and speed (a supposed 4.37 clocked in the 40) conjure images of Darren McFadden and his finish to the season leaves no doubt of his capabilities. On the way to 1,183 yards in the regular season, his totals in the last six games read: 176, 82, 110, 182, 187, and 152 (against LSU). Davis is good for a couple of receptions a game, but sophomore Ronnie Wingo Jr. (#20) is the back to key on in third-and-long situations. Still, he shouldn't be targeted more than four or five times tonight.
Tackle DeMarcus Love (#65) is the star of a cohesive offensive line that started all 12 games together this season and allowed just a tad more sacks per game than the Ohio State line gave up (2.0 to 1.8) though an argument can certainly be made that Arkansas faced better defensive fronts over the course of the season. Love, a redshirts senior and two year captain, will line up at right and left tackle, opposite the tight end and is the best offensive lineman Mallett has seen since his days playing alongside Jake Long in Ann Arbor. Chris Klenakis brought with him some of the run-blocking knowledge he acquired at Nevada and clearly has his unit firing on all cylinders. Hog Database does a good job diving into some of the tendencies of the line in more detail here. 
With so much love being directed toward the Razorback offense, it's easy to overlook the defense, which played well this season outside of the 65 points Cam Newton and Auburn dropped on them. The line features a pair of defensive ends that deliver great production in redshirt junior Jake Bequette (#91) and senior Demario Ambrose (#58). Bequette was a 2nd team All-SEC selection after finishing fourth in the league with seven sacks and both he and Ambrose have great size (6-5 each, with appropriate mass) that not only enable them to bat down passes at the line, but also bring down the likes of large quarterbacks like Pryor without help. In passing situations, look for redshirt sophomore Tenarius Wright (#43) to come on and provide speed on the edge.
At linebacker, Arkansas features two additional weapons in redshirt junior Jerry Franklin (#34) senior Leon Anthony (#1). Franklin is stout (241 lbs) while Anthony is a bit smaller, but naturally quicker. Both will attempt to disrupt things in the Buckeye backfield and their TFL numbers for the season (12.5 and 10.5, respectively) merit attention. Linebacker/safety hybrid Jerico Nelson (#31), a junior, will play a role similar to how Tyler Moeller is utilized by the Buckeyes. He is rangy enough in coverage, but has the strength to fight through blockers when blitzing.
Junior safety Tramain Thomas (#5) is basically Orhian Johnson all growns up: good size, great speed and he appropriately loves all of his talents. He'll be flanked by senior Rudell Crim (#4) at the other safety spot and corners Darius Winston (#21) and Isaac Madison (#6). Sophomore Winston has decent size (6-0/185) and is a former prep USA Today All-American, but he is a first year starter and he was criticized in the past for being "soft" on the field, so you have to like Posey and Sanzenbacher's chances with him. Madison, on the other hand, is a junior, and started 11 games as a sophomore, but lost all of 2009 with an ACL injury. From a coverage standpoint, Arkansas will likely play a lot of quarters with some man mixed in, but it won't be anything that will throw Pryor or the OSU offense off as they're used to seeing it.
The Razorbacks feature a pair of youngsters in their kicking game. Punter Dylan Breeding (#14), a sophomore from Hoover (AL) has been more than solid, averaging over 42 yards per punt on 45 attempts this season, while freshman kicker Zach Hocker (#18) has been spectacular, going 13/16 on field goals (including an impressive 5/7 from 40+) and banging in all 55 extra points he's attempted. Wide receiver Adams is the punt return guy and he's 4th in the nation with 17.9 per return and a touchdown on the year. As if you needed something else to worry about.
Buckeye Breakdown
The question on everyone's mind is how the four key contributors from the offense, embroiled in Tatgate, will respond in the Sugar Bowl. I'm of the mindset that all of that flies out the window after first contact, so I don't necessarily see it becoming an issue in this game. Of course, we do have a quarterback that will be playing with a Herbstreit-ian chip on his shoulder, so that could cause problems if he attempts to do to much, but the gameplan will (hopefully) prevent him from putting too much on his shoulders.
As for that gameplan, Ohio State's MO in these games is not a secret. Most every team they face is held to season lows in points as Tresselball works its magic. Expect more of the same tonight as OSU will look to establish the running game early in an attempt to keep Mallett on the sidelines where he's of no danger of crushing your will to live with 80-yard bombs. I say that, but we also thought that was the plan heading into the Rose Bowl last season and Pryor came out slinging it. So, I guess we could see a little bit of both early as Tressel/Bollman look to achieve balance, while trending towards Boom getting on track. If Ohio State is successful with the running game early, look for Jerico Nelson to see his snaps diminish as the Hogs beef up in an attempt to stop it.
The line will have its hands full with Bequette, but a prep course of Kerrigan, Watt and Clayborn helps tremendously. And this Buckeye line is clicking right now, so SEC team or not, I like the thought of them holding up well all night. Tressel will take his chances down the field against the greenish Arkansas corners, but expect that to be the exception and not the norm as throwing the ball (or scoring too quickly) stops the clock and gets Mallett back onto the field.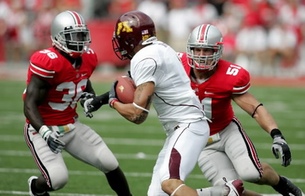 By now, Mallett has likely seen everything a defense will throw at him. He carved Alabama up (in a losing effort), so he'll definitely get his yards against a Buckeye secondary that let Scott Tolzien have its way with them. The pups are coming of age, however, and with 30+ days to prepare, I trust Heacock/Fickell will have something special cooked up to at least slow down the Arkansas passing game. Mallett is also guilty of thinking he can do more with the ball than he sometimes should, and his 11 interceptions this year bear witness to that. If OSU can confuse him -- even just a little -- with coverage looks and zone blitzes, they will likely get one (or more) of their own tonight. If they can get sustained pressure through the Arkansas line, we're going to have a fun night. If we sit back in a zone and don't get to Mallett, however, you will feel the opposite of fun.
The linebackers will certainly have their hands full, what with accounting for Davis running the ball and Williams slipping out underneath. Homan and Rolle are two guys that have been through the wars, and experience at this position, like they have, will help tremendously. We won't shut those two down altogether, but Davis will not be going off for 150+ against this Buckeye defense.
Typically, a Jim Tressel team has a special teams advantage, but the Razorbacks will have the edge in that department tonight. Oh well, we've dealt with a gap there all season, so it's not worth worrying about now.
Monkey tossed (but it won't be easy): Ohio State 27, Arkansas 24