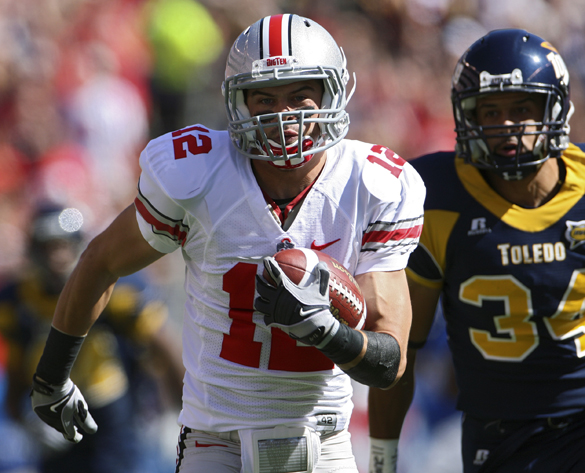 Barring any underclassmen going pro, Ohio State will be replacing 14 starters when they take the field Sept. 3 in the season opener against Akron. Most of the attention will go to whoever is under center.
Terrelle Pryor's absence and replacement is sure to be the biggest newsmaker of the day. However, the biggest missing piece that afternoon might very well be an unheralded and underappreciated wide receiver.
Yes, I'm talking about Dane Sanzenbacher.
With Ohio State missing arguably its top four players on offense for the season's first five games of 2011, having a leader and veteran presence like Sanzenbacher in the huddle would make a world of difference to an inexperienced quarterback.  
Whether it was taking a big hit, catching a deflected pass or pouncing on a fumble in the end zone, you could always count on Sanzenbacher to make a play. He ran crisp routes and has the best hands of any wide receiver in the country. If a pass is thrown in the vicinity of Sanzenbacher, he is going to come down with the reception.
He came to Ohio State with little fanfare and was not thought of as an impact player.  Four years later, he leaves as a captain and the only player to be named team MVP and most inspirational player on a Jim Tressel-coached team in his 25 years as a head coach.
In New Orleans, teammate after teammate talked about Sanzenbacher's leadership skills and his now famous motivational speeches. He also kept the mood light as is evidenced by his class project video that went viral and turned him into a YouTube sensation.
Sanzenbacher has the qualities that any coach in the country wants in his players. He's a tireless worker, smart, a leader and a winner. Ohio State coaches saw it from him in high school and fans took notice when, in his first career game, his first catch went for a touchdown.
The past two years Sanzenbacher took a leading role in the offense. In 2009, he won the Paul Warfield Award (outstanding OSU receiver) as he caught 36 passes for 570 yards and six touchdowns. Against his hometown Toledo Rockets, Sanzenbacher had a career day hauling in five receptions for 126 yards. He closed out the season by snaring nine catches in the Rose Bowl win over Oregon.
During his senior season, Sanzenbacher had 55 receptions for 948 yards and 12 touchdowns. That production earned him First Team All-Big Ten honors. He led the Big Ten with 11 touchdown receptions and was second in receiving yards per game. Sanzenbacher tied a school record with four touchdown catches against Eastern Michigan in September.
The durable Sanzenbacher is almost a clone of former Buckeye Anthony Gonzalez. Both were under six feet tall and weaved in and out of traffic with little problem. During his four years in Scarlet and Gray, Sanzenbacher was in his fair share of collisions, but he continued to pop right back up like a Jack-In-The-Box.
It was learned in the week leading up to the Sugar Bowl that Sanzenbacher played through a gruesome injury throughout the season. During practice the first week of October he fractured his finger. Now, a finger fracture might not sound that bad. But when the bone pokes through the skin – yikes! – that is not good. Sanzenbacher, though, fought through it and caught a touchdown that Saturday in a hard-fought win at Illinois.
There are going to be tough halves, games and weeks next season for the Buckeyes. There will be moments when a leader needs to step up, when a sure-handed receiver needs to catch the ball and a veteran needs to tutor an underclassman. It's moments like these when coaches wish they always had a Dane Sanzenbacher.