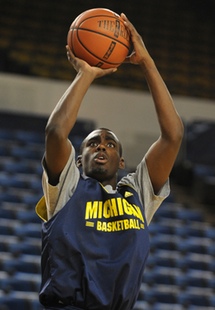 Coming off a too-close-for-comfort win against Minnesota Sunday, Ohio State travels to enemy territory to take on the Michigan Wolverines. Michigan played a similar contest Sunday, but came up short. Hosting No. 3 and undefeated Kansas, like Minnesota, Michigan had a furious rally late in the second half to send the game into overtime. However, they would end up on the wrong side of 67-60 final score. 
While Michigan enters the game 11-5 and 1-2 in the conference, that record is somewhat deceiving. Their five losses have comes to teams with a combined 71-8 record. There is no doubt Michigan's schedule prepared them well for the Big Ten season. Unless Jared Sullinger gets in foul trouble, the one area Michigan might be able to slow down Ohio State is behind the arc. The Wolverines have the third-best three-point field goal percentage defense in the conference. That in-your-face-defense will need to be on display tonight or Michigan has almost zero chance at victory. Their offense also needs to limit its turnovers. They've been averaging just 11 turnovers a game, so mistake free basketball is a possibility.
Michigan will likely try to slow the pace of the game down. They've been successful with it at times this year against talented teams. Obviously, Ohio State would like to play at a breakneck speed. The Buckeyes must be patient. In the past, teams have given OSU fits with the slow speed. 
| # | Name | PTS | REB | ASST | POS | # | Name | PTS | REB | ASST |
| --- | --- | --- | --- | --- | --- | --- | --- | --- | --- | --- |
| 44 | William Buford | 13.3 | 4.1 | 3.7 | G | 4 | Darius Morris | 15.2 | 3.4 | 7.3 |
| 33 | Jon Diebler | 12.3 | 1.9 | 2.6 | G | 10 | Tim Hardaway Jr. | 11.3 | 3.8 | 1.6 |
| 23 | David Lighty | 13.1 | 4.0 | 3.6 | F | 0 | Zack Novak | 8.8 | 7.2 | 1.3 |
| 0 | Jared Sullinger | 17.9 | 10.3 | 1.1 | F | 23 | Evan Smotrycz | 6.6 | 2.5 | 0.9 |
| 52 | Dallas Lauderdale | 4.9 | 4.8 | 0.2 | C | 52 | Jordan Morgan | 8.9 | 6.3 | 0.7 |
Opponent
Ohio State will be the third Top 4 team Michigan has played this season. Along with No. 3 Kansas, the Wolverines also tangled with fourth-ranked Syracuse (and lost 53-50) in Atlantic City, NJ. Michigan has done well against the nation's elite and the tough schedule has toughened up one of the youngest teams in the nation. Eleven of Michigan's 15 players are underclassmen. After being known more as a defender his freshman season,  sophomore point guard Darius Morris has emerged as one of the best young players in the Big Ten, averaging over 15.2 points and 7.3 assists (fourth-best in the country) a game. He also has a assist-to-turnover ratio of 2.7. 
Make no mistake, though. Zack Novak is the motor that keeps this team running. He is all about attitude and toughness. Not too many players in the country are going to out hustle the gritty Novak. He is averaging nearly nine points a game to go along with seven rebounds. Novak has had four double-doubles this season, including one Sunday against Kansas. We all hear about Jared Sullinger's exploits frequently. Anyone know who's the second leading scorer among freshman in the Big Ten? Tim Hardaway Jr. The son of the former Run TMC member is putting up 11.3 points a game for the Wolverines. As many freshman are, Hardaway is very inconsistent and prone to throwing up ill-advised shots. 
Buckeye Breakdown:
To go along with Michigan's deliberate pace, they will also employ a zone defense. The thinking is that they can limit Sullinger's touches. We'll see if it works. So far this season, Ohio State's opponents have tried various defenses to try and limit Sullinger. There is yet to be that perfect remedy. Michigan is at a distinct disadvantage down low - both height wise and in terms of physicality. If Michigan sticks with a zone, don't be surprised if Ohio State's shooters torch them. That seems to happen frequently. Diebler, Buford, Lighty, Thomas, etc. might light up the scoreboard. 
Another key for the Wolverine defense tonight: Jordan Morgan. The redshirt freshman has turned into a beast down low. Morgan has already gone up against a pair of 7-footers when the Wolverines took on Utah. He and Michigan both came out victorious. His field goal percentage is on par with that of Dallas Lauderdale. Most of that has to do with taking high-percentage shots. But he is also averaging near 3.5 offensive rebounds a game. Through 16 games, Morgan is averaging 9 points and 6.3 rebounds. If he doesn't show up tonight, Michigan has no chance at winning.  
It is always tough to win on the road in the Big Ten, and it looks like this season is the toughest of them all. Ohio State had a major test in Iowa City, while Penn State has knocked off two ranked opponents (Michigan State and Illinois) in the past three days. After losing in Ann Arbor last season and the fact that Michigan is 10-2 at home this year, the Buckeyes know they are going to get Michigan's best shot. One stat on OSU's side: Michigan has lost 10 straight games to ranked opponents. Four of those games have come in Crisler Arena.  A win would match the third-best start in school history. Ohio State won its first 17 games to open the 1990-91 season. The best start came in 1960-61 when the Buckeyes were 27-0 before losing in the national championship game. The next season, they won the first 22 games. While it might not be a focal point, the team is aware of where they reside in Buckeye basketball history. 
Etc
Ohio State has won 12 of its past 13 games against Michigan when ranked. 

The Buckeyes lead the all-time series with the Wolverines, 87-71.

Michigan leads the series in Ann Arbor, 44-35. 

Ohio State is 29-4 vs. Michigan when ranked.