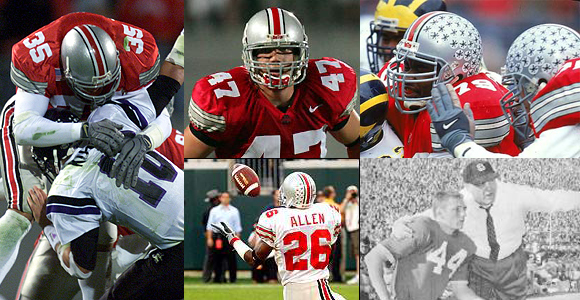 Welcome to your Monday Skull Session. Hopefully you had an enjoyable, restful weekend that was also rampant with football. If you exclude the all-star games/exhibitions, we're now down to but one game of consequence in the 2010/2011 football season. While I know the harsh reality of Monday looming is ominous enough, after a week from Sunday, it's going to be a long time before we see meaningful football again. /weepsuncontrollably
That being said, congratulations are in order. After Green Bay's 21-14 victory over Chicago and Pittsburgh's 24-19 victory over New York, Ohio State saw five of their own headed on a collision course for Super Bowl XL in Arlington, Texas. Green Bay's AJ Hawk, Matt Wilhelm, and Ryan Pickett will represent the NFC while Will Allen and NFL Hall of Famer Dick LeBeau will be on the opposing sideline carrying the AFC banner. Should be a heck of the game. Congratulations and best of luck all those with Ohio State ties attempting to reach the pinacle of their profession.
 WE (HAD) THAT B-ROLLE! While you were busy finally taking down the Christmas lights and attempting to make right by the significant other on Saturday to preserve you the chance to spend an inordinate amount of time glued to the championship games Sunday, Brian Rolle was busy capping a week of busting tail to impress NFL brass:
Rolle certainly distinguished himself in the East's 25-8 victory with two tackles, a forced fumble — on the game's first play, no less — and one pass defensed. But that was just part of it.

Upon arriving in Orlando for practice and to meet with NFL scouts, Rolle wanted to show them that any concerns about his size (5-foot-10, 228 pounds) and whether he can hold up in traffic against the big boys.

A solid week of practice and a good game on Saturday hopefully took care of that.

"Coaches, after this week, see that I can play with the big guys and the best players in the country and that I can hold up," Rolle said.
Rolle also mentioned that proprietors of Tampa-2 defenses (Minnesota and, well, Tampa, duh) expressed the most interest in his unique skill set after the fact. Makes sense given all that he brings to the table. Rolle's combination of pure speed, instincts, and intelligence make him a real potential asset in that system. While Rolle is almost assuredly ear marked for an OLB role in one of those defenses, it should be interesting to see where he ultimately lands.
 A Funny Thing Happened On The Way To 19-1 ESPN's Eamonn Brennan of ESPN (late of Big Ten hoops blog Inside The Hall) recapped the OSU/Illinois affair in grandiose fashion, rehashing that indeed this one did have all the makings of a potential upset. Until, well it didn't. Despite heading into proverbial trap game territory, the Buckeyes dug deep and overcame what seemed at one point like a train going off its rails to ultimately prevail 73-68. Make no mistake about it, Ohio State's perhaps season defining win to this point started from the middle and reverberated outward. Brennan had more:
For all of OSU's perimeter weapons, that toughness starts in the post, which means it starts with Sullinger. The freshman put up another classic line Saturday, scoring 27 points and grabbing 16 rebounds in a full 40 minutes on the floor. But perhaps most impressive was Sullinger's free throw shooting. The big man, who is shooting about 73 percent from the line this season, made 13 of his 15 foul attempts Saturday. You probably don't need me to tell you just how lethal that is. Sullinger is so good at getting early position on the block, and so strong once he's there, that you practically have to foul him if you don't want him to get two easy points. But what good is fouling if Sullinger makes his free throws? Big Ten coaches of the world: You are now free to slam your heads repeatedly against your desks. (As if you weren't already.)
It wouldn't surprise me in the least if Sullinger v. path of most resistance becomes somewhat the recurring theme of the the '10/'11 hoops season. Purdue's JaJuan Johnson and the bulk-by-committee the Gophers offer up may prove Sullinger (and Ohio State)'s greatest challenges pre-mid-to-late March. That isn't to say the Bucks are invincible should the arsenal surrounding Jared suddenly collectively pull up lame, but it may not be until the defining parts of Ohio State's season that we really know this team's achilles heal.
 Freshman of the Year? How about NPOTY? Sports Illustrated's Luke Winn (strong name, bro; all we Lukes do is win) thinks those following Jared Sullinger's growth may need to look beyond the recurring weekly awards young Sully's been accumulating and start approaching things from a little bit grander scope. Besides rangeless sharp shooter Jimmer Fredette of BYU and UConn's brilliant point guard Kemba Walker, Winn suspects Jared Sullinger may find himself in the mix when everything's said and done to become potentially Ohio State' second consecutive national player of the year. Given the 27/16 he showed in Champagne Saturday, it's starting to become increasingly difficult to doubt some of this sort of chatter about the limitlessness of his game:
A Sullinger game typically involves a series of heated exchanges between coaches and officials, because refereeing him is not easy. He cannot be defended one-on-one -- Illinois had to use what Sullinger would call a "semi-double-team," with a second big lurking in the paint -- and every play involves contact. In the first half, there was OSU coach Thad Matta, imploring ref John Higgins to do something about the Illini who were (allegedly) pushing Sullinger in the back; in the second half, Illinois coach Bruce Weber fiercely stared down the men in stripes as they sent Sullinger to the line for six attempts in the final 4:18. The views on which whistles were appropriate, as you can suspect, varied widely from bench to bench.


"When [Sullinger]'s making free throws, it's pretty impossible to stop him, because he does such a great job of using his body to get position, and going up through people and drawing contact," Diebler said. "Early on in the season, teams were just saying, foul him, we'll make him shoot free throws. Well, he's making them [now]."
The Columbus product's evolution is making it awfully hard to exclude him from the list of some of the best in Ohio State's long basketball history, even this early in his career.
 Not just a godless shot chunking machine While DeShaun Thomas has frustrated many of us in the early stages of his time in Columbus, Saturday's game showcased many of the reasons why he was a highly thought of recruit/McDonald's All-American type in the first place. The Dispatch's Bob Hunter profiled Sunday some of the reasons Thomas may prove invaluable in Ohio State's quest for their first national title in almost 50 years:
But the surprise guest star of this frenetic road drama was freshman Deshaun Thomas, who joined Sullinger and Craft on the floor with 10:37 remaining, the Buckeyes down by six and William Buford headed to the bench because of a sore ankle. In the next 91/2 minutes, the 6-foot-6 forward hit a pair of three-pointers, scored under the basket and played aggressive defense. When he went to the bench for air with 1:04 left, Ohio State led 68-61.

That was the same Thomas who was 0 of 9 on threes in the past seven games. For him to hit those shots in the face of this crowd and this pressure says something about the kind of environments in which his talents were incubated.

"I'm a scorer, that's what I do," Thomas said. "Coach (Thad Matta) puts me in the game to put it in the basket and also work on my defense. There's no hesitation. You've got to treat every shot like it's a winning shot. I played through it in high school, took big shots even in the state championship. That's what I did, took big shots, and they went in."
While there will undoubtedly be times where Thomas continues to look very much like the freshman that he is, the lottery type NBA talent may yet win the day when the Buckeyes need it most.