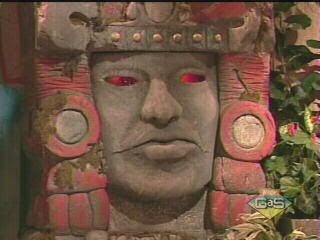 It's already the weekend for we professional students and it's almost the weekend for all you saps who don't live on borrowed money, working for a living instead (Future Me is gonna be so mad about these loans. That sucker.) In any case, signs of change are afoot. The mountains here in Boone, NC are slowly melting after yet another snowstorm, much the same way our cold, cold hearts were melted by the dulcet tones of Aaron Craft-Cyrus.
We're either gloriously close to spring, or dangerously close to December 2012 and the Mayan Apocalypse. Now "scientists" with their "evidence" might have their reasons to claim that 2012 is bunk, but is there any bigger harbinger of doom than Michigan beating Michigan State in basketball? Granted, squeaking past a 12-8 Spartan team that's 5th in the Big Ten isn't quite the upset of the century, but this is Michigan. They make failure an art. I'd almost want to pity-cheer for them if it wasn't such a clear symbol of our impending deaths. Concurrently, Indiana topped Illinois 52-49, but I blame that one on the ghost of Gene Hackman.
When you're Iowa, you take the good news when it comes. Sometimes you lose a twenty because your pants had a hole in them. Sometimes you smack your finger with a hammer because, let's face it, our parents were tougher and handier than us. Sometimes, for no other reason than being an Iowa Hawkeye, the universe repeatedly kicks you in the groin with steel-toed boots. Luckily for them, it's not all bad in Iowa City. Sporting News reports that even though they were literally urinating chunks of their own kidneys due to over-exercise, at least they weren't doing so after snorting a mountain of cocaine. You take what you can get, and remember friends, always look on the bright side of life.
Maybe Andrew Luck is onto something. Three former Ohio State one-and-dones graced the same court Wednesday night as Kosta Koufos of the Minnesota Timberwolves faced Daequan Cook and BJ "Byron" Mullens of the Oklahoma Thunder. I use the terms "grace" and "face" loosely, since only Daequan Cook actually dressed for the match, as Koufos and Mullens were notable mainly for blocking the view of people with courtside seats (because they're tall). Cook leads the three in production with a heartstopping 9.6 MPG and 2.3 PPG, but even that's generous since only Koufos has appeared in more than 12 games this season. Hopefully Jared Sullinger is taking notes.
It ain't over 'til it's over. As for those currently wearing the Scarlet and Gray, Sporting News wonders whether Ohio State has already clinched the conference. The Buckeyes still have quite a road to hoe, but we also benefit by not having Ohio State on our schedule. While I'm not yet ready to pop the cork on the conference crown, it's quite comforting to consider the crosses carried by our competition.
As for the Lady Bucks, they fell to Michigan, 66-69 in even more proof of the Mayan Prophecy.
Recruiting Rankings are like the ACT. They're the most important thing in the world until you actually get to where you're going. Adam Rittenberg breaks down the recruiting rankings of this year's All-Big Ten players. Out of 24 players, Martez Wilson is the only 5-Star. The five-man Buckeye contingent of Mike Brewster, Jermale Hines, Brian Rolle, Dane Sanzenbacher, and Chimdi Chekwa, averaged 2.4 stars and only Brewster managed four. Other notable gems: Unranked yet soon-to-be 1st Rounder Gabe Carimi (T - Wisconsin), unranked John Moffitt (G - Wisconsin), unranked Mikel Leshoure (HB - Illinois), 2-Star soon-to-be 1st Rounder Ryan Kerrigan (DE - Purdue), All-American 2-Star Greg Jones (LB - MSU), and 1-Star Human Warhead Brian Rolle. They're all 5-Stars in our hearts (and in NFL agents' greedy, beady little eyes).
Of course, for every one of these guys there are hundreds of one stars who amounted to exactly what was expected, but it's still intriguing that the All-Big Ten seems so especially lacking in the star department. With states like Wisconsin, Minnesota, and Iowa routinely lacking high schools large enough to field 11-man teams, it raises the question of whether the recruiting services underrate a lot of Midwestern and North Coast players. Wisconsin and Iowa didn't have the seasons they may have wanted but they were likely both top-15 squads in talent, Karl Klug's freakishly frail arms notwithstanding.