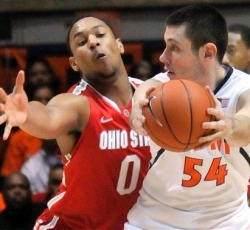 In a game of runs, Ohio State saved their best for last answering a 12-4 Illini run creating a 50-42 deficit with 12:53 to play with a 22-6 blitz of their own to take a 64-56 lead with 4:22 left before holding on for a 73-68 victory this afternoon against Illinois in Assembly Hall.
Freshman Jared Sullinger locked up another B1G Frosh of the Week award with a monster 27 point, 16 rebound effort including a clutch 13/15 from the stripe (10/11 2nd half). Fellow froshies Aaron Craft and Deshaun Thomas also shouldered much of the load as upperclassmen David Lighty (3/14 FG) and William Buford (2/8 FG) combined for just 16 points on 5/22 from the floor. Buford was nursing a bum ankle.
Thomas was critical during the game changing 22-6 run splashing a pair of triples before hitting a layup off a nifty spin move on the low block giving him eight points.
Craft finished with just five points on 1/5 shooting but dished out four assists while turning it over just once in 31 minutes. His biggest contribution came at the defensive end however as he locked down Demetri McCamey holding him to a season low five points on 2/11 shooting with four turnovers.
Jon Diebler picked up Lighty and Buford's scoring slack with 15 gritty points including a big three giving OSU a 53-50 lead they would not relinquish and a smooth 15 foot floater on the baseline stretching the Buckeye lead to 62-56 with 4:53 to play.
After a DJ Richardson miss, Sullinger spun around Mike Tisdale in the lane forcing a foul and promptly buried two free throws capping the 22-6 run to put OSU on top 64-56 with 4:22 left. The Illini responded with an and-1 from Mike Tisdale thanks to a phantom foul on Craft and after a Lighty airball, Jereme Richmond added a layup cutting the lead to 64-61 with 3:38 left.
Once again, the Buckeyes leaned on Sullinger who earned another trip to the line with a strong post move and converted both charity tosses making it 66-61. After a missed triple try from Richardson, Diebler was fouled and drained both attempts giving OSU what looked like a comfortable 68-61 cushion with 2:13 remaining in regulation.
Unfortunately, a zebra channeled his inner Helen Keller two possessions later with Craft called for a horrible blocking foul on McCamey as he made just his 2nd field goal of the day from the left block. McCamey would miss the and-1 opportunity but Tisdale was hacked on a putback attempt and hit both free throws to make it 68-65 with 53 ticks to go.
As he'd done all afternoon, Sullinger answered the call hitting 1/2 free throws providing a four point lead with :35 to go but Tisdale struck again with a triple from just to the right of the top of the circle closing the gap to 69-68 with :19 to play. Forced to foul, the Illini sent Craft to the line and as he's done all year, he was clutch draining both to make it 71-68 good guys with :16 remaining.
With a chance to tie, Illinois couldn't even get off a shot as Diebler picked up a steal in the lane. The ball deflected to Sullinger who immediately called for a timeout. On the ensuing inbound, Buford was quickly fouled and put the game away with two free throws - his first points of the 2nd half and first since a triple with 5:27 left in the 1st half to provide the final margin.
Ohio State improved to 20-0 overall and 7-0 in the Big Ten, though it looked like that might not be the case through the first 28 minutes. A wild first half saw the teams trade runs of 11-2 by OSU, 12-3 by Illinois and 10-2 for OSU before the Illini closed the half on an 8-0 run to take a 34-33 lead at intermission.
Matta's bunch shot just 39% in the opening 20 minutes with Buford, Diebler, Lighty and Craft combining for 7/21 FG while allowing Illinois to shoot 48%, assisting on 10 of 15 field goals, as the Buckeyes continuously either lost their man on switches leading to backdoor layups or else switched creating big size mismatches in the paint.
The struggles continued to start the 2nd half as Illinois opened on a 12-4 run with OSU shooting just 3/9 with two turnovers giving the Illini the 50-42 lead setting up the Buckeye rally.
For the game, Ohio State shot just 39.6% from the floor but 47% from distance (7/15) and 24/27 from the line (89%) bailed out the offense. At the other end, the Buckeyes held Illinois to 43% shooting overall and 24% from beyond the arc (4/17). The aggressors from Columbus attempted 17 more free throws than Illinois, outscoring them 24-8. The Buckeyes lost the glass 32-29 but committed just seven turnovers with only two in the 2nd half and both of those came in the opening 90 seconds.
Jereme Richmond led Illinois with 18 points and Tisdale added 15.
The Buckeyes can't afford to celebrate too long as they put their undefeated mark on the line next at 9pm next Tuesday night in the Schott against #13 Purdue.