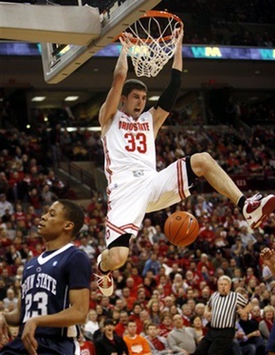 The Buckeyes continued their impressive start today, clearing the final hurdle in potenitally becoming the number 1 ranked team in college basketball when the new polls come out Monday, as Sullinger and Craft combined for 38. In front of an impressive sell out crowd at the Schott, Ohio State won 69-66 to move to 18-0 and set the mark for the third best start in school history, passing the 17-0 start by the 1990-91 team.  It was the 14th straight time they have beaten Penn State.
The Ninttany Lions had won two straight over ranked opponents coming into today and continued that trend, giving OSU all they could handle for 40 minutes. PSU took advantage of Ohio State switching on all screens, consistently rolling the screener to the basket, which resulted in plenty of easy buckets throughout the afternoon, as Talor Battle and Tim Frazier constantly found the open man.
Penn State definitely came to play in the first half, connecting on 14 of 23 shots, including a stretch that saw them hit 10 of 13 to take a 5 point lead with 5:27 left. They were lead by David Jackson with 12 points (5/7 FG) and Talor Battle with 9 points (4/7 FG), while Tim Frazier chipped in with 4 points and 4 assists and Jeff Brooks had 5 points and 3 rebounds. Overall, Thad couldn't have been happy with the defensive effort in the first, as OSU gave up too many easy buckets underneath and allowed 11 assists on 14 made buckets for PSU.
For Ohio State, Aaron Craft lead the way in the first with 11 points, 4 assists and 2 rebounds, while Big Sully chipped in with 8 points and 5 boards. Overall OSU made 11/22 FG's and assisted on 10 of them in the first, while outrebounding PSU 11-9. Buford and Lighty each had 5 points, while Diebler hit for 3. Ohio State continued their free throw woes hitting just 6 of 10 from the stripe in the first, while connecting on 4 of 7 from down town.
Neither team lead by more than 5 points in the first 20 minutes, with PSU reaching that advantage at 30-25 with 3:48 left. OSU would use a 24-9 run over the next 9+ minutes to take a 49-39 lead with 14:37 to go, but Talor Battle and PSU wouldn't falter down the stretch, outscoring Ohio State 27-20 the rest of the way. It was the type of game we have come to expect during this B10 season, nothing is going to come easy, even against the perceived lesser teams of the conference.
For the game, Ohio State was lead by a career high 19 from Craft, who hit 7 of 11 from the floor, including 4 of 6 from deep. The young kid continues to impress, as he also had 7 assists and 3 boards, against only 1 TO and hounded Battle into a 5/17 shooting performance. Sullinger also had 19 points, along with 6 boards and 5 assists, on 6/9 from the floor and 7/9 from the line. Buford ended the day 5/9 from the floor, including 3/3 from deep, which lead to his 13 points and 3 assists, while Diebler went for 10 points, to go along with 4 steals. Lighty finished the day with 7 points, 3 rebounds and 2 assists, which keeps him 1 rebound short of tying Jim Jackson and Evan Turner as the only OSU players with 1,000 points, 500 boards and 300 career assists.
Ohio State forced 14 PSU turnovers, which they turned into 27 points, obviously the difference in the game, as OSU only had 5 TO's, which gave Penn St. just 6 points. To those who watched the game, it should come as no surprise that the Nittany Lions lead the points in the paint battle, beating OSU 30-18 in that category, while Ohio State's bench outscored PSU 20-2.
For Penn State, they outrebounded the Bucks 29-17, including 20-6 in the second and shot 55.6% from the floor (25/45). They were lead by David Jackson's 19 points on 6/9 shooting and Talor Battle's 15 on the aforementioned 5/17 from the floor, including 1/10 from deep. Jeff Brooks and Tim Frazier chipped in with 11 points each, while Frazier lead the way in rebounding and assists with 6 and 5 respectively. For the game, PSU made 12/13 from the stripe, but just 4/17 from deep.
Thad continues to play with a short bench, as Lauderdale and Thomas combined to play just 20 minutes, recording just a point and a rebound between the 2 of them. One has to wonder if the Buckeye's lack of scoring down the stretch is contributed to this short bench and tired legs, as their defensive intesity is always at such a high rate. 
The Buckeyes now wait for the polls to come out on Monday to see if they take the top spot and will take on Iowa at home this Wednesday at 6:30 before heading to Champaign on Saturday.